Discussion
Do caretakers of college sports care?
The Most Powerful Man In College Sports race heats up as Big Ten makes it move
Originally Published:
November 19, 2012
By
Dana O'Neil
| ESPN.com
Do they even care anymore? Do they listen to the people at all -- read their comments or feel their frustration?
Do the powers-that-be see people calling college sports a money-grubbing mess and an embarrassment? Do they sense the sarcasm and the cynicism when people talk about Rutgers-Nebraska as a new Big Ten rivalry or say they can't wait for that Georgetown-SMU Big East showdown?
My guess is they do. No one is that tone-deaf or blind.
They hear. They ...

Read full story
BIG TEN EXPANSION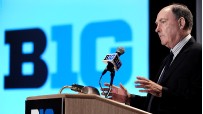 With the additions of Maryland and Rutgers, the Big Ten is about to get bigger. Story | Blog
MORE MEN'S COLLEGE BASKETBALL HEADLINES