Discussion
Bilas Index: Hoosiers No. 1
IU tops Jay Bilas' ranking of nation's 68 best teams; Miami among risers
Updated:
February 18, 2013, 3:55 PM ET
By
Jay Bilas
| ESPN Insider
The NCAA recently held its mock selection process in Indianapolis, where accredited members of the media gathered together for two days, "digging down" on teams and "scrubbing" their résumés, and occasionally asking questions of the selection committee members present, trying to understand the Rube Goldberg process devised and used by the collection of athletic directors and commissioners to select and seed teams in the largest moneymaking machine the NCAA has ever known.
Those media members who went through the process, with some repeating the exercise much like a troubled youth repeating the eighth grade before dropping out altogether, were able to hear the same, tired, old and meaningless phrases such as "body of work" and "who did you play and who did you beat," and "challenging yourself" in nonconference scheduling. All of that is, of course, complete blather to give committee members cover while they vote for whatever teams they choose, protected by the anonymity of the process.
Of course, the NCAA could save an incredible amount of time and money if it would dispense with such trivial exercises as the selection committee and simply use The Bilas Index, which is the best and most accurate measure of basketball merit and proficiency ever devised, created or dreamed up by man.
For those of you who have not yet fully embraced the power and accuracy of The Bilas Index, allow us to fill you in. It is the only measure in basketball, or in all of sport, that is worth your time. It is the most precise measure of basketball value and aptitude, and either identifies or confirms beyond any doubt a team's true accomplishments in a sea of false information and measures. In short, The Bilas Index cuts through the baloney and provides you with clear, concise and reliable information and judgments on the best 68 teams in America. The Bilas Index makes use of several reliable metrics in determining which teams are the best teams and worthy of inclusion in the NCAA tournament, including the Sagarin ratings, the efficiency ratings of KenPom.com, Basketball Prospectus, the UPS Team Performance Index and ESPN's Basketball Power Index (or BPI).
(Of course, while the Committee relies upon the RPI to "organize" data, The Bilas Index shuns such silliness. We similarly do not use an abacus rather than a computer.
Lastly, all of these metrics are interpreted and organized by the most powerful and impressive force in the game, the colossal cranium of The Bilastrator, inside of which one can find the most powerful basketball brain on this planet.
As you marvel at the Bilastrator's accuracy and incredible depth of basketball knowledge, just remember: You're welcome.
Here is the Feb. 18 version of my ranking of the nation's top 68 teams.
Coming in: Providence, Tennessee, Detroit, Northern Iowa
Moving out: Valparaiso, Wyoming, Stephen F. Austin, Indiana State
Highest rise: Marquette
Largest drop: Kentucky
1. Indiana Hoosiers (Previous ranking: 1)

Indiana hung onto the top spot in the polls after losing a late lead last week to Illinois, and validated its top spot with wins over Ohio State (its best performance of the season), Nebraska and Purdue (which was a resounding beatdown in Assembly Hall). The good news for Indiana is that Cody Zeller continues to be the most efficient big man in the country and Will Sheehey did something no Hoosier has ever done. Sheehy scored 22 points against Purdue, which has been accomplished by many Hoosiers, but he went 9-for-9 from the field in doing so. The bad news is that Victor Oladipo rolled his ankle and was forced to the bench after only 14 minutes.
Tom Crean's bunch has wrested the honor of being the nation's best offensive team away from Michigan, scoring 1.24 points per possession (adjusted), with an effective field-goal percentage of 57.2 percent, third in the nation. Indiana is 6-2 against the BPI top 50, and continues to impress with its ability to get on the glass and get to the free throw line with regularity, while keeping opponents off of the line. Indiana's defense is solid and much improved, but is rated 12th in the nation in the KenPom.com efficiency ratings. Even though they are still a little loose with the ball from time to time (however, one cannot expect a team to remain in attack mode without making some miscues), the Hoosiers do all of the things you need to do to win, and eliminate the ways that you can lose.
2. Miami Hurricanes (Previous ranking: 8)

The Hurricanes have not lost since Christmas, when Arizona blew them out and Indiana State outlasted them in Hawaii. Since that disappointing tropical trip, Miami has ripped through the ACC, beating Duke and North Carolina (twice). Jim Larranaga's team does it primarily by containing on the defensive end and controlling the tempo by taking care of the ball.
Miami is rated as the fifth-most efficient defense in the country, but the Canes don't do it by blocking shots or forcing turnovers. Rather, Miami does it by staying solid and forcing challenged shots, and rarely the one the opponent wishes to take. Miami is not a great free throw shooting or offensive rebounding team, but is solid in every area. Larranaga has one of the five best point guards in the nation in Shane Larkin, two outstanding wings in Durand Scott and Trey McKinney Jones, a mountain in the middle in Reggie Johnson, and a big man who can stretch the floor and play pick and pop in Kenny Kadji.
Miami doesn't have any individual or team offensive numbers or tendencies that jump out at you, but the cumulative effect suggests a team that can reach Atlanta. Miami is 12-0 with all top players available, and has a record of 7-1 against the BPI top 50.
3. Florida Gators (Previous ranking: 3)

The Gators lost Will Yeguete, one of the nation's elite individual defenders, and proceeded to lose to Arkansas in a blowout. Since then, Florida has beaten Mississippi State, Kentucky and Auburn -- two of which are clearly not postseason teams, with Kentucky hanging by a thread with Nerlens Noel out for the season.
Florida is not the up-tempo team some believe, playing at a slower pace than average, but the Gators are efficient on both offense and defense. The Gators are the No. 2-rated team in both overall offense and overall defense, and do a great job of using ball screens to get the ball into the lane and get high-percentage 2-point shots. Florida has shot over 50 percent from the floor in 10 of its past 14 games, and made 15 3-point field goals (six of them by Michael Frazier) and had 25 assists (10 of them by Scottie Wilbekin) against Auburn.
On the defensive end, Florida continues to protect its paint, allowing opponents to shoot only 40 percent from 2-point range. Erik Murphy is making his case as the best "pick and pop" forward in the country, and is shooting 49 percent from 3-point range. Over the past six games, Mike Rosario is averaging over 15 points per game while shooting over 50 percent from the field.
4. Gonzaga Bulldogs (Previous ranking: 7)

To see the rest of Jay Bilas' ranking of the nation's top 68 teams and get access to all of ESPN Insider's college basketball coverage, sign up today.
Insider
Insider CBB content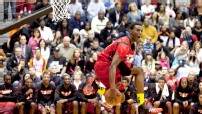 LATEST CONTENT

Freshman Impact
• Greenberg/Telep: Kansas Jayhawks
• Greenberg/Finkelstein: Marquette
• Gasaway/Rankin: Indiana Hoosiers
• Gasaway/Rankin: Michigan Wolverines
• Gasaway/Rankin: Ohio State Buckeyes
• Greenberg/Finkelstein: Memphis Tigers
• Gasaway/Rankin: Florida Gators
• Greenberg/Telep: Kentucky Wildcats
• Gasaway/Finkelstein: Louisville Cardinals
• Gasaway/Finkelstein: Syracuse Orange
• Greenberg/Biancardi: NC State Wolfpack
• Biancardi/Gasaway: Duke Blue Devils
• Biancardi/Gasaway: North Carolina Tar Heels
• Biancardi/Gasaway: Arizona Wildcats
• Greenberg/Telep: UCLA Bruins
Expert Takes
• Gasaway: Breakout second-year coaches
• Lunardi: Could Louisville repeat as champs?
• Greenberg: UVA tops list of surprise teams
• Fraschilla: How returning stars can improve
• Gasaway: Top title challengers to Kentucky
• Lunardi: Who will earn No. 1 seeds in 2014?

RecruitingNation
• Telep: Latest on No. 13 junior Theo Pinson
• Rankin: What Wiggins means for Kansas
• Biancardi: KU to prep Wiggins for NBA success
• Telep: Updated look at top recruits
• Roundtable: Most impressive on AAU circuit?

NBA draft
• Ford: NBA draft lottery preview
• Ford: Winners from the NBA draft combine
• Fraschilla: Burke the draft's top point guard?
• Ford: Measurements concern some GMs
• Ford: Why Wiggins would go No. 1 in 2013

ESSENTIAL LINKS

Jay Bilas Blog
Jay's take on latest from around the nation
Experts Blog
Analysis from Fraschilla, Greenberg and Lunardi
Rumor Central
Get news and rumblings before anyone
Hollinger's College PER
College basketball's top players
PickCenter
Get wagering advice for every game
MORE MEN'S COLLEGE BASKETBALL HEADLINES