Discussion
Realignment not as bad as we think
From retro Big East to the new-look ACC, plenty of positives with realignment
Originally Published:
July 8, 2013
By
Dana O'Neil
| ESPN.com
What if we were all wrong?
What if all the fretting, caterwauling and bemoaning of conference realignment and its horrific effects on college basketball turns out to be just a bunch of hot air (present company's contribution to the conversation ozone included)?
What if this ends up being a not awful thing?
Certainly not a perfect thing. Anything that sounds the death knell on storied rivalries such as Kansas-Missouri and Georgetown-Syracuse can't claim to be perfect.
And ...

Read full story
Realignment Reality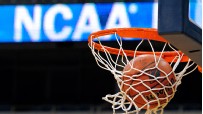 What does conference realignment mean for college hoops? From the American Athletic Conference to the new-look ACC, our experts take a look at what's in store for the future.
MORE MEN'S COLLEGE BASKETBALL HEADLINES