Discussion
The NBA can wait for Marcus Smart
Did he make the right move coming back to Oklahoma State. Even he's not sure
KANSAS CITY, Mo. -- Perhaps his decision to delay a shot at the pros and a multimillion-dollar deal was the wrong one.
The 19-year-old leans back and stares at a beige wall in one of the Sprint Center's few vacant rooms.
Then, Oklahoma State star Marcus Smart confesses that he's still uncertain about returning for his sophomore season.
"I'm still not 100 percent right now," he told ESPN.com. "I don't regret it. But I'm not 100 percent sure that was the right decision. But ...

Read full story
COLLEGE HOOPS 2013-14 PREVIEW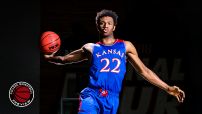 College basketball season is nearly here. It's time to get ready to hit the hardwood.