Discussion
68 things to know on march to March
It is the magic number in college basketball: 68. The march to March. To start the journey, we offer 68 things we couldn't help but notice. Did we cheat here and there, add a percent point or round up? Well, sure. But, like college hoops, like the selection committee, nobody said this was perfect science.
(Note: Special thanks to Blue Ribbon College Yearbook, Ken Pomeroy, Dan Hanner, the ESPN Insider crew, the ESPN Stats & Info and all others referenced within.)
68: Let's start ...

Read full story
COLLEGE HOOPS 2013-14 PREVIEW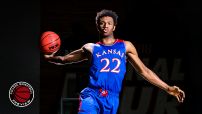 College basketball season is nearly here. It's time to get ready to hit the hardwood.
MORE MEN'S COLLEGE BASKETBALL HEADLINES