Discussion
Higher ceiling, Kansas or UK?
Jay Bilas and Jeff Goodman debate which team can rise the highest
Each week during the college basketball season, ESPN Insiders Jay Bilas and Jeff Goodman will weigh in on the biggest questions in the sport.
The discussion: Is Kansas' ceiling higher than Kentucky's?
Jay Bilas: Not in the commonwealth, it's not! My answer is no, it's not higher. But it's not lower, either. Kentucky may have a higher ceiling in raw talent, but I don't put its performance ceiling above that of Kansas.
To read Jay Bilas and Jeff Goodman's full breakdown of whether Kansas has the same ceiling of Kentucky, sign up for Insider today.
Insider
Insider on ESPN.com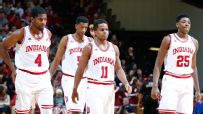 As power conference teams are eliminated from the NCAA tournament, ESPN's team of recruiting experts will look at who's coming back, and who's coming in.
MORE MEN'S COLLEGE BASKETBALL HEADLINES