As the upsets pile up, who knows what to expect
>
Editor's note: Rece Davis is the host of "College GameDay," which will be in South Bend, Ind., on Saturday for No. 11 Louisville versus No. 25 Notre Dame.
Another week, another rash of carnage in the top 5. Embarrassing losses will lead to upheaval in next week's polls. In the meantime, we will opine that there's no great team, and that's probably correct, although Indiana and Michigan seem to have separated themselves just a tad from the rest of the pack.
But with all due respect to those two teams, there is only one squad in a power-six conference still unbeaten in conference play: Miami.
Jim Larranaga's move from George Mason to the Hurricanes seemed like a move with an eye on early retirement. I mean aren't all 60-something professionals who move to South Florida ready to wear sandals with socks and call it a career? Not Larranaga. He's taken a roster with enough age on it to move into the Del Boca Vista retirement complex and moved them to the ACC penthouse.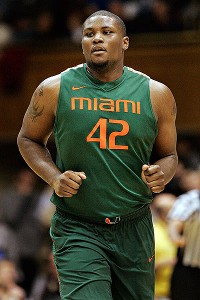 Mark Dolejs/US PresswireReggie Johnson is just one of many veterans for ACC-leading Miami.
This team is filled with veterans. They have size up front with nearly 25-year-old senior Kenny Kadji and jumbo size with 23-year-old classmate Reggie Johnson, who averages nearly a double-double. Kadji can knock down 3s and is tough inside too. Durand Scott, who turns 23 in a couple of weeks, has been at his best when most needed. He's averaged better than 18 PPG against ranked teams -- four points better than his overall average. That's veteran savvy.
But the eye of the Hurricanes has become sophomore Shane Larkin. The reigning ACC player of the week has never seen a stat category he couldn't fill. Wherever the Canes are lagging, Larkin fills that void. He shoots better than 40 percent from 3. He leads the team in assists. He's one of six Hurricanes to have a double-digit rebound game and he's averaged 4 steals in games against ranked opponents, which is up nearly a steal and half from his overall team leading number. In short, the Canes are built to make a tournament run. Larranaga knows a little something about that.
The Canes go for a season sweep of North Carolina on Saturday. In eight previous seasons in the ACC, Miami had a grand total of one win against the Heels. Larranaga's team, which beat UNC in Chapel Hill in their first meeting, is a win away from becoming just the third current member of the ACC not named Duke or North Carolina to start 9-0 in conference play. Virginia did it in 1980-81 and went on to the Final Four. NC State did it in 1972-73 and finished undefeated, but was on probation and banned from the tournament.
Given its legacy and historical dominance, it's easy to get a little myopic about the ACC's Tobacco Road power base. As Ken Pomeroy pointed out in a column this week, that probably contributes to the surprise over the Hurricanes' success. There's also the fact that they've never before enjoyed this kind of success it in this league.
While North Carolina might be viewed as a bubble team (or at least near the bubble), the Heels appear to be improving. They are among the nation's top rebounding teams. They lead the ACC in steals and they've won six of their past seven. While Miami can keep separation with the rest of the conference with a win, it's a resume-building opportunity for the Heels.
Under Mike Brey, Notre Dame had been a dominant team at home -- until recently. After going 100-7 at Purcell Pavilion over the past six-plus seasons, the Irish are just 2-2 in their past four home games. The Irish host Louisville on Saturday, and "College GameDay" will be there.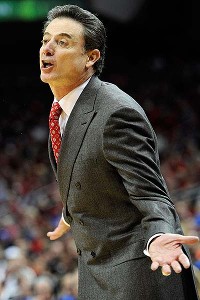 Jamie Rhodes/USA TODAY SportsRick Pitino's Cardinals appear to have bounced back from an odd three-game losing streak.
The Cardinals are one of the teams that took a rock between the eyes while ranked No. 1. Five times this season, a No. 1 team has been defeated. Louisville got to the top spot with defense. The Cards lead all teams from the Big Six conferences in virtually all categories pertaining to forcing turnovers and scoring off them. I don't always buy Digger Phelps' belief that teams need to lose to take that next step, but UL has benefited from its three-game slide.
The Cardinals players say their press is more effective and it's getting them in transition. Notre Dame can't win that style of game. Rick Pitino broke out the treadmill to send a message: Do it right or run. The Cards got the message, and as a result, look much more like the team that was ranked No. 1 earlier this season.
During our coverage of college football's national signing day, I promoted the college basketball doubleheader to be played on ESPNU on Wednesday night. I said, "Somebody's going to pay for Kansas' loss to Oklahoma State. And that somebody will be TCU." Actually, it turns out that somebody will be the Jayhawks themselves, who will endure Bill Self's scathing words and grueling practices after falling to the Horned Frogs.
Another week, another rash of unthinkable upsets. If you use ESPN.com's BPI predictor model, the Jayhawks' loss to the Horned Frogs was the equivalent of a 1-seed losing to a 16-seed. It was easily the worst loss of the season for any top-10 team. But there was one bright spot: Self's line about this being the worst Kansas team since Naismith's squad lost to the Topeka YMCA was pure postgame news conference gold. It was certainly borne of frustration, but it's best to keep a sense of humor about such things.
What's even more laughable is the spate of ridiculously low scores that keep popping up. KU's 55 points against TCU barely registers as unusual in this season of grind-it-out games seemingly played in quicksand rather than on hardwood. However, it was the Jayhawks' worst offensive performance in six years. How much of that is due to the way the game is officiated? What directives should be given to officials? How should those in charge support them to call the game in a way that gives us more offensive flow? How do we avoid turning it into a free throw shooting contest in the process? What can be done to encourage coaches to avoid trying to control every dribble?
Those are all topics up for discussion Saturday morning on "College GameDay" at Notre Dame.
The reasons why Louisville can still win it all
The Louisville Cardinals are ranked No. 11 in the Associated Press poll, which leads me to the conclusion that pollsters really do not like three-game losing streaks.
Let's get the bad news out of the way. Rick Pitino's team did indeed drop three in a row in the span of seven January days: at home to Syracuse 70-68, at Villanova 73-64 and at Georgetown 53-51.
Now the good news. By just about any performance measure, this team is better than the one that Pitino took to the Final Four last April. The Cardinals' offense is much better than it was last season (granted, that's a low hurdle), and the defense has improved as well (no small feat). In per-possession terms, this is the best team in the Big East, one that's outscoring conference opponents by 0.16 points per possession.
Year after year, this conference's best team is a legitimate Final Four threat. That's the case once again this season.
So set aside the rankings and take a fresh appraisal of the Cardinals ahead of their matchup at Notre Dame on Saturday night (9 ET, ESPN) in this final season of the "old" Big East.
To read the various reasons why Gasaway thinks Louisville is still very much a national-title contender, click here.

Viewer's Guide
All times ET
Saturday
10 a.m.: "College GameDay" from ND (ESPNU)
11 a.m.: "College GameDay" from ND (ESPN)
12 p.m.: Michigan at Wisconsin (ESPN)
12 p.m.: Georgetown at Rutgers (ESPN3)
1 p.m.: Ole Miss at Missouri (CBS)
1:45 p.m.: Oklahoma State at Texas (ESPN3)
2 p.m.: North Carolina at Miami (ESPN)
2 p.m.: Saint Joseph's at UMass (ESPN2)
4 p.m.: Kansas at Oklahoma (ESPN)
4 p.m.: Memphis at Southern Miss (CSN)
5 p.m.: Mississippi State at Florida (ESPN3)
6 p.m.: Iowa St. at Kansas St. (ESPN2)
6 p.m.: Pittsburgh at Cincinnati (ESPN)
7 p.m.: Michigan State at Purdue (BTN)
7 p.m.: Stanford at Arizona State (ESPNU)
9 p.m.: New Mexico at UNLV (NBCSN)
9 p.m.: Louisville at Notre Dame (ESPN)
10 p.m.: Illinois State at Creighton (ESPN2)
Sunday
1 p.m.: Indiana at Ohio State (CBS)
3 p.m.: St. John's at Syracuse (ESPN)
6 p.m.: Duke at Boston College (ESPNU)
6 p.m.: Illinois at Minnesota (BTN)
I Can't Wait To See …
Eamonn Brennan

Whether Ohio State can keep it rolling. Yes, the Buckeyes lost at Michigan Tuesday night, but as far as devastatingly close losses to your hated rivals go, this was about as encouraging as they get. (In his weekly column for Grantland, former Buckeye Mark Titus called it a "fantastic" loss.) Why? Because Ohio State got scoring from people not named Deshaun Thomas -- to the point that Thomas should have touched the ball more down the stretch and in overtime, which is not something you say very often about this team this year -- and appear to have cracked some kind of code for success beyond "defend really well" and "hope Deshaun gets 30." If that's the case, Indiana's trip to Columbus Sunday could be as daunting a road game for the Hoosiers as they'll face until their return date to Michigan in early March.
Andy Katz

I can't wait to see if Iowa State wins at Kansas State. The Cyclones are one of the toughest teams to beat at home as evident by their thrashing of Oklahoma on the heels of beating Baylor. Iowa State has hit its stride lately and looks like a legitimate top-three team in the Big 12. Iowa State should have beaten Kansas at Phog Allen but Ben McLemore nailed a 3-pointer to force overtime at the buzzer. This second trip to the Sunflower State could turn out differently if Will Clyburn can make big-time shots yet again. Fred Hoiberg has done a quality coaching job yet again replacing plenty of scoring and pop from Royce White. If the Cyclones were to win at Bramlage then it should shake up the race to challenge Kansas. Iowa State has Kansas and Oklahoma State at home still to come and can actually control its own Big 12 destiny.
Jason King

I'll be interested to see how Kansas responds to Wednesday's stunning loss to TCU. The setback is being hailed as one of the biggest upsets in the sport's modern history. Now the Jayhawks -- who are 19-3 after losing two straight -- must play a dangerous Oklahoma team in Norman. KU defeated the Sooners last month, but Lon Kruger's team will probably enter this game with a different mindset after watching the Jayhawks' putrid performance Wednesday. "We were kind of the bullies of the league," KU coach Bill Self said after the game, "and now everyone thinks they can whip us. We just opened the floodgates. If we were going to get everyone's best shot two weeks ago, think now what it's going to be like when everyone thinks they're going to win." The Big 12 race that everyone had conceded to Kansas is suddenly wide open.
Myron Medcalf

I can't wait to see another wacky weekend in the Mountain West. New Mexico might be the best team in the conference but the Lobos registered 34 points at San Diego State a few weeks ago. A win over UNLV on Saturday -- or vice versa -- would help all of us make more sense of that league. Wyoming and Boise State will battle for relevance. Both programs have slipped since entering conference play as sleepers. The loser's downturn will continue and the conference's at-large bid potential will be compromised again. Fresno State is at the bottom of the MWC, but the Bulldogs nearly upset San Diego State in their first meeting. Round 2 is Saturday. And then, there's Air Force. The Falcons are in the top tier of this league because they're draining 3s at a higher clip than any other squad. Can they shock the field and win this thing? Well, Saturday's game at Nevada precedes two home games against UNLV and Colorado State next week. Maybe we'll figure out the MWC this weekend. Probably not.
Dana O'Neil

I can't wait to see the reversal of fortune game between Miami and North Carolina. Usually it's the Hurricanes sweating out résumé-building wins to prove their NCAA tournament worth. Not this year. Jim Larranaga's squad is the last ACC squad without a conference blemish, alone atop the standings at 9-0 and steadily climbing the rankings. The Tar Heels, meantime, are bouncing on the bubble, hoping that a December win against UNLV stacks up strong enough for the committee. They need the win; the Hurricanes, hungry to establish residency among the league royalty, want the win.
Robbi Pickeral

Can't wait to see if Michael Snaer's ridiculousness continues. The Florida State clutch-man made his third buzzer-beater in five games -- and fifth in two seasons -- on Tuesday night, this time on a game-winning drive to the basket to beat Georgia Tech. Late last month, Snaer buried a 3-pointer to edge Clemson, and then made a 3 from the corner to topple Maryland. Without those plays, the Seminoles would be on a seven-game losing streak. Instead, they are 5-4 in the ACC, and face an inconsistent Wake Forest team on Saturday that has played tougher at home. Note to FSU foes: You really don't want to be in a close game with this particular senior guard on the floor.