Can Vandy Handle The High Expectations?
By Mark Schlabach
ESPN.com
HOOVER, Ala. -- With five starters, six seniors and three potential NBA draft picks coming back this season, Vanderbilt has become a fashionable pick for the Final Four. But can a team that was bounced in the first round of its last three NCAA tournament appearances really make it to the Final Four? The Commodores advanced to the Sweet 16 in 2004 and '07, but in three of the past four seasons much lower-seeded foes defeated Vanderbilt in the first round of the NCAAs (13-seed Siena in '08, 13-seed Murray State in '10 and 12-seed Richmond in '11). "Everybody knows what we did the last two years," junior guard John Jenkins said. "It's kind of a sensitive subject, even now." Vanderbilt coach Kevin Stallings might have seen last season's early-round exit coming. The Dores uncharacteristically lost several late-game leads during SEC play and seemed to play without much confidence down the stretch, losing three of five games before the NCAAs.
[+] Enlarge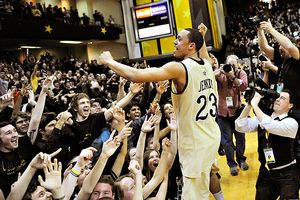 Grant Halverson/Getty ImagesJohn Jenkins and the Commodores begin the season with unprecedented expectations.
Jenkins said Stallings has turned up the heat on his veteran team during preseason practices, demanding more from them every day. It might be his attempt to toughen them up. "He's always been tough, but he's tougher now," Jenkins said. "Practices have been longer and tougher, but the team has responded well to it." The Commodores, who begin the season No. 7 in the national polls, certainly return plenty of pieces to make a Final Four run. Last season Jenkins led the SEC in scoring (19.5 points per game) and 3-pointers made (100). Senior point guard
Brad Tinsley
averaged 10.6 points and led the SEC with 4.6 assists per game. Senior
Jeffery Taylor
was considered the team's best NBA prospect until he struggled with consistency last season. A 6-foot-7 forward, Taylor averaged 14.7 points and 5.5 rebounds. "We're excited about what's going on in our program," Stallings said. "Obviously, there has been a lot of fixation by some on our early exits from the last couple of NCAA tournaments. But we've been excited about this team for a long time. "If this team can stay healthy, we've got a chance to have the best team we've ever had." But Vandy's health is already a concern. The team will have to play at least the first six games without senior center
Festus Ezeli
, who might have been the most-improved player in college basketball last season. Ezeli, who averaged 13 points and 6.3 rebounds and set a school single-season record with 87 blocks, was suspended for the first six games by the NCAA for accepting improper benefits from a Vanderbilt booster during a summer trip to Europe. Worse, Ezeli injured his right knee in practice last week and will be sidelined six to eight weeks, possibly leaving him on the bench well into December. Freshman
Josh Henderson
, who redshirted last season, will be asked to fill Ezeli's role until he's back. A 6-foot-11, 230-pound center, Henderson played at Cave Springs High School in Roanoke, Va., the same school that produced former Duke star J.J. Redick. Freshman guards
Dai-Jon Parker
and
Kedren Johnson
are also expected to provide good depth this season. But the Commodores will go as far as their veterans take them. "We didn't come here to stay for three years and leave," Jenkins said. "We wanted to have our team on a banner and win championships and that hasn't happened yet."
Terrence Jones Ready For Monster Season
By Mark Schlabach
ESPN.com
When Kentucky coach John Calipari was asked how sophomore forward
Terrence Jones
scored 52 points in a scrimmage last week, his answer was an easy one. "The guy guarding him wasn't a very good defender," Calipari quipped.
[+] Enlarge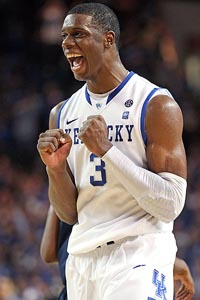 Andy Lyons/Getty ImagesTerrence Jones turned down the NBA and has his sights set on a national title.
All jokes aside, Calipari firmly believes Jones is the best player in the country heading into the season. After averaging 15.7 points and 8.8 rebounds as a freshman, Jones withdrew from the NBA draft in the spring to return to school for at least one more season. Calipari told Jones he could come back to UK only if he was committed to becoming the best player he could be. "If you want to change the result or the outcome, you can't keep doing the same thing over and over," Calipari said. "You have to have a different mindset about basketball. You have to get yourself in better physical condition, and he's in the best shape of his life. He's the first one to practice; he used to be the last one to practice." Most importantly, Jones has learned to use his right hand. The Portland, Ore., native writes, eats and does nearly everything else with his right hand. But he started dribbling and shooting with his left hand at a young age because his favorite NBA player, Damon Stoudamire, was left-handed. As last season wore on, opponents learned Jones was reluctant to use his right hand. So they forced him to his right and Jones settled for jump shots. Calipari and his assistants have encouraged Jones to put the ball on the floor more to create shots. "If you try to take away his left hand now, he'll go to his right and try to dunk on you," Calipari said.
Is This The New And Improved Renardo Sidney?
By Mark Schlabach
ESPN.com
Mississippi State junior forward Renardo Sidney's decision to skip the team's five-game trip to Europe this summer to spend more time in Houston has paid big dividends, according to Bulldogs coach Rick Stansbury. Sidney, who missed 12 games last season because of an NCAA suspension and two scuffles with teammates, spent time working with former NBA star John Lucas, who counseled Sidney on controlling his emotions. In fact, when Sidney gets angry nowadays, he takes a deep breath and counts to 10, just like Lucas taught him to do.
[+] Enlarge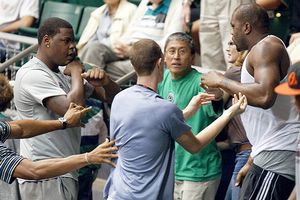 AP Photo/Eugene TannerRenardo Sidney hopes this isn't the lasting image of his college career.
"He's learned to understand more about teams," Stansbury said. "About how you can't be disruptive. Part of that is experience and part of that is maturity, too. You put both of those things together, the experience and the maturity, things he went through last year made him better." Sidney went through plenty last season, including a well-publicized fight with former teammate Elgin Bailey in the stands at a tournament in Hawaii on Christmas Eve. TV cameras captured the fight, and the episode was an embarrassment for the Bulldogs. Sidney and Bailey were suspended indefinitely, and Bailey ended up transferring. Despite all his problems last season, Sidney still averaged 14.2 points and 7.6 rebounds in his first season in the SEC. This year, he'll team with UTEP transfer
Arnett Moultrie
, a 6-foot-11 junior from Memphis, who averaged 9.8 points and 6.7 rebounds for the Miners in 2009-10. "No question, [Sidney] is better than he was," Stansbury said. "Is he where I want him to be? No. As long as he'll keep working and doing what he's doing, having the same approach he's having, he's going to make strides."
No More Divisions In The SEC
By Mark Schlabach
ESPN.com
For the first time since the SEC split into divisions for the 1991-92 season, the conference standings will simply go from 1-12. But did anyone even notice? Kentucky forward Terrence Jones said he wasn't even aware the SEC will play without divisions this season, with all 12 teams fighting for one conference crown. "I didn't even know that," he said. Calipari said he hadn't discussed the subject with his players. Count UK's coach among those who favor the new format. In fact, Mississippi State coach Rick Stansbury appears to be the only coach opposed to the change (he said he liked the idea of teams competing for East and West titles). "I have been in leagues where there are two divisions," Calipari said. "The problem becomes, if one of the divisions is down, the best team in that division gets crushed. It doesn't matter how good you are. They just say 'Oh, you didn't play anybody,' and now that team is the one that is hurt and that is not fair. "The other side is that one half is so strong, that fourth or fifth team, who is an NCAA team, or maybe an Elite Eight team, gets rocked because of what they have to go through in the schedule. So when you go to one division, it's not going to be perfectly balanced, but it comes back into check, and it gets those teams that are good in [the NCAAs]."
Best Of Media Day:
Best fast-food reference: "Your interchangeable parts are all about 6-11 and McDonald's All-Americans. We were all about 6-5 or 6-6. All we did was eat at McDonald's."
-- Auburn coach Tony Barbee, a former UMass player and assistant under John Calipari, when asked by Calipari how the Cats can contend for a national title with so many freshmen
Best "question that won't be coming" reference: "It's funny that three or four years ago I was being asked questions about, 'Well, do you think the league is down?' I won't have to do that question today. I would say our league is as healthy and strong as it's been maybe in the 12 or 13 years that I've been in it."
-- Vanderbilt coach Kevin Stallings
Best "never thought I'd see that today" moment: Former Georgia athletics director Damon Evans, who was fired after being arrested for DUI in July 2011, mingling with SEC officials and coaches in the lobby of the hotel hosting SEC media day. Evans said he was visiting a friend in Birmingham and staying in the same hotel.
Best "woe is me" reference: "They can rate us high all they want. There are 40 teams -- 50, 60 teams -- right now we could not beat. Maybe more, maybe 100 teams. Because we're just not ready to play in a basketball game."
-- Calipari, on his team being picked as an overwhelming SEC favorite
Best presidential reference: "We're aiming for first. I don't want to act like I'm smart here, but was it John Kennedy, was he the one that said when he was asked to be the vice president, or maybe to run as the vice president, 'Why settle for second-best when the best is within your reach?' I'm not sure it was him. But we hope first place is something we can compete for."
-- Stallings on his team's preseason expectations.
Best "we're still the SEC" reference: "Do you know what the buyout is in the SEC? It's zero. If you want to leave, beat it. You'll be replaced in 45 seconds."
-- Calipari on conference realignment
Vanderbilt's John Jenkins
They said it

Alabama: "Just working on expanding my game this year. I'm going to get double-teamed, so I just want to open my game up so I can knock down some jumpers and take the double-team away and make it easier for myself."
-- Forward JaMychal Green

Arkansas: "I caution fans, it might be more like 40 minutes of hell and 15 minutes of 'What the hell are we doing?'"
-- Coach Mike Anderson

Auburn: "Last year was like going back to elementary school. You're trying so hard to add so much about our philosophy and offense and defense. That's so consuming and cumbersome. Now it's only teaching three freshmen. We were so unprepared for the first half of the season last year."
-- Coach Tony Barbee

Florida: "Well, I don't know if we have the best backcourt in the country or not. I think we have some very, very gifted players. We have two guys that are certainly proven in the league. I think that [freshman Bradley Beal] is a very gifted and very talented player that is going to help us."
-- Coach Billy Donovan

Georgia: "We're more mobile. We're not as big. I think that will allow us to apply a little more pressure. I think we'll be a little more aggressive defensively. We lost two great players and there's no denying that fact."
-- Coach Mark Fox

Kentucky: "This is its own team. Last year's team, we had a whole different role than we have this year. Last year, us being more of an underdog, [we had to] go out and prove what we had to do every game and tournament. I think this year's team will be one of the top-dog teams and are expected to win, and go out there and get it. It's going to be two different teams with two different situations, but we'll have to go out there and get the wins the same way."
-- Forward Terrence Jones

LSU: "I have always tried to approach this thing from the standpoint that I have to put myself in a situation where I can do the best I can to help them. I felt I have done that over the years, but last year with some injuries and there were some games that got away from us that I thought it wasn't them. I suppose it was me."
-- Coach Trent Johnson

Ole Miss: "A lot of times when you project a new guy into your program -- like we have six freshmen -- we don't know what they will be like when the lights come on. With Murphy [Holloway], I've seen him get 20 rebounds in an SEC game. I've seen him have multiple double covers. I know what he can do, so the transition has been seamless." --
-- Coach Andy Kennedy

Mississippi State: "You don't have to score every trip to be a good point guard. Last year [Dee Bost] led the league in assists and still averaged 15 points a game, so I think he's got a good balance right now. He can score the basketball a lot of different ways, but at the same time he's comfortable with getting other people involved."
-- Coach Rick Stansbury

South Carolina: "We just have a different group of guys. It's a different core. We are just preparing every day and working hard. We are ready to come out and prove people wrong this year."
-- Forward Malik Cooke

Tennessee: "You just got to go out there and compete. One word coach Martin uses every practice is competing. Don't wait till the lights come on to go out there on the floor and compete with other teams. It starts in practice. You compete with your fellow big men. You compete with your fellow guards on the other end. So if you do it in practice on an everyday basis, it will translate onto the floor."
-- Guard Cameron Tatum

Vanderbilt: "What we try and do is create our own expectations for our team. What the media and other people say about us is meaningless; what we have to do is perform. We can't just perform in the NCAA tournament; we have to perform all season long. We have established our own expectations and those will be what we try to abide by and adhere to."
-- Coach Kevin Stallings
Tennessee coach Cuonzo Martin
Kentucky's Terrence Jones
SEC preview content
For a Blue Ribbon breakdown of every SEC team, click here.

• Chris Dortch with
five things he can't wait to see
in the conference
• John Gasaway's
five key questions
for the SEC

• Chad Ford breaks down the
SEC's top NBA prospects

• Andy Katz on how Mike Rosario and Patric Young are the
keys to Florida's success
.
• Mike LaPlante gives the scoop on the
top incoming freshmen
in the conference.

• Dana O'Neil's report from
Kentucky's Big Blue Madness
and how
expectations at UK are through the roof
.
• Diamond Leung breaks down the
nonconference schedules of each SEC team
.
• SEC coaches weigh in on
expansion and future scheduling
in the SEC.
• Katz on how basketball at Alabama and Auburn
is such a tough sell
during these football-crazed days.
• Katz gives due to
Kentucky's overlooked Doron Lamb
.
• O'Neil on how
new Arkansas coach Mike Anderson
has hit the ground running.
• Leung with a
roundup of the SEC's offseason.
• For more SEC coverage in the Nation blog,
click here
.
Brennan's SEC Wind Sprint