Is San Diego State's success sustainable?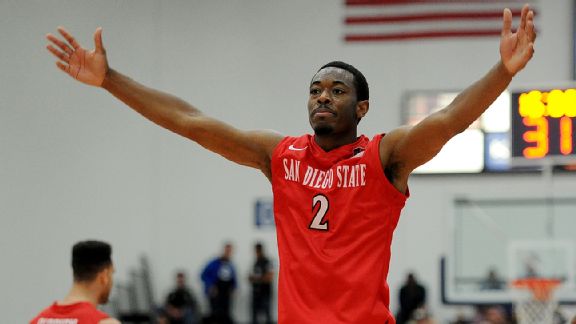 Jayne Kamin-Oncea/USA TODAY SportsIf not for a back injury a season ago, San Diego State's Xavier Thames might be a household name.
To hear Steve Fisher tell it, there is nothing surprising about one of college basketball's surprise stars of the season, San Diego State guard Xavier Thames.
No, Fisher insists there is an alternate timeline somewhere out there -- maybe a "Bioshock Infinite"-style multiverse, even -- wherein Thames has long since established himself as one of the best scorers and ballhandlers in the country. He even knows when the timeline branched.
"A year ago, he hurt his back -- it was New Years Eve against [Cal-State] Bakersfield," Fisher said. "He never complained, but it bothered him all conference season. He was never the same after that."
Maybe, had Thames not hurt his back, and not been forced to play much of last season through a barely concealed wince, his emergence as the Aztecs' offensive star would have come just over a year ago. Maybe, in this alternate timeline, we'd have expected the Aztecs to start 10-1 with wins over Creighton and Marquette and a place in the top 25. Maybe we'd have seen SDSU coming.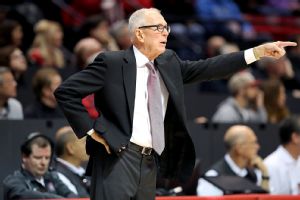 AP Photo/Don BoomerSteve Fisher's Aztecs weren't expected to do much damage this season, but their only loss came against No. 1 Arizona.
Instead, out here in the real world, Thames, an outwardly pedestrian offensive player, would be the most notable San Diego State returner to a team that lost Jamaal Franklin, Chase Tapley and a host of others.
So the Aztecs were granted proportionately pedestrian expectations. They've spent the past two months defying them.
The question is: Where does this timeline go next?
After Friday night's 118-35 win over Division II St. Katherine's, the Aztecs officially finished their nonconference season 10-1, their only loss coming in a 69-60 defeat to the still-unbeaten and No. 1-ranked Arizona Wildcats. With a combination of elite, lockdown defense and Thames' sudden offensive efficiency, San Diego State has gone from a seeming NIT prospect to the favorite to win the Mountain West Conference.
How did we get here?
"Shot selection," Thames said. "Actually? Really, the whole mental aspect of the game."
That's one way to sum it up. Thames has not only become a higher scorer for San Diego State, he has become a ruthless one, largely because he is taking and making smarter shots from long range. A year ago, Thames shot 35.6 percent from 3-point range; this season, that number has jumped to 46.8 percent. That's why Thames's offensive rating has leapt from last season's 98.0 to 2013-14's 119.3, despite the fact that he's touching the ball so much more, and taking so many more shots, than ever before.
Thames spent much of his offseason in the film room with San Diego State assistant coach Justin Hutson. The two ran back play after play of Thames's career, drilling down into the minutiae of defensive rotations, of second- and third-level decision-making, of the decision tree available on each and every ball screen. What the fifth-year senior saw took him aback.
"I didn't really take good shots," he said.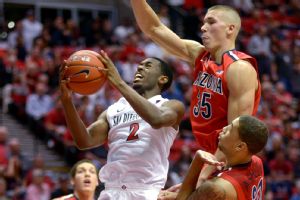 Kent C. Horner/Getty ImagesThames spent his freshman season at Washington State before transferring to San Diego State.
"That was my focus all offseason," Thames said. "Playing smarter. Understanding what good shots were. Not just shooting because I felt like I needed to get a shot."
The effects have shown. His assist rate is up. His turnover rate is down. He's drawing 5.3 fouls every 40 minutes. He's making defenses think.
"He's turned into a player where, if your toes are behind the 3-point line, he's going to pull it on you," Fisher said. "Or he's going to get past you and tuck and get into the lane. People know they have to guard Xavier."
It's hard to overstate how important that focus has been for a San Diego State offense that, save Thames, shoots just 44.5 percent from inside the 3-point line. The Aztecs aren't always pretty to watch, but because of Thames, they've been effective -- or effective enough.
Because for as good as Thames has been, San Diego State's defense has been the real star of the show. Through 11 games, the Aztecs have allowed just .93 points per possession, per KenPom.com; the Division I average is 1.03. For all their interior offensive struggles, SDSU opponents shoot it even worse inside the arc (38.2 percent). Even more impressive, the Aztecs manage to turn teams over without fouling. They're physical, yes, but economically so.
Meanwhile, sophomore center Skylar Spencer is one of the better shot-blockers in the country. With Thames and Winston Shepard disrupting passing lanes, freshman Dakarai Allen happily playing the role of designated pest, and JJ O'Brien -- one of Fishers "all-time favorites" -- doing anything and everything else, Fisher appears to have his best defense since Kawhi Leonard was haunting Viejas Arena.
"We've got good players, and a lot of players, and we've got guys who know that the easiest way to get on the court for our staff is to do what we need to do on defense," Fisher said. "You don't have to score to be of worth. Our guys dont play with an agenda."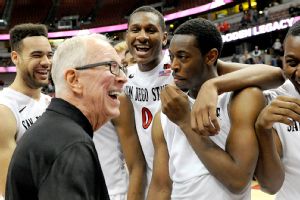 Jayne Kamin-Oncea/USA TODAY SportsThe Aztecs raised some eyebrows in November when they beat Creighton and Marquette at the Wooden Legacy in Anaheim, Calif.
And yet, the sustainability question remains. As Fisher is eager to note, his team hasn't rebounded the ball quite as well as he'd like on the defensive end. What's more, it's possible -- maybe not probable, but possible -- that Thames' hot outside shooting cools. If it does, and his mid-range game can't make up for it, San Diego State will have to find offense elsewhere. There are no guarantees.
All of which makes this week fascinating. On Wednesday, SDSU opens Mountain West play with a trip to Fort Collins, Colo., to face a rebuilding Colorado State team. Then, on Sunday, comes an unusually timed league interruption: a trip to play the Kansas Jayhawks in Allen Fieldhouse.
In other words, it's a big week, made bigger by what the Kansas game -- the first half of a two-year home-and-home deal with the Jayhawks -- says about the status of Fisher's program.
"A lot of people dont want to come to our place to play," Fisher said. "We're getting one of the most storied programs in the history of basketball to come back to play us."
It's all rather fitting timing. More than any year since the Leonard-led 2010-11 team went 34-3 and put the Aztecs on the map, this season was supposed to be the one where San Diego State took a step back. Settled down for a minute. Reloaded. Regrouped.
Instead, Fisher keeps finding ways to keep San Diego State firmly affixed among the best 20 or so teams in the country, keeps building stolid defenses, keeps unleashing new, experienced offensive stars. Whatever this team does in the next three months, the long-term sustainability of San Diego State basketball is a settled question.
"And were nowhere near as good as we can be on defense," Thames said.
If that's true, well, look out. This timeline is about to get crazy.
ESPN.com college basketball reporter
Joined ESPN.com in 2009
Writes Bubble Watch
Andy Katz's Weekly Honors
Monday's Game Plan
Game Plan is our new Monday morning primer, designed to give you everything you need to know about games that were and the games that will be in college hoops this week. Send us feedback and submissions via email and Twitter.

In case you needed proof that Larry Brown was really, really good at coaching basketball, in the matter of one season he has taken a 15-win SMU team ranked No. 186 in the Pomeroy adjusted efficiency rankings and turned it into a 10-2, top-50-level squad, whose most recent result was a 62-54 road win at a not-bad Wyoming. SMU didn't beat either of its notable nonconference opponents, but it played them both close. It lost to Virginia, most notably, 76-73. Brown's assistant coaches have been recruiting like madmen; there is a lot of turnover on that roster. But the fact is, the Mustangs are playing more-than-respectable basketball.
SMU sits -- or appears to sit -- at the fulcrum of the American in its first season. There are four teams you would consider definitively better: Louisville, Memphis, UConn and Cincinnati. Everyone else is pretty clearly worse. (Temple is 5-5 and lost to Texas and Texas Southern at home in back-to-back games, to list one example.)
Which is why, for Louisville, it is important that SMU is good, that Cincinnati holds up its end up of the bargain, that UConn's slight offensive slide in recent weeks is more of a blip than a lasting trend. Its important that the American is good. The Cardinals are almost certainly national title contenders, but without a little help from their league -- beginning with Memphis on Jan. 9 -- their seed wont show it. Stay tuned.
To read all of Monday's Game Plan, complete with ICYMI, state of the week and games you need to see, click here.
Freshman Tracker
Each week we release the Freshman Tracker -- our ranking of the top 10 freshmen in college basketball -- and each week there are new names and movement. We have one new first-year player to welcome to the list this week, and we break down what each of the 10 have provided their teams through the first two months of the season.
Here are the top 10 freshmen in the nation heading into the start of conference play:

1. Jabari Parker, F, Duke Blue Devils 6-foot-8, 235 pounds
Parker has been the best freshman thus far, and arguably the best player in college hoops -- especially on the offensive end of the floor. Parker has scored at least 20 points in 10 of his 12 games, and has been efficient, making 55 percent of his shots from the field.
This week: Tuesday versus Elon (1 p.m. ET, ESPNU); Saturday at Notre Dame
Stats: 22.1 PPG, 7.8 RPG | Previous rank: 1

2. Julius Randle, PF, Kentucky Wildcats 6-9, 250 pounds
Randle cramped up in the second half against Louisville and barely played after the break, but he still finished with 17 points in just 21 minutes. Randle has nine double-doubles this season and uses his strength, size and athleticism to dominate in the paint.
This week: off
Stats: 18.1 PPG, 10.6 RPG | Previous rank: 2
To see the entire top 10 in this week's Freshman Tracker, click here.

What To Watch
MONDAY
• Robert Morris at Oklahoma State, 7 ET, ESPNU
• Virginia at Tennessee, 7 ET, ESPN2
• VMI at Clemson, 7 ET, ESPN3
• NC State at UNC Greensboro, 7 ET, ESPN3
• Toledo at Kansas, 8 ET, ESPN3
• Ole Miss at Western Kentucky, 8 ET, ESPN3
• Saint Louis at Vanderbilt, 9 ET, ESPNU

TUESDAY
• Ohio State at Purdue, 1 ET, ESPN2
• Duke vs Elon, 1 ET, ESPNU
• Albany at Pittsburgh, 1 ET, ESPN3
• N. Car. Central at Maryland, 2:30 ET, ESPN3
• Indiana at Illinois, 3 ET, ESPN2
• Eastern Michigan at Syracuse, 3 ET, ESPNU
• Louisville at UCF, 5 ET, ESPN2
• UNC-Wilmington at UNC, 5 ET, ESPNU
• Memphis at South Florida, 7 ET, ESPN2
• UConn at Houston, 9 ET, ESPN2

WEDNESDAY
• UNLV at Fresno State, 3 ET, ESPN3
• SMU at Cincinnati, 6 ET, ESPNU
• Temple at Rutgers, 8 ET, ESPNU

THURSDAY
• Wisconsin at Northwestern, 7 ET, ESPN2
• Washington at Arizona State, 8 ET, ESPNU
• Wichita State at S. Illinois, 8:05 ET, ESPN3
• Saint Mary's at Gonzaga, 9 ET, ESPN2
• Oregon State at Colorado, 10 ET, ESPNU

FRIDAY
• No games
SATURDAY
• Cincinnati at Memphis, noon ET, ESPN2
• Pittsburgh at NC State, noon ET, ESPN3
• Iowa State at Texas Tech, 1:30 ET, ESPN3
• Miami (FL) at Syracuse, 2 ET, ESPN3
• UConn at SMU, 2 ET, ESPNU
• Georgia Tech at Maryland, 2 ET, ESPN3
• Richmond at Florida, 3 ET, ESPN3
• Oklahoma State at Kansas State, 4 ET, ESPNU
• Clemson at Boston College, 4 ET, ESPN3
• Virginia at Florida State, 5 ET, ESPN2
• Colorado State at New Mexico, 6 ET, ESPNU
• Dayton at Ole Miss, 8 ET, ESPN3
• Fresno State at Boise State, 9 ET, ESPN3

SUNDAY
• Northern Iowa at Wichita State, 2 ET, ESPN3
• Washington St. at Arizona State, 6 ET, ESPNU
• North Carolina at Wake Forest, 8 ET, ESPNU