Why is everyone so angry this year?
Syracuse visits Maryland on Monday night for their first and only in-season battle as ACC foes, and ...
OK, cut.
Let's try this:
Hot off his jacket-flailing, court-storming, B.S.-ing (for those with good lip-reading skills) temper tantrum, Jim Boeheim will pull up a seat at Maryland's Comcast Center on Monday night.
That ought to be pleasant.
There are bigger fish to fry in the game between the Orange and the Terrapins (7 p.m. ET, ESPN) than checking Boeheim for vein popping. Namely, a Syracuse team that started behind the eight ball by losing to Boston College is now in Game 2 of its most treacherous stretch of the season.
More from ESPN.com

Jim Boeheim's ejection was just the latest outburst. Why is everyone so angry this year? Dana O'Neil take a look. Story
---

It's a nice honor to be No. 1 in the country, but Florida coach Billy Donovan doesn't want to focus on it, writes Myron Medcalf. Story
---

Syracuse lost twice this week, but that didn't move the Orange off a No. 1 seed says Joe Lunardi. Bracketology
• Brennan: Boeheim loses it
• Brennan: DW: Block or charge?
• Lunardi: Bracket rundown


• Nation blog
But until he walks out unscathed and un-T'ed, this will be as much about Boeheim's decorum as the final score. Forget that Boeheim's record is 1,260-1 in games coached and games ejected (the other time in his career he was tossed was in an exhibition game); forget that the odds are higher that he'll do a halftime jig in a kilt at center court than get ejected again before he retires.
He is now the whirling dervish who lost his mind with the whole world watching.
Or, more accurately, the latest to lose his mind.
This season has been nothing if not a year of public displays of disaffection. The NCAA doesn't track technical fouls or ejections, so it's hard to say whether it's better or worse than usual. I counted 39 T's in 22 games (out of 133 played) Saturday, including the two heard 'round the world out of Durham. It seems high, but it's hard to say whether it is.
There has, however, been plenty of anecdotal evidence that suggests a preponderance of public peevishness this year.
Boeheim joins UConn's Kevin Ollie and Iowa's Fran McCaffery in the Early Showers Club, all tossed from games after fits of rage; Northwestern (Northwestern?) and Ohio State came to near blows in a game recently; Marcus Smart will play his second game Monday night after earning a three-game suspension for shoving a fan; and that fan, previously anonymous superfan Jeff Orr, has recused himself from future Texas Tech games because of his own behavior.
Between Smart and now Boeheim, we have spent more time this month talking about minding p's and q's than breaking down X's and O's.
It has all led to a lot of interesting and necessary debates, but at the crux of it all is the far more complex issue of emotion. It is the fuel that every game, every athlete and every fan runs on yet the lighter fluid that can turn a brushfire into an out-of-control inferno.
How do you contain it without killing it?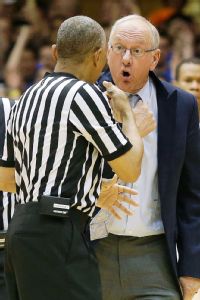 AP Photo/Gerry BroomeJim Boeheim was just the latest this season to lose control. It's been that type of year in college basketball.
Because we want emotion. Fans want their players and coaches to care as much as they do: to show their passion, not play like robots or drones. Tim Duncan is well respected for his game and ridiculed for being the most boring professional athlete in the history of sports.
Remember when Duke used to slap the floor on defense? Everyone else hated it; Duke fans ate it up.
A basketball arena is nothing if not a cauldron for concocting chaotic cocktails. Students sleep in tents and paint their chests to inspire their classmates; grown men and women wear the jerseys of teenagers; they all chant and scream and boo and clap. Every play can feel like a stomach-churning roller-coaster ride; every shot carries the weight of the world on its trajectory.
Emotion can carry a team, a coach or a player to unbelievable heights.
Christian Watford's 3-pointer against Kentucky in 2012, Roosevelt Jones' crazy buzzer-beater for Butler's win over Gonzaga in 2013, Kemba Walker's march to the Big East title in 2011 at Madison Square Garden -- all were built on individual excellence but on the backbone of emotion.
But it's a double-edged sword that cuts deep when left untended.
That's the lesson so far this season. The common denominator in those acts of uncivil disobedience is that everyone lost. UConn lost to Louisville 76-64; Iowa lost to Wisconsin 75-71; Oklahoma State lost to Texas Tech 65-61; and Syracuse lost to Duke.
Boeheim had every right to be frustrated or even angry over a call he disagreed with, but he crossed the line in his impressively quick 40-yard loafered dash across the court. It wasn't what he said. If you did read lips, he never got to the automatic T language (in Sesame Street parlance, typically brought to you by the letters M and F). He didn't touch anyone.
But the last time a coach sprinted across a court and didn't get tossed would be never. This was the easiest ejection in the history of ejections, well earned and automatic.
It's all sort of funny, really. Before Saturday night, Boeheim was the whiner, the pensive thinker who plaintively showed his hands to protest a call.
Now he's a wild man ripping off his coat (which will be the last time "wild" is used as a modifier for Jim Boeheim).
Before Saturday night, Syracuse was a venerable team of distinguished success, an old Big East stalwart that was more respected than disliked (except on the campus of Georgetown, of course).
Now the Orange are becoming, ironically enough, the new Duke, a lightning rod of a program bisecting the masses.
Maybe for Boeheim, that's a good thing. He and Mike Krzyzewski go way back as friends through USA Basketball, colleagues for years.
After all, no one has mastered the art of being detested better than Krzyzewski and the Blue Devils. Kinda liking Duke is like kinda being pregnant: It doesn't happen.
So maybe he can pick his old buddy's brain for some pointers as he and the Orange forage down this road as the new unpopular kids on the ACC block.
He should start with just how unpleasant this trip to Maryland will be.
ESPN Senior Writer
College basketball reporter.
Joined ESPN in 2007.
Graduate of Penn State University.
Andy Katz's Weekly Honors
Freshman Focus
ARIZONA
• Wednesday vs. California, 9 ET, ESPN2
• Sunday at Arizona, 8 ET, ESPNU
DUKE
• Tuesday vs. Virginia Tech, 7 ET, ESPNU
KANSAS
• Monday vs. Oklahoma, 9 ET, ESPN
• Saturday at Oklahoma State, 9 ET, ESPN
KENTUCKY
• Thursday vs. Arkanasas, 7 ET, ESPN
• Saturday at South Carolina, 6 ET, ESPN
SYRACUSE
• Monday at Maryland, 7 ET, ESPN
• Saturday at Virginia, 4 ET, ESPN
Freshman Tracker
Each week we release the Freshman Tracker, and each week there are new names and movement.
Here is our updated ranking of the 10 best freshmen in college basketball.
1. Jabari Parker, G, Syracuse Orange 6-foot-8, 235 pounds
The Blue Devils played three times this past week, and Parker finished with three double-doubles. He had 16 points and 14 boards in a win over Georgia Tech, 17 points and 11 rebounds in a loss at North Carolina and 19 points and 10 boards in a victory on Saturday night against Syracuse. Parker is second in the ACC in scoring, and leads the league in rebounding.
This week: Tuesday vs. Virginia Tech
Stats: 19.1 PPG, 8.8 RPG, 48 percent FG, 38 percent 3-pointers | Previous rank: 1
To see the entire top 10 in this week's Freshman Tracker, click here.

MONDAY
• Syracuse at Maryland, 7 ET, ESPN
• Oklahoma State at TCU, 7 ET, ESPNU
• Oklahoma at Kansas, 9 ET, ESPN
TUESDAY
• Florida at Vanderbilt, 7 ET, ESPN
• Virginia Tech at Duke, 7 ET, ESPNU
• Kansas State at Texas Tech, 7 ET, ESPN2
• Indiana at Wisconsin, 9 ET, ESPN
• Missouri at Georgia, 9 ET, ESPNU
• Wichita State at Bradley, 9 ET, ESPN2
WEDNESDAY
• Miami at Virginia, 7 ET, ESPN3
• Rutgers at UCF, 7 ET, ESPNU
• Georgia Tech at Notre Dame, 7 ET, ESPN2
• North Carolina at NC State, 8 ET, ESPN3
• West Virginia at Iowa State, 8 ET, ESPN3
• California at Arizona, 9 ET, ESPN2
• Baylor at Texas, 9 ET, ESPNU
• Stanford at Arizona State, 11 ET, ESPNU
THURSDAY
• Arkansas at Kentucky, 7 ET, ESPN
• Ohio State at Penn State, 7 ET, ESPN2
• Temple at Louisville, 9 ET, ESPN
• Iowa at Indiana, 9 ET, ESPN
• Oregon at UCLA, 9 ET, ESPN2
• Gonzaga at Pacific, 10 ET, ESPNU

FRIDAY
• Iona at Manhattan, 7 ET, ESPN2
• Campbell at High Point, 7 ET, ESPNU
• Canisius at Rider, 9 ET, ESPNU
SATURDAY
• UMass at Dayton, 11 a.m. ET, ESPNU
• Vanderbilt at Tennessee, 12 ET, ESPN2
• Cincinnati at UConn, 12 ET, ESPN
• Northern Iowa at Indiana State, 1 ET, ESPNU
• Pittsburgh at Notre Dame, 2 ET, ESPN2
• Missouri State at Wichita State, 2 ET, ESPN2
• North Carolina at Virginia Tech, 2:30 ET, ESPN3
• Auburn at Alabama, 3 ET, ESPNU
• Syracuse at Virginia, 4 ET, ESPN
• Illinois at Michigan State, 4 ESPN2
• Texas at Oklahoma, 4 ET, ESPN3
• Northwestern at Nebraska, 5 ET, ESPNU
• Saint Louis at VCU, 6 ET, ESPN2
• Kentucky at South Carolina, 6 ET, ESPN
• Iowa State at Kansas State, 7 ET, ESPNU
• UC Santa Barbara at UC Davis, 8 ET, ESPN2
• Houston at Temple, 9 ET, ESPNU
• Kansas at Oklahoma State, 9 ET, ESPN
• Gonzaga at Saint Mary's, 10 ET, ESPN2
• Cal Poly at UC Irvine, 11 ET, ESPNU
SUNDAY
• Georgia Tech at Florida State, 6 ET, ESPNU
• Stanford at Arizona, 8 ET, ESPNU