The importance of the college basketball polls
By Myron Medcalf
ESPN.com
La Salle coach John Giannini isn't worried.
In the last week, the Explorers have defeated Atlantic 10 favorites Butler and VCU, the school's first back-to-back ranked wins since 1952. But if voters leave La Salle off their top-25 ballots, Giannini won't fuss.
A national ranking will not impact his basketball team's upcoming performances, he said. So he'd like to believe that they're completely insignificant.
[+] Enlarge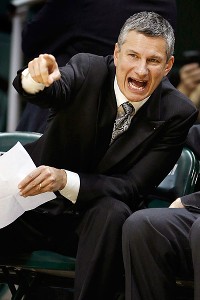 Robert Mayer/USA TODAY SportsLast week, John Giannini led the Explorers to their first back-to-back wins over top-25 teams since the Truman administration.
But he can't.
His role as leader of a program charged with luring fans, donors and prep stars does not allow him to feign poll apathy.
"As a coach, it doesn't mean anything," he told ESPN.com on Sunday, less than 24 hours after the Explorers had defeated No. 19 VCU on the road. "Whatever anyone writes or says about you really doesn't affect whether you cover a ball screen well or box out well or hit open people on offense. … From a perception point of view, it would mean a lot. I do know the more positively your program is perceived, and certainly being national ranked is a big part of that, the more it helps [with recruiting]. I'm all for anything that helps with our basketball program and brings positive attention to our university. A national ranking would certainly do that."
Today, we'll squabble over national rankings again. We'll bicker about LaSalle. Villanova. No. 1. Drops by Arizona, Duke, Syracuse and Louisville.
With so many ranked teams falling, especially near the top, the past few Mondays featured more banter than usual. But the debate is typical.
The polls turn fans, coaches, players, athletic directors, analysts and voters into politicians each week. Their positions are sometimes biased, immovable and borderline fantasy.
Yes, VCU played well in recent weeks -- prior to this current two-game losing streak -- but its fan base never seemed content with the program's ranking, and it wailed when the Rams failed to earn a slot in the Top 25 earlier this season.
Don't tell a Kansas backer that the Jayhawks aren't No. 1 in America. Or the world. Really, the universe. You can't prove it, so stop trying, they'll tell you. Michigan fans, however, will counter with an equally forceful argument.
And if you're a Minnesota supporter, then you're likely worried that your favorite squad will disappear from the top-25 rankings and the national conscience following four consecutive losses. Kentucky can relate, as Big Blue Nation sits in the uncomfortable position of a rare, yet justifiable, absence from the polls.
"With so many games, it's exciting to see when you move up and down because it's the sum of your accomplishments as opposed to just the last win," said Nadine Babu, co-owner of Minnesota message board GopherHole.com.
But it's not just the fans.
"Everyone wants to be ranked," Memphis coach Josh Pastner told ESPN.com. Why? "More exposure and prestige," he said.
In this sport, the polls mean nothing. And the polls mean everything.
They're the bastions of pride that carry college basketball until Selection Sunday arrives. The weekly country club that only invites the presumed elite. The polls represent a handful of the 340-plus Division I teams that compete each week.
And those teams are offered immediate mass attention while the rest of the country dreams of inclusion. And that's beneficial in the growth of any program. People are naturally drawn to what's hot -- see Brad Stevens' rise from unknown to premier candidate for America's top coaching jobs -- whether they're boosters, season-ticket holders or recruits.
Television stations, websites, newspapers and radio hubs announce the results minutes after they're made available.
"One benefit to being ranked is that typically comes with scores on the [ESPN] BottomLine, radio, SportsCenter and USA Today, which increases exposure for the program," said Joe Robinson, former director of basketball operations at Wisconsin and current marketing executive with the Milwaukee Brewers.
[+] Enlarge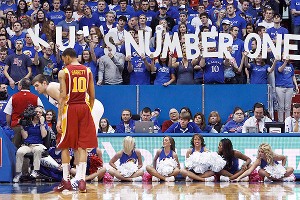 Jeff Moffett/Icon SMIThe polls don't determine a national champ in college hoops, but don't tell fans they don't matter.
It's too early to determine conference titles and league tourney championships. And although my colleague Joe Lunardi offers a reputable snapshot of the NCAA tournament picture months before Selection Sunday, we're weeks removed from a more permanent image of the at-large field.
So we rely on subjective polls that churn barbershop, watercooler, sports bar and locker room chatter throughout the country.
I was naive about the influence of the polls until I became an Associated Press voter a few years ago. (I only vote in ESPN.com's power rankings these days.) With that position came national scrutiny, emails, tweets and message board jabs. "Team A over Team B … Really, man?"
There's logic behind that passion.
Unlike college football's BCS system, the most important branch of college basketball -- the NCAA tournament selection committee -- doesn't consult the polls as it compiles the tourney pool. But they can have a tangible effect on perception. And even the most unbiased minds can't escape that swirl in the Social Media age.
"National ranking plays a role in the psyche of the selection committee," claims Kansas fan Frank Saunders, a FedEx manager in Kansas City.
And many connected to the game believe that theory.
That's why New Mexico coach Steve Alford complained about the Mountain West's failure to earn more than one slot in the most recent AP poll.
"I'm amazed with the rankings," he said, according to the Albuquerque Journal. "Just looking at the rankings and we only have one team ranked. To be the third-best league in the country and only have one ranked team is bothersome, it really is."
Not to Giannini. He's mostly unmoved by the possibilities that the new polls present for his squad.
He said he's more focused on leading his program through its recent turn of prosperity than national rankings.
"The only résumé that matters is the one at the end of the year," he said.
But if ballots go his way, he might have a different perspective on Monday afternoon.
THE RUNDOWN
Teams that could/should crack the polls in the near future:

Arizona State: The Sun Devils have been overshadowed in the Pac-12 as the three-way brawl between Arizona, UCLA and Oregon has dominated the headlines. But ASU's 18-point victory over UCLA on Saturday was a statement for a program that's certainly in the mix. A 17-point home loss to DePaul didn't help its perception, but Arizona State will have a chance to enter the top 25 in the coming weeks, even if it only beats up mediocre Pac-12 squads. The Sun Devils won't see UCLA and Arizona again until the end of the regular season.

Colorado State: The Rams have been in the conversation most of the season, but recent road losses to San Diego State and New Mexico suggested they weren't worthy of a top-25 slot. Between today and Feb. 13, however, the Rams will face Boise State, Wyoming and San Diego State at home, where they've already beaten UNLV. That stretch could sway voters and help Colorado State (70.4 ppg in MWC play, No. 1 in the league) earn a spot in the rankings within the next month.

Indiana State: The Sycamores have held Missouri Valley foes to a 41.2 percent clip in league play, second only to Wichita State's 39.4 percent mark. They've defeated Miami and Ole Miss. … And they've lost to Morehead State and Southern Illinois. Confusing, right? Well, Indiana State can end the mystery by beating the Shockers on the road when the two teams meet Tuesday. Voters will definitely pay attention if the Sycamores secure the win and prove that the MVC is more than a two-team race between Creighton and WSU.

Iowa State: Fred Hoiberg lost a lot of talent from last season. Former all-Big 12 first-teamer Royce White turned pro and multiple veteran contributors left, too. But the Cyclones might be the second-best team in the Big 12 right now. They defeated a top-15 Kansas State squad on Saturday. A few weeks ago, the Clones nearly upset Kansas at Allen Fieldhouse. They're succeeding with an offense that's ranked 24th in adjusted offensive efficiency, per Ken Pomeroy.

Kentucky: The Wildcats are here for a few reasons. 1. Voters love to give a talented team more credit than it deserves after one solid win. And the Wildcats will have an opportunity to secure that victory when they travel to Ole Miss on Tuesday. 2. I think it's natural to assume that a squad in Kentucky's position is not suffering from a lack of skill as much as it's wrestling with a lack of chemistry. Any day now, the national perception could change in favor of the Wildcats. Because we expect it to.

La Salle: You'd have to go back to November to find a bad loss on the Explorers' résumé (81-74 home loss to Central Connecticut State on Nov. 18). They've won four of their past five games. Am I missing anything? Oh yeah … the Explorers beat nationally ranked Butler and VCU in the same week. That helps.

Louisiana Tech: The 18-3 Bulldogs haven't lost since Dec. 12 (80-72 at McNeese State). That's 10 consecutive victories for the program. And it's coming off a weekend road win over Utah State. I don't think the Bulldogs are top-25 material. Yet. But they're talented enough to run the table. And even in the WAC that will be an impressive feat for a program that's ranked 43rd in adjusted defensive efficiency.

Middle Tennessee: The Blue Raiders have won seven consecutive games in the Sun Belt and 11 of 12 overall. Their lone blemish, a 66-60 loss at Arkansas State on Jan. 3, probably confused voters. But MTSU is back on track. And its nonconference win over an Ole Miss squad that's competing for the SEC title is even more impressive now.

Southern Miss: The Golden Eagles (17-4, 6-0 C-USA) had a rough nonconference season. And even though they've won nine in a row, they might not warrant voters' attention until they face perennial Conference USA power Memphis (Feb. 9 at home, Feb. 23 on the road). Beating the Tigers won't guarantee anything for this program, but they're statistically one of the best defensive groups in the country (36th in adjusted defensive efficiency). And last week, they scored 102 points against Marshall, the same team that lost at Memphis by one point on Saturday.

Villanova: This one seemed obvious enough following Saturday's 75-71 overtime victory over No. 3 Syracuse, mere days after the Wildcats upset No. 5 Louisville. But the Twitterverse says there are still questions about Villanova's standing. This is a quandary for voters, I think. As impressive as the Wildcats have been over the last week, the stretch doesn't define their season. The amazing sequence comes after three consecutive losses to Syracuse (by 11), Pitt (by 15) and Providence (by three). This is also the same team (189th in nonconference SOS, per ESPN.com's DailyRPI) that lost to Columbia by 18 points and Alabama by 22 points in November. Then again, no unranked team has matched this two-game winning streak over top-five squads in more than a decade. That's not worth a top-25 slot?
The Weekly Forecast
By Myron Medcalf
ESPN.com
A quick look at the temperature of college basketball as we head into a new week:
Philadelphia's Big 5
Hot: Villanova and La Salle combined to defeat four top-20 teams in a five-day span. Let's see how both squads handle success. Nova plays at No. 24 Notre Dame on Wednesday. La Salle has a much easier slate. But the Explorers have been a different team on the road. They'll be away from home in four of their next seven games.
Cold: Penn (3-15) just wants to win. The Quakers have won just one game since Nov. 28. Their next four games are at home. Then, they play four conference opponents on the road. So this upcoming stretch could be one of Penn's last chances to secure a victory or two in league play.
Marshall
Hot: Marshall Henderson (19.2 ppg) is must-see TV. And he's the reason that Ole Miss is a legit contender for the SEC title. No, the Rebels aren't as good as Florida. But he's one of the most dynamic playmakers in the country, and he's played big in major matchups. Ole Miss will see Kentucky on Tuesday and play at Florida on Saturday. It's a big week for Andy Kennedy's program. My guess is that Henderson will show up in both games.
Cold: The Thundering Herd nearly knocked off Memphis on Saturday, but this sport doesn't care about effort. Marshall has lost six of its past eight games and at one point last week found itself on the bad side of a 47-4 Southern Miss run. The team will face SMU and Central Florida this week. Marshall has to make a move fast to avoid the C-USA basement.
Free Throws
Hot: Mid-majors represent nine of the top 10 free-throw shooting teams in the country. Davidson (79.9 percent) leads the nation from the charity stripe. The Southern Conference program is followed by South Dakota, Toledo, Cal-State Fullerton, Mercer, Delaware, Montana, Iona and Presbyterian. All nine schools are connecting on at least 76.6 percent of their free throw attempts.
Cold: But North Carolina (64.1 percent), Arizona State, Texas, Purdue, St. John's, LSU, Wisconsin, TCU and Vanderbilt are all ranked 304th or lower. Ugh.
Viewer's Guide
All times ET

Monday
7 p.m.: Pittsburgh at Louisville (ESPN)
9 p.m.: Kansas at West Virginia (ESPN) Tuesday
7 p.m.: Wisconsin at Ohio State (ESPN)
7 p.m.: NC State at Virginia (ESPN2)
8 p.m.: Indiana State at Wichita State (ESPN3)
9 p.m.: Kentucky at Ole Miss (ESPN) Wednesday
6 p.m.: Villanova at Notre Dame (ESPN2)
6:30 p.m.: Northwestern at Michigan (BTN)
8 p.m.: Iowa State at Oklahoma State (ESPN3)
8:30 p.m.: Indiana at Purdue (BTN)
9 p.m.: New Mexico at Wyoming (ROOT) Thursday
7 p.m.: Illinois at Michigan State (ESPN)
9 p.m.: Arizona at Washington (ESPN)
9 p.m.: Butler at Saint Louis (CCS) Saturday
12 p.m.: Syracuse at Pittsburgh (ESPN)
2 p.m.: Duke at Florida State (ESPN)
4 p.m.: Oklahoma State at Kansas (ESPN3)
4 p.m.: Miami at NC State (CBS)
5 p.m.: Ohio at Akron (ESPNU)
6 p.m.: Kansas State at Oklahoma (ESPN2)
7 p.m.: Ole Miss at Florida (ESPNU)
8 p.m.: Baylor at Iowa State (ESPN2)
9 p.m.: Michigan at Indiana (ESPN)
9 p.m.: UNLV at Boise State (Time Warner) Sunday
2 p.m.: Marquette at Louisville (ESPN)
Katz: Previewing The Week Ahead
10 Places To Be This Week
Monday
Louisville, Ky. (Pitt at Louisville): Perception-wise, this game couldn't come at a worse time for Louisville. The Cardinals were dealt their third loss in a row at Georgetown on Saturday, the doubts are starting to pile up, and now Rick Pitino's team must defend its home court against a Pittsburgh squad which has won its past four and is almost certainly better than anyone thinks. Ostensibly, this should be a get-right game for the 'Ville. But if it proves far more challenging than that -- and it very well could -- the sudden concern about this team's national-title viability will be greatly amplified.
Tuesday
Columbus, Ohio (Wisconsin at Ohio State): For as deep as the Big Ten is this year, the two teams most expected to vie for the conference title (Michigan and Indiana) have maintained their commanding position with respective 6-1 starts. But at 5-2, Ohio State and Wisconsin very much remain contenders, and will have plenty to say before the final trophies are eventually handed out. In the meantime, OSU is still searching for that elusive second scorer to aid star Deshaun Thomas. Watching the Badgers try to frustrate that search in Columbus should be a lot of fun.
Oxford, Miss. (Kentucky at Ole Miss): It's pretty simple: Kentucky has only a handful of chances left to prove its case to the NCAA tournament selection committee. There are two games against Florida, one against Missouri and this, a road game against the clear second-best team in the SEC whose star scorer, Marshall Henderson, is a force to be reckoned with on the perimeter. Given how mediocre the Wildcats have been pretty much all season, Tuesday night promises to be an uphill climb. But it's one UK has to make.
Thursday
St. Louis (Butler at Saint Louis): For as fun as it's been to track this excellent Butler team's first foray into Atlantic 10 conference play, this game is much more important for SLU. Considered a league title contender a few months ago, the Billikens' home loss to Rhode Island last Saturday hinted at some larger issues involving a usually stout defense. Besides, Saint Louis needs quality résumé wins, and opportunities to get them (at home, against a good but beatable team) don't get much better than this.
Saturday
Raleigh, N.C. (Miami at NC State): Who's the second-best team in the ACC? What if that's the wrong question entirely? After all, Miami utterly stomped Duke last week -- complete with hilarious faux-floor-slapping -- and NC State has already toppled the Blue Devils as well. Shouldn't we be wondering if one or either of these teams is (at least with Ryan Kelly out), better than the league favorite? Of the two, Miami has the bigger chance; a road win at NC State would be hugely impressive. Either way, don't miss it.
Lawrence, Kan. (Oklahoma St. at Kansas): Can anyone derail the Kansas Jayhawks? OK, probably not -- at least not in Lawrence. But Iowa State and Temple have both pushed KU to the brink at Phog Allen, and if there is any non-K-State team in the Big 12 to pull it off, it just might be Marcus Smart and the defensively stalwart Cowboys.
Akron, Ohio (Ohio at Akron): MACtion lives! On Saturday, Ohio held on to a nail-biting one-point win over Kent State, while Akron had to rally from a 20-point deficit -- outscoring Buffalo 25-9 over the final 10 minutes of the game -- to eek out a 68-64 win at home. Those dual saves improved both teams to 6-0 in league play as they get ready to duke it out on Akron's home floor. Never sleep on MACtion, people.
Gainesville, Fla. (Ole Miss at Florida): Who would have thought, even a month ago, that we'd be picking not one but two Ole Miss games to preview in our weekly Places to Be column? Wild, right? Anyway, Florida is a bit like Kansas in that it is both so dominant, and situated in a not-very-good league, that it's almost impossible to imagine anyone else taking regular-season conference title honors. If there is one team that can do that to UF, it appears to be Andy Kennedy's group, which has a great perimeter option in Henderson and athletic, bruising bigs who could pose issues for the thus-far-dominant Gators on the low block.
Ames, Iowa (Baylor at Iowa State): ISU rebounded from its weird letdown at Texas Tech with a very nice home win over Kansas State, the exact kind of win the Cyclones need to pick up to start buttressing a probably-deserving NCAA tournament CV. Baylor would be another. The Bears have their issues, but they're definitely a tournament group, and their defense is actually improving -- they've held opposing Big 12 offenses to just .83 points per possession thus far, the lowest number in the league.
Bloomington, Ind. (Michigan at Indiana): Regular-season games don't get much bigger than this. You know the deal already: The Wolverines and Hoosiers have each begun Big Ten play 6-1, lording over a stacked Big Ten in exactly the manner predicted in the offseason. There's a lot of season left, sure, but there's already (tangentially) a lot on the line here: Conference supremacy, a potential No. 1 seed in the NCAA tourney, POY considerations for Trey Burke, Cody Zeller and Victor Oladipo (and yes, Oladipo is absolutely worthy of consideration). Plus, a hostile crowd 17,000 strong, which will make life immensely difficult for the seemingly unflappable Burke. Oh, and "College GameDay" is in town. Man, I can't wait.
-- Eamonn Brennan
Greenberg: Michigan-Indiana Preview
Three Questions For This Week

Will Michigan hold its No. 1 ranking for more than a week?
If the voting goes as expected, the Wolverines will occupy the No. 1 spot in the Associated Press poll for the first time since 1992. But how long will it last? Michigan hosts Northwestern on Wednesday in what should be an easy win. But after that, it's off to Bloomington for a Saturday tilt with Indiana, which opened the season as the country's top-ranked team before falling to Butler last month. The Hoosiers have won three straight and looked impressive in Sunday's 75-70 victory over Michigan State.

Will Laurence Bowers return this week for Missouri?
The word out of the Tigers' camp for about a week now is that Bowers is "close" to returning from a knee injury that sidelined him for the past five games. Mizzou has gone 3-2 without its star forward and leading scorer (16.8 PPG), getting blown out by league leaders Ole Miss and Florida. I still think the Tigers can be a top 15-caliber squad once they're healthy. Missouri hosts LSU on Wednesday and can certainly win that game without Bowers. But they need to work him back into the lineup as soon as possible to develop the strong cohesion and chemistry that is so imperative in March.

Can Villanova keep this up?
The Wildcats stunned the college basketball world by defeating two top-five teams (Louisville and Syracuse) last week. But what now? Jay Wright's squad is 13-7 overall and 4-3 in Big East play and likely considered an NCAA tournament bubble team at this point. But that could soon change. Villanova has another chance at a quality win when it travels to Notre Dame on Wednesday. A victory at the Joyce Center would provide a huge résumé boost, and after that, Nova will be favored in its next three games against Providence, DePaul and South Florida.
-- Jason King
Upset Prediction For This Week

Kentucky over Ole Miss, Tuesday: Can you believe it has come to this, that Kentucky beating Ole Miss would be considered an upset? The Rebels, who have flirted with the losing side plenty lately but still remain unbeaten in SEC play, face Kentucky and Florida in consecutive games. No one should expect the Rebels to beat Florida in Gainesville, but if Ole Miss wants to be taken seriously, it must at least beat struggling Kentucky at home. As much as I like the veteran inside play of Ole Miss and the wild side of Marshall Henderson, I'm hesitant to go all in with the Rebs. I wouldn't be surprised at all if UK finally puts a memorable game together. If Kentucky doesn't win this game, the Cats may only have one more shot -- at home against Florida -- to get a signature win for the tournament résumé.
-- Andy Katz