Daily Word: Should Coach K help reform NCAA?
Every weekday, Andy Katz leads a panel of our college hoops experts on a discussion of the biggest issues, trends and themes happening in and around college basketball.
1. NCAA president Mark Emmert recently met with Duke's Mike Krzyzewski in Durham. How involved should Coach K be in reforming the NCAA?
Andy Katz: As much as possible. The reformers need to be people who have been in the trenches. Coach K is worldly enough to find the balance of amateurism and college life. He may not go as far as what others would want for a pro-style system, but he probably will offer a compromise. If Emmert is going to be in this for the long haul, then he has to involve educated, informed people on the subject instead of administrators who are solely trying to protect their own bottom line.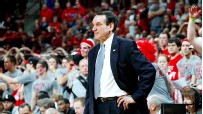 Joe Robbins/Getty ImagesCan Coach K help reshape the NCAA? Should he even be involved?
Myron Medcalf: Very involved. And not just Coach K. If Emmert is serious about reform, he'll consult the folks who've witnessed the changes in the collegiate landscape firsthand. (See: veteran coaches who I trust far more than a bunch of people in Indianapolis who lack their perspective.)
Dana O'Neil: There aren't many coaches, basketball or football, whose opinions carry more weight than Krzyzewski's, so whatever he has to say about NCAA issues and reform will make people sit up and notice. Mark Emmert needs people who get that sort of attention. More important, he needs people who have been in the real business of college athletics, not the presidential, ivory-towered ideals of college athletics. The only caveat is that Krzyzewski is just a coach, no more or less important than any others, and he has to toe the line carefully, making sure that his peers are as involved as he is.
2. Hall of Fame coach John Thompson Jr. said recently he has always believed basketball should have been a one-semester sport. What do you think?
Andy Katz: In theory it makes sense, but it may not be practical at this point. If the NFL moves toward an 18-game schedule, then it will eat up much of February. One of the main reasons the Final Four ends when it does is for CBS to lead into the Masters in early April. Well, the sport's ending shouldn't be determined by another sport. If the NCAA tournament was pushed more into April, it wouldn't hurt the product at all. It would actually help the regular season if it started around Christmas.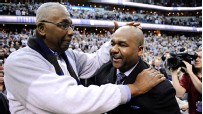 AP Photo/Nick WassBig John thinks JTIII and others should be coaching a sport that spans only one semester.
Myron Medcalf: I've heard that take many times, but I don't agree with it. College basketball would still face competition from pro sports and college football even if it became a one-semester sport. If coaches want more exposure for the sport before the Super Bowl, then they should reignite the home-and-home series and rivalries that will attract casual fans.
Dana O'Neil: I do agree that the annual creep of the schedule is getting sillier and sillier, and creating more and more nonsense games in the early season. My only concern is time. We're already to the point that conferences are crowning pseudo champions, since the girth of various leagues make it impossible for everyone to play each other. If we try to sandwich the schedule even more, something will have to give: good nonconference games or league games.
3. Matthew Knight Arena at Oregon is another upgrade from an older barn. What venue do you miss most?
Andy Katz: I loved the old Mac Court at Oregon, where the stands went straight up and the moisture created a loud, intimidating environment. The same was true at old barns like the Field House, replaced by the Kohl Center at Wisconsin, and Cole Field House, which has been supplanted by the Comcast Center at Maryland. These buildings were outdated, lacked amenities and there were obstructed seats. But the character in each one has been hard to duplicate.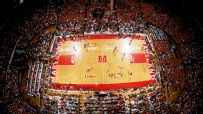 Doug Pensinger/Getty ImagesIt's hard not to miss old buildings like Cole Field House.
Myron Medcalf: The Kohl Center is a great facility. But the old Field House at Wisconsin was a special building.
Dana O'Neil: I'm a sucker for any place where, if the walls could talk, they could tell some great stories. That is why I miss Cole Field House. Along with dispatching more No. 1 teams than any other building in history (seven in all), Cole hosted the historic game between Texas Western and Kentucky. The on-campus arena was loud, hot and borderline uncomfortable, but it had energy and a presence that no modern-day building can duplicate.
---
• Earlier Words: October: 10-4 » 10-3 » 10-2 »Oct. 1 | September: 9-30 »
YOU GOTTA SEE THIS
The Charles Koch Arena is a 10,000-seat venue typically packed to the rafters for Shockers basketball, and the fans are, well, loud. Really loud. That level of steady local support has allowed the Wichita State administration to splurge here and there -- to give coach Gregg Marshall access to charter jets for recruiting, for example. There are few perks elite programs can boast that Wichita State doesn't have.
For the rest of this post, click here.
---
Iona coach Tim Cluess has done as well as any mid-major coach in the country at finding transfers -- specifically those from high-major schools -- in time to keep his program near the top of the MAAC, and this season will be no exception. Rutgers transfer Mike Poole will start immediately and should be an impact player, and former Iowa State point guard Tavon Sledge -- who received offers from St. John's, West Virginia and UTEP as a prep prospect -- will push the pace.
For the rest of this post, click here.
They Said It
Colson joins Martin Geben in Notre Dame's recruiting class as Mike Brey and staff continue to rebuild their frontline.

— Adam Finkelstein (@AdamFinkelstein) Aug. 28, 2013
ESPNU Basketball Podcast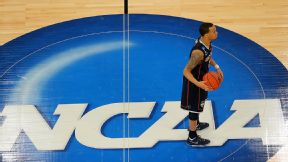 Adam Hunger/USA TODAY SportsAndy Katz and Seth Greenberg offer their thoughts on Kentucky vs. UConn.
Andy Katz and Seth Greenberg check in with newsmakers from around college basketball.