Daily Word: Should Steve Prohm have left?
Every weekday, Andy Katz leads a panel of our college hoops experts on a discussion of the biggest issues, trends and themes happening in and around college basketball.
1. Murray State lost Zay Jackson for the season. Isaiah Canaan is gone. Steve Prohm is in a rebuilding situation, so why did he stay with the Racers?
Andy Katz: Prohm could have gone to Mississippi State and was a hot commodity two seasons ago when Canaan led the Racers to the NCAA tournament. He nearly got them back last season before Belmont won in the OVC title game. Prohm showed a commitment to a program that has been a stepping stone, but he may regret not making his destination elsewhere in the years to come.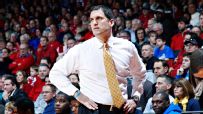 Joe Robbins/Getty ImagesShould Steve Prohm have made the jump and left Murray State for greener pastures?
Dana O'Neil: Hindsight being what it is, it's easy to question Prohm's decision, but it's not like any of the job possibilities were great -- Mississippi State and LSU are hard, hard gigs. My guess is, after that red-hot rookie season as head coach and a decent follow-up season, Prohm figured that he would be able to build Murray State into a mid-major force and wait out better chances.
C.L. Brown: Prohm joined a list of coaches like Gregg Marshall, Shaka Smart and Brad Stevens (before he left the college game) who resisted the lure of the so-called power conferences to stay put. Prohm could have left for a bigger program, but it wouldn't necessarily have been a better situation than he has at Murray State. Chances are, this won't be the only time he's sought after.
2. The Mountain West preseason poll had New Mexico first, UNLV second, Boise State third, San Diego State fourth and Utah State fifth. What are the chances the Aggies are a consistent challenger in their new league?
Andy Katz: High. Utah State coach Stew Morrill has consistently been a winner and Logan is one of the toughest places to play in the country. But this will also be the most challenging conference Utah State has been in, making the path toward a top-five finish and an NCAA tournament berth more difficult than the Aggies have had in their history.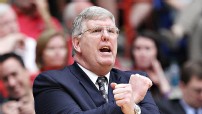 Christian Petersen/Getty ImagesStew Morrill's job won't be easy as Utah State heads off to the Mountain West.
Dana O'Neil: This will be the biggest hill Utah State has had to climb yet. Stew Morrill is a terrific -- and criminally underrated -- coach, and the Aggies have been consistently good. But Utah State is going up against schools that have established themselves with recruits and in one of the toughest leagues in the country. I'd never bet against Morrill, but this will be hard.
C.L. Brown: With an experienced and deep roster -- led by the return of a healthy Preston Medlin -- the Aggies will be able to compete with the league's upper echelon this season. Sustaining that will be a challenge. Coach Stew Morrill will have to upgrade the athleticism on his roster to remain a consistent contender.
3. Who will have a bigger impact as a transfer: Josh Davis, who left Tulane for San Diego State, or Jordan Clarkson, who left Tulsa for Missouri?
Andy Katz: This is a tough call. Both are going to be huge factors for their respective teams. But the Aztecs may need Davis' productivity more since he doesn't have as much help as Clarkson. Davis was tapped preseason MWC Newcomer of the Year and could be the difference between an NCAA and NIT year.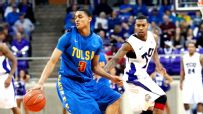 Kevin Jairaj/USA TODAY SportsHow big a difference will Jordan Clarkson make at Missouri?
Dana O'Neil: It's Clarkson. When I spoke to Frank Haith after the Tigers' boot camp, he was really impressed with Clarkson's leadership and attitude, two qualities Mizzou desperately needs as it puts together a sort of hodgepodge team. Maybe his numbers aren't as big as Davis', but I think his impact will be far greater.
C.L. Brown: Had Davis chosen Gonzaga instead of San Diego State, I'd say Clarkson. But Davis seems like a perfect fit to replace the considerable void left by Jamaal Franklin's departure. His impact in the Aztecs' lineup will likely coincide directly with how successful they are this season.
---
• Earlier Words: October: 10-9 » 10-8 » 10-7 » 10-4 » 10-3 » 10-2 » 10-1
You Gotta See This
But that would have been too easy, not to mention dishonest by way of omission. In other words: It wouldn't have focused on Belmont, and if you know nothing else about the Ohio Valley Conference right now, Belmont is the takeaway. … That sounds too general; what about Belmont, right? Sorry, but no. I meant it the way it was written. Belmont in general. Belmont writ large. Belmont's continued and relatively unheralded success under coach Rick Byrd -- that's the story here. Belmont itself is the story.
For the rest of this post, click here.
---
Such is the curse of the mid-major in a 345-team Division I landscape. You can fight with everything you have all season long, wage a grueling conference campaign, and emerge victorious. Blood and tears are typically involved. A 35-game college hoops season is hard. And after all of that, many worthy mid-majors' best and only hope is that (A) they don't go cold at the wrong time in the conference tournament and (B) they can spring an upset in the first round. It doesn't matter how convincing your regular-season was. Everything comes down to a few plays on an early March weekend, for better and for worse.
They Said It
If I were doing a Top 25 today, Kansas would be somewhere around 12. But they will be in top five when it matters -- at the end.

— Jeff Goodman (@GoodmanESPN) Aug. 28, 2013
ESPNU Basketball Podcast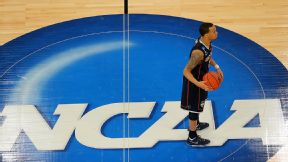 Adam Hunger/USA TODAY SportsAndy Katz and Seth Greenberg offer their thoughts on Kentucky vs. UConn.
Andy Katz and Seth Greenberg check in with newsmakers from around college basketball.