Daily Word: Player of the year debate
Every weekday, Andy Katz leads a panel of our college hoops experts on a discussion of the biggest issues, trends and themes happening in and around college basketball.
1. Andrew Wiggins might be the biggest name, but who else should be given preseason consideration for national player of the year?
Andy Katz: The Big 12 has one of the other top candidates in Oklahoma State's Marcus Smart. Kentucky freshman Julius Randle is another top choice. But leave open the window for someone else to come sailing through who isn't receiving the hype just yet, similar to Victor Oladipo's rise and Trey Burke's eventual run to the award last year.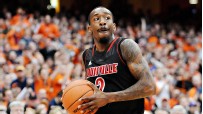 Mark Konezny/USA TODAY SportsCan Russ Smith make a run at national player of the year honors?
Eamonn Brennan: Russ Smith! I know it's easy to forget, given Smith's whole lovable goofball bit, but he was arguably the best perimeter defender in the country last season, a totally fearsome part of Rick Pitino's No. 1-ranked defense and, oh yeah, a respectably efficient volume scorer and one-man fast break for the team that, you know, won the national title.
Myron Medcalf: Doug McDermott. This guy has carried Creighton into a new league and national platform. He's back for his senior season a year after averaging 23.2 PPG and hitting 49 percent of his 3-pointers. Put him on the national POY list.
2. Who in the American Athletic Conference has the best shot to challenge Louisville for the conference title?
Andy Katz: The more you strip down the league, the more Memphis looks like a contender if the Tigers can board with the Cards. UConn's frontcourt is suspect, and Cincinnati might be too green in a few spots. But the Tigers have the guards and experience to compete with Louisville, but do they have the ability to finish up front in key games?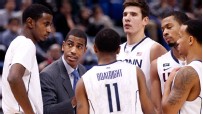 David Butler II/USA TODAY SportsCan Kevin Ollie and UConn challenge Louisville in The American?
Eamonn Brennan: Two teams: Memphis and UConn. Both have talented supporting casts built around veteran backcourts (Shabazz Napier and Ryan Boatright in Storrs; Joe Jackson and Chris Crawford in Memphis); both sets of guards are fast enough to not be as fazed as most by the Louisville defense. Generally, both teams have a long way to go to make that kind of leap, and Louisville is going to be really good. But they're the best candidates.
Myron Medcalf: I'll say Memphis because Michael Dixon joins a veteran backcourt that will boast the presence of the nation's No. 3 recruiting class, which features five-star talent Austin Nichols and other lengthy, versatile athletes. If the Tigers' defensive efficiency holds (24th last season) and they can get buckets from young bigs inside, they might -- might -- have a chance to upset Louisville.
3. Outside of the P.J. Hairston saga, which is next on the list of question marks for Roy Williams at North Carolina?
Andy Katz: UNC has to find a way to get consistent play inside. But most importantly, the Tar Heels need to finish games and handle the elite matchups better than they did last season.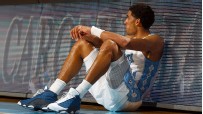 Peyton Williams/UNC/Getty ImagesCan the Tar Heels rely heavily on James Michael McAdoo this season?
Eamonn Brennan: Two years ago, recruiting analysts were favorably comparing James Michael McAdoo's game to Tim Duncan. I don't need to go into detail to describe how far off that was. The question now for McAdoo, back for his junior season and coming off a year in which he used 27.4 percent of his team's possessions and posted a 91.3 offensive rating -- a lot of times, when he touched the ball, he was hurting the team -- is whether he has stripped out enough of the bad habits to be counted on.
Myron Medcalf: How much can Williams get from a pair of freshman big men whom he really needs? The Tar Heels had so many issues with size last season that McAdoo played the 5 for a chunk of the season once Williams switched to a smaller lineup. McAdoo will return to his more natural small forward slot in 2013-14, assuming first-year big men Isaiah Hicks and Nate Britt can give Williams a reason to trust his young frontcourt.
---
• Earlier Words: October: 10-10 » 10-9 » 10-8 » 10-7 » 10-4 » 10-3 » 10-2 » 10-1
You Gotta See This
After two years of wide-ranging realignment at nearly every level of the sport, the C-USA looks nothing like its charter configuration. It has been decimated. Just two original members, Southern Miss and UAB, remain, while seven teams -- Memphis, Tulane, Houston, East Carolina, Central Florida, SMU and Tulsa -- are joining the newly formed American either this year or next. In response to the exodus, the league again had to replenish its ranks, only with slimmer pickings: Charlotte, Florida Atlantic, Florida International, Louisiana Tech, Middle Tennessee, North Texas, Old Dominion, UTSA and Western Kentucky.
They Said It
If GT gets solid PG they will make a move in the standings. Marcus Hunt a rising star at the shooting guard. Excellent size great work ethic

— Seth Greenberg (@SethOnHoops) Aug. 28, 2013
ESPNU Basketball Podcast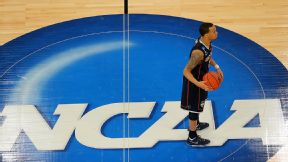 Adam Hunger/USA TODAY SportsAndy Katz and Seth Greenberg offer their thoughts on Kentucky vs. UConn.
Andy Katz and Seth Greenberg check in with newsmakers from around college basketball.