Daily Word: Who are the hottest young coaches?
Every weekday, Andy Katz leads a panel of our college hoops experts on a discussion of the biggest issues, trends and themes happening in and around college basketball.
1. Every time a job is open, Shaka Smart's name comes up. Who is the hottest young coach (under 40) not named Shaka Smart?
Andy Katz: I'm going with Valparaiso's Bryce Drew. The 39-year-old has Valpo as a perennial contender in the Horizon League, making it unlikely the Crusaders will be able to hold on to him indefinitely before he goes to a higher level.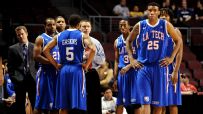 Jennifer Stewart/USA TODAY SportsMichael White's stock will rise if he keeps it up at Louisiana Tech.
Dana O'Neil: He may not have a red-not name just yet, but if Louisiana Tech duplicates last season's results, Michael White will get on a lot of short lists. In two seasons, White has led the Bulldogs to their first Top 25 ranking in 28 years and their most wins since 1985. Add that to an energetic and fun-to-watch style of play, and you've got the makings of the game's next "it" coach.
C.L. Brown: I'm going a little different direction with my answer by saying Michigan assistant coach LaVall Jordan. He's a big reason for Trey Burke's development into the national player of the year last season. Jordan, 34, was a finalist with Brandon Miller to replace Brad Stevens at Butler, and chances are he won't have "assistant" in front of his name much longer.
2. Who in the American Athletic Conference has the best shot to challenge Louisville for the conference title?
Andy Katz: The more you strip down the league, the more Memphis looks like a contender if the Tigers can rebound with the Cardinals. UConn's frontcourt is suspect, and Cincinnati might be too green in a few spots. But the Tigers have the guards and experience to compete with Louisville. Still, do they have the ability to finish up front in key games?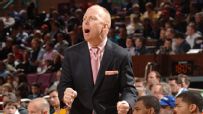 Mitchell Layton/Getty Images Mick Cronin and the Bearcats are ready for a new challenge in a new conference.
Dana O'Neil: Cincinnati. Mick Cronin isn't trying to rebuild the Bearcats; they've already arrived. Cincinnati has made three consecutive NCAA tournament appearances and has re-established itself in the game's hierarchy. When Louisville leaves the American, the Bearcats, along with Memphis and UConn, will be the most attractive programs in the league.
C.L. Brown: Historically, it'd be Cincinnati, but I'm buying SMU now. The Mustangs have considerable momentum, with all five starters returning and a talented recruiting class led by 2013 McDonald's All American guard Keith Frazier. If Larry Brown continues to keep recruits like Frazier home, along with 2014 commit Emmanuel Mudiay, SMU will become a power beyond just the American.
3. What about in the SEC: Which among this group is the best -- Missouri, LSU, Ole Miss, Alabama or Arkansas?
Andy Katz: LSU is the trendy pick. Missouri has Tulsa's Jordan Clarkson as a lead guard who has dazzled so far in practice. But I may lean toward Ole Miss, even with a new frontcourt, due to the eventual return of Marshall Henderson and his prolific scoring for a team that is now confident after winning the SEC tournament and a game in the NCAA tournament.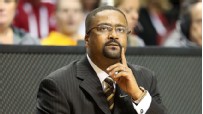 Andy Lyons/Getty Images)Frank Haith has a history of getting the job done at Missouri.
Dana O'Neil: I'd take Missouri for the same reasons I took Cincinnati -- a more proven track record. Blending players from different groups -- transfers and freshmen, in this case -- isn't easy, but so far Frank Haith has done a good job finding success with quirky chemistry. That may hit a wall someday, but the Tigers already have a history to call on -- more than everyone on that list save Arkansas -- and that will see them through for the long haul.
C.L. Brown: What Alabama lacks in depth, it makes up for with experience. Investing in Tide guard Trevor Releford is a sound bet, and he'll no doubt have a bigger role after backcourt mate Trevor Lacey decided to transfer to North Carolina State.
---
• Earlier Words: October: 10/11 » 10/10 » 10/9 » 10/8 » 10/7 » 10/4 » 10/3 » 10/2 »
You Gotta See This
Is the Summit a better fit for Denver? Maybe. Insofar as the Summit makes sense on a map -- it comprises two teams from Indiana, one from Illinois, one from Nebraska and three from the Dakotas -- it makes sense for Denver. From a long-term basketball perspective, with recruiting so key, well, who knows? The only thing that seems clear right now is this: Denver is the immediate favorite to win the Summit in 2013-14, and that's a baseline expectation.
For the rest of this post, click here.
---
So [BYU's Tyler] Haws did his work away from the spotlight, and what work it was: Haws averaged 21.7 points, 4.5 rebounds, 2.0 assists and 1.3 steals. He set several BYU records for sophomores, including most total points (780), best scoring average (21.7) and most games with 20 or more points (25), records made doubly impressive by the fact that [Jimmer Fredette] had played there just two years ago. He shot 51 percent from the field, 38 percent from 3, and 87.7 percent from the free throw line. He drew fouls at a high rate, kept his turnovers low, and finished with a 115.7 offensive rating despite taking 30.7 percent of his team's shots. Haws not only did a lot; he did a lot well.
They Said It
The scene on the court in Pauley Pavilion earlier this afternoon. http://twitpic.com/dh9ahi

— UCLA Basketball (@UCLAMBB) Aug. 28, 2013
ESPNU Basketball Podcast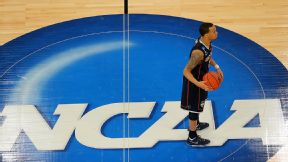 Adam Hunger/USA TODAY SportsAndy Katz and Seth Greenberg offer their thoughts on Kentucky vs. UConn.
Andy Katz and Seth Greenberg check in with newsmakers from around college basketball.