Daily Word: Who can surprise at Kentucky?
Every weekday, Andy Katz leads a panel of our college hoops experts in a discussion of the biggest issues, trends and themes happening in and around college basketball.
1. Which Kentucky freshman not named Randle or Harrison could surprise and be good enough for the NBA after one season?
Andy Katz: NBA teams will always look to the bigs, and that could bode well for Dakari Johnson. But James Young should have a better chance to star at his position and shine. He could easily end up being the sleeper star in the SEC.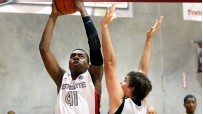 John F. Rhodes for ESPN.comCan Dakari Johnson stand out on a Kentucky team loaded with other talented freshmen?
C.L. Brown: Dakari Johnson could be that guy. He'll bring a physical presence in the post not seen in Lexington since DeMarcus Cousins. But the real surprise would be if Derek Willis or Dominique Hawkins -- two homegrown products who weren't ranked in the top 20 nationally in the 2013 recruiting class -- emerged to become NBA talents this season.
Myron Medcalf: Coach John Calipari has hyped 6-foot-6 wing James Young in recent weeks. He's a big, athletic guard who could really take advantage of the extra pressure teams may put on Julius Randle and Andrew Harrison. He could be a millionaire soon.
2. Who was picked too low in the Pac-12 preseason media poll?
Andy Katz: Arizona State at No. 7. Stanford could be the pick at No. 6 with Johnny Dawkins' most experienced team. But ASU has the best point guard and one of the top NBA prospects in Jahii Carson. Plus, it has added Jermaine Marshall to give it the experienced, productive backcourt.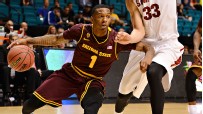 Kyle Terada/USA TODAY SportsJahii Carson and Arizona State hope to finish higher than where the preseason predictions have them.
C.L. Brown: If Colorado had the tradition of Arizona and UCLA, the two teams ahead of it, the Buffaloes likely would have been the team picked to win the league. It's OK; coach Tad Boyle -- armed with a new contract entering his fourth season -- is establishing his own tradition in Boulder. All-Pac-12 guard Spencer Dinwiddie highlights the list of four returning starters that could have Colorado at the top of the standings.
Myron Medcalf: Arizona State, No. 7, is too low. The Sun Devils have one of the game's best point guards in Jahii Carson, and they return three starters and add Penn State transfer Jermaine Marshall. Herb Sendek's squad, a year after winning 22 games and finishing 9-9 in the Pac-12, could be a top-tier team in this league.
3. Mike Krzyzewski said there should be someone to run college basketball. Who would you pick?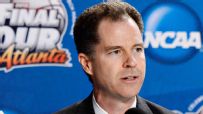 Richard Mackson/USA TODAY SportsWould Dan Gavitt be a good choice to run college hoops?
Andy Katz: Coach K said Jim Haney of the National Association of Basketball Coaches is the top choice, with former Big East associate commissioner and current NCAA vice president Dan Gavitt as a future option. I would skip to Gavitt. Few in the NCAA know the sport as well. At the same time, he has the respect of coaches, administrators and NCAA staffers.
C.L Brown: I agree with Andy that Dan Gavitt would be an excellent choice. He has the right pedigree to guide the sport in the right direction.
Myron Medcalf: I wouldn't hire an individual. Yes, the game could use more direction, and that aim could be facilitated by a commissioner type. But college basketball has too many issues for one person to handle. I'd hire Coach K to assemble a committee that would accept that charge.
---
Earlier Words: October: 10/17 » 10/16 » 10/15 » 10/14 » 10/11 » 10/10 » 10/9 » 10/8 »
You Gotta See This

There was no avoiding it: In 2011-12, the Towson Tigers were one of the worst teams in college basketball. They finished 1-31, which is kind of as deep as you need to go, analysis-wise. It wasn't long before sarcastic jabs at the Tigers felt downright mean. Frankly, I was cheering for them. Most basketball people get sick at the idea of ending a meaningless pickup run without a win; the thought of winning one of 32 Division I contests was, like, incomprehensible. How could you not empathize? And then, in 2012-13, something equally incomprehensible happened: Towson started winning.
For the rest of this post, click here.
They Said It
#20Days #WOOF @QuincyPondexter #UDUB pic.twitter.com/qfJUgsTVqS

— UW Men's Basketball (@UW_MBB) Aug. 28, 2013
ESPNU Basketball Podcast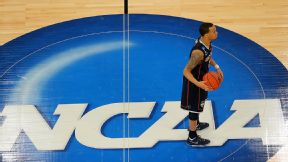 Adam Hunger/USA TODAY SportsAndy Katz and Seth Greenberg offer their thoughts on Kentucky vs. UConn.
Andy Katz and Seth Greenberg check in with newsmakers from around college basketball.