Daily Word: Can Josh Smith help Georgetown?
Every weekday, Andy Katz leads a panel of our college hoops experts in a discussion of the biggest issues, trends and themes happening in and around college basketball.
1. How much of a factor can Josh Smith be for Georgetown this season?
Andy Katz: Smith could be the difference between the Hoyas winning and losing the Big East. If he stays on the court, and that's a big if, then he can be what the Hoyas believe he is -- the best big man in the conference. Smith has untapped potential as a scoring post, but he has to stay out of foul trouble and on the court to maximize his effectiveness.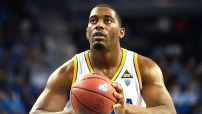 Harry How/Getty ImagesJosh Smith has moved on from UCLA and can now make a difference with Georgetown.
Myron Medcalf: Well, if he gets into shape and stays in shape, he can be a major factor for a Georgetown team that probably won't have Greg Whittington all season. But his conditioning has been such a problem for him in the past, it's difficult to expect too much from Smith before he plays a few games. He's talented enough, however, to be a big factor for JTIII's squad.
Eamonn Brennan: If he's in shape, all bets are off, but odds are he gives Georgetown what he usually gave UCLA: 18-20 minutes per game, flashes of brilliance, foul trouble, rinse, repeat.
2. What do you make of Marcus Smart challenging Andrew Wiggins to prove he is the best player in the country?
Andy Katz: I love it. Smart has been a great ambassador so far for Oklahoma State. He wants to send a challenge to Wiggins, but in a competitive manner, which is exactly what he should do for one of the best conference rivalries/races in the country this season.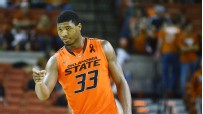 Brendan Maloney/USA TODAY SportsMarcus Smart thinks Andrew Wiggins shouldn't have the mantle of great player just handed to him.
Myron Medcalf: I love it. Smart isn't going to willingly take a back seat to Wiggins, his new Big 12 rival. Smart has been through the fire and proved his worth, and it's only right that Wiggins does the same. Results are far more important than hype.
Eamonn Brennan: I dig it. I have zero problem with the camaraderie between modern young players; they all play together when they're kids, anyway. But this is a competitive sport both on collective and individual levels, and if you don't push yourself against the best, what's the point?
3. On the heels of WCC media day, what is the perception of the league?
Andy Katz: The WCC has been known as Gonzaga and everyone else for more than a decade. Saint Mary's has had its run of late to push the Zags, while BYU is still finding its footing in the new league. For the WCC to reach real relevance, the league must get the middling teams -- Santa Clara, San Diego, newcomer Pacific and San Diego -- to win quality nonconference games.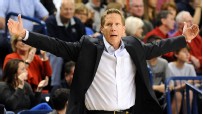 James Snook/USA TODAY SportsGonzaga is the class of the WCC. Can more teams rise and help the league's profile?
Myron Medcalf: It's still a league that lives and dies on Gonzaga's performance each year. Perhaps Saint Mary's and BYU will find a way into the Big Dance. But the Bulldogs are still facing pressure to carry the league's torch on a memorable postseason run that doesn't end prematurely.
Eamonn Brennan: I think it's pretty good! Gonzaga is still bossing the league, but Saint Mary's has closed the gap over the past five years, BYU has a legitimate tourney shot, and the rest of the league seems to be improving in proportion.
---
Earlier Words: October: 10/24 » 10/23 » 10/22 » 10/19 » 10/18 » 10/17 »
You Gotta See This
But [Andrew Wiggins'] presence, like Batman's, changes things. It has sent, and will send, NBA franchises racing to the bottom. It brings everyone to the table: NBA fans fostering obsessions; causal observers who'd normally just wait for March; that dude you know who only watches the NBA when LeBron James is playing; GIF enthusiasts; people who don't care about basketball at all. You name it. College basketball can often be confused for a niche sport. Sometimes it is. Not this season. Not with Wiggins. If the monoculture still exists, it will be watching.
For the rest of this post, click here.
They Said It
Watching a lot of film of Oregon for Armed Forces Classic. Terrific spread offense, changing defenses. Dana Altman does a great job.

— Jay Bilas (@JayBilas) Aug. 28, 2013
ESPNU Basketball Podcast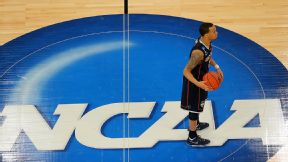 Adam Hunger/USA TODAY SportsAndy Katz and Seth Greenberg offer their thoughts on Kentucky vs. UConn.
Andy Katz and Seth Greenberg check in with newsmakers from around college basketball.