Daily Word: A New No. 1
>
Every weekday, Andy Katz leads a panel of our college hoops experts in a discussion of the biggest issues, trends and themes happening in and around college basketball.
1. How long will Michigan State hold onto the No. 1 ranking it will receive next week?
Andy Katz: The Spartans could hold the No. 1 ranking into 2014. MSU plays in a watered-down Coaches vs. Cancer Classic, hosts North Carolina and goes to a weakened Texas before the Big Ten. The first chance for a loss might not be until the opening conference weekend at Penn State (Dec. 31) and at Indiana (Jan. 4).
Myron Medcalf: Michigan State's schedule isn't that daunting prior to Big Ten play. The Spartans could stumble against North Carolina on Dec. 4 in the Big Ten/ACC Challenge and lose their No. 1 ranking. It's more likely that they'll hold onto it until the first week of 2014, when they'll face Indiana on the road and Ohio State in East Lansing, Mich. But they're good enough to maintain that status even beyond that.
C.L. Brown: Bloomington, Ind., has perpetually been a road block for the Spartans. They're just 12-44 all time in Assembly Hall. The only trip Michigan State made to IU as the No. 1 team ended with a loss in the 2000-01 season, when Indiana was led by then-interim coach Mike Davis. Ironically, it's just the second time State has been ranked No. 1 in the regular season, and both times it held the top spot for just four games. (Four games this season would mean a loss to Oklahoma or Seton Hall in the Coaches vs. Cancer Classic.)
2. What intrigues you most about North Carolina's game against Holy Cross tonight?
Katz: No P.J. Hairston and no Leslie McDonald means even more production is needed from Marcus Paige. Paige made four 3-pointers for 14 points in the opener. That might be too much to ask, but Paige's role has and will change as long as there are absences on the perimeter.
Medcalf: I'm just interested in Roy Williams' frontcourt rotation. Williams went small last season because he had to, but the idea of moving James Michael McAdoo back to his natural small forward slot is based on the notion that young bigs Kennedy Meeks, Isaiah Hicks and others will man the post. That's still an unknown for the Tar Heels.
Brown: Holy Cross clearly doesn't mind running, so this game could be played in the 100s just like its season opener against Sacred Heart. As the Tar Heels get used to playing without Hairston and McDonald, I'm mainly interested to see how Paige continues to evolve playing off the ball and if J.P. Tokoto can be consistent with his shot.
3. Which unranked team has made a case to be included next week?
Katz: BYU. The Cougars were an offensive machine against Stanford during the Tip-Off Marathon. BYU had as impressive a win as any team that didn't receive votes in the preseason poll. BYU deserves a spot.
Medcalf: Xavier kicked off its season with a win over Gardner-Webb and a Tennessee squad that received votes in the preseason polls. Coach Chris Mack has a potential lottery pick in Semaj Christon. He couldn't ask for a better start.
Brown: I had Creighton in my power rankings ballot and was surprised the Bluejays didn't start the season ranked. They'll get their due now. Also, UMass passes the eye test of a Top 25 team with its athleticism and length. The Minutemen boast wins over major conference teams (Boston College, LSU) during a time in the season when most teams are playing inferior competition.
---
Earlier Words: 11/14 » 11/13 » 11/12 » 11/11 » 11/8 » 11/7 » 11/6 » 11/5 »
Games To Watch
Cornell vs. Louisville, 7 p.m. ET, ESPN3


Louisville was the only top-five team not featured in Tuesday's Champions Classic. Nonetheless, the Cardinals are undefeated and, to the surprise of no one, led in scoring by senior Russ Smith (25.5 points per game). They face a winless Cornell team.
---
Holy Cross vs. UNC, 8 p.m. ET, ESPNU


North Carolina will be without P.J. Hairston, last season's leading scorer, and senior Leslie McDonald as NCAA eligibility concerns continue to sideline the pair. The Heels shouldn't need either of them against the Crusaders, but surviving without them for much longer could be difficult.
---
Arkansas-Pine Bluff vs. OK State, 8 p.m. ET


In the "Year of the Freshman," it's easy to forget who won freshman of the year last season. That would be Oklahoma State's Marcus Smart, who shocked the college basketball world by returning to Stillwater, Okla., for another season. The Cowboys have outscored their first two opponents by an average of 54 points.
They Said It
YESSSSSSSSSSSSSSSSSSSSSSSSSSSSSSSSSSSSSSSSSSSSSSSSSSSSSSSSSSSSSSS @BelmontMBB 83 UNC 80 JJMANN GW 3!!!!

— Jeff Goodman (@GoodmanESPN) November 15, 2013
ESPNU Basketball Podcast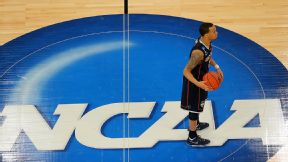 Adam Hunger/USA TODAY SportsAndy Katz and Seth Greenberg offer their thoughts on Kentucky vs. UConn.
Andy Katz and Seth Greenberg check in with newsmakers from around college basketball.