Daily Word: Does the ACC lack depth?
Every weekday, Andy Katz leads a panel of our college hoops experts in a discussion of the biggest issues, trends and themes happening in and around college basketball.
1. The ACC has some impressive names at the top, but does it lack depth?
Andy Katz: If the snapshot is today, then yes. But Florida State can still be a real threat to grab a tournament bid and Virginia has too much experience to disappear, despite its disappointing start. The same can be said of Notre Dame. But the conference needs to show much better from fifth on down.
Dana O'Neil: Yes, and that's been the league's problem for years as it bucks to take over "best conference in the country" honors. There is time for improvement and teams that can bolster the middle -- Florida State, Virginia and Notre Dame -- but you earn a lot of your reputation in the nonconference season, and the ACC has done little to prove its worth.
C.L. Brown: It has been disappointing that despite expansion the middle appears to be the same soft center that it has been for years. Virginia and Notre Dame are on the marquee of the league's disappointments so far. Pittsburgh, Florida State and maybe Georgia Tech may be the teams that redeem the league's slow start.
2. We've seen a slew of upsets lately, continuing with North Dakota State taking down Notre Dame on Wednesday. Which early-season shocker has the most staying power in your mind?
Katz: UAB over North Carolina in Birmingham. The Blazers nearly took down New Mexico in the Charleston Classic. The Blazers should be a legit contender in Conference USA, which is in desperate need of a front-runner without Memphis. Charlotte could still be that, as well, after its Puerto Rico Tip-Off title.
O'Neil: UAB over North Carolina, mostly because of the timing. That confounding loss is sandwiched between two impressive wins -- against Louisville and Michigan State -- and will stand out as a head-scratcher all the way until April. Regardless of whether the Blazers become a good team, it still makes zero sense.
Brown: Colorado's win over Kansas, which snapped a 19-game losing streak in the series, wasn't that much of a shock. But it was a huge confidence-builder for the Buffs moving forward and validated their potential.
3. New Mexico State tried to throw a triangle-and-two at Arizona to no avail. Is there any way to slow down the Wildcats?
Katz: Gimmick zones can be an issue, but a team is going to have to keep the Arizona bigs off the backboard and away from any ally-oops. Of course, the Wildcats can also dig themselves a hole, as was the case in the first half against Drexel. The Wildcats have to watch any slow starts, since the competition is only going to get tougher.
O'Neil: Thanks to a savvy point guard in T.J. McConnell it won't be as easy to slow the Wildcats as some other teams. He knows how to handle gimmick defenses and unusual zones. Michigan's defense could give Arizona trouble because it's run by talented players, but teams that don't match the skill level with the Wildcats will have to hope they have an off night.
Brown: Michigan's 1-3-1 could do the trick on Saturday, simply because the Wildcats haven't faced it. But if Zona gets out of Ann Arbor unscathed, it'll likely be favored in every game until a Jan. 9 showdown at UCLA.
---
Earlier Words: 12/11 » 12/10 » 12/9 » 12/6 » 12/5 » 12/4 » 12/3 » 12/2 »
Games To Watch
Maryland at Boston College, 7 p.m. ET, ESPNU


Maryland's season is off to a shaky start, but coach Mark Turgeon feels there are brighter days ahead. The Terps will get the chance to start conference play on a high note when they travel to play a struggling Boston College team.
They Said It
The aftermath of Rondae Hollis-Jefferson's monster dunk in still photo courtesy of @J_LPhoto. @APlayersProgram pic.twitter.com/F6tCq1GOeO

— Arizona Athletics (@AZATHLETICS) Dec. 11, 2013
ESPNU Basketball Podcast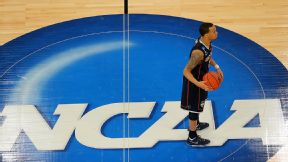 Adam Hunger/USA TODAY SportsAndy Katz and Seth Greenberg offer their thoughts on Kentucky vs. UConn.
Andy Katz and Seth Greenberg check in with newsmakers from around college basketball.