Daily Word: Headed for a shootout in Ames?
Every weekday, Andy Katz leads a panel of our college hoops experts in a discussion of the biggest issues, trends and themes happening in and around college basketball.
1. Iowa State is first in the nation in scoring. Iowa is sixth. Should we expect any defense?
Andy Katz: Well, you can add a few more points to Iowa State's scoring at home. Hilton Coliseum will help the scoring since the atmosphere and momentum will shift toward the Cyclones. Iowa State needs to play with purpose on each possession. This is a cerebral Iowa team that won't make many mistakes. Iowa State can't give Iowa a chance to win late.
Myron Medcalf: Due to the significance of the game, I think we might see a more measured scoring pace even though both squads can get buckets. At the same time, early foul trouble could ruin things so I don't believe Iowa or Iowa State will be overly aggressive, especially on the perimeter. Can't wait to see this one.
C.L. Brown: Despite both teams' offensive proclivity, it's a rivalry game that is knotted at 16-16 since 1983. Even with the new emphasis for freedom of movement, there's no way either team will back down on defense. I would imagine neither team will reach its scoring average in a game that might come down to who can make a late stop.
2. What is the key matchup, the one that could decide the outcome, in Kentucky at North Carolina?
Katz: How UNC defends James Young could decide this game. If Young can make 3s against the Tar Heels, he poses a unique problem for Carolina's defense. The frontcourts could be a push. So, too, could the point guard play. The wings could be the difference.
Medcalf: I think the biggest matchup will be Julius Randle versus North Carolina's frontcourt. One Tar Heel can't contain him. But if Brice Johnson, James Michael McAdoo, Kennedy Meeks and Joel James can slow him down, North Carolina will have a chance to beat the Wildcats.
Brown: The matchup I'm looking at is Kentucky's transition defense versus Carolina's running game. If the Wildcats are as nonchalant getting back against the Tar Heels as they were against Baylor, Carolina wins. If UK can limit them in transition, I think the Cats win a halfcourt battle.
3. Can Michigan's front line contend with Arizona's?
Katz: No. The Wolverines will need to win this game by containing Arizona's transition game and forcing T.J. McConnell, Nick Johnson and Gabe York into poor decisions. There won't be another team this season on the regular-season schedule that can or should win the frontcourt battle.
Medcalf: Doubtful, but the Wolverines will only have a chance because they won't have to worry as much about individual matchups. Michigan's defense is built on traps and consistent help for post defenders. So it's not like Mitch McGary will be responsible for stopping Aaron Gordon, Kaleb Tarczewski and Brandon Ashley alone. Michigan's problem is that it just doesn't have a lot of frontcourt length and athleticism and that will be an issue on Saturday.
Brown: On paper maybe, but the Wolverines have yet to play up to their potential in an actual performance this season. McGary has posted double-doubles in games against Florida State and Duke, but his back injury has kept him slow to return to form. In order to have a shot at winning, Glenn Robinson III, who has averaged just 8.0 points in their three losses, will need to have his breakout game.
---
Earlier Words: 12/12 » 12/11 » 12/10 » 12/9 » 12/6 » 12/5 » 12/4 » 12/3 »
They Said It
I talked to former UNC wing Reggie Bullock last night about P.J. Hairston. Said he had "no idea" when/if he would be back. Join the club.

— Jeff Goodman (@GoodmanESPN) Dec. 11, 2013
ESPNU Basketball Podcast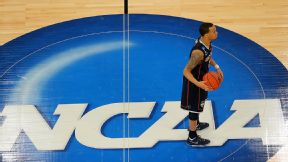 Adam Hunger/USA TODAY SportsAndy Katz and Seth Greenberg offer their thoughts on Kentucky vs. UConn.
Andy Katz and Seth Greenberg check in with newsmakers from around college basketball.