Daily Word: How Villanova made its comeback
Every weekday, Andy Katz leads a panel of our college hoops experts in a discussion of the biggest issues, trends and themes happening in and around college basketball.
1. What is the biggest reason for Villanova's resurgence?
Andy Katz: Defense and experience. The Wildcats held Kansas to 59 points and LaSalle to 52 in key wins. The Wildcats also have experience, with veteran players at key positions: James Bell (senior), JayVaughn Pinkston and Darrun Hilliard (both juniors), and sophomore point Ryan Arcidiacono. Villanova has used that to its advantage so far this season and goes into Big East play as one of the favorites.
Dana O'Neil: Personality. Back in its heyday, Villanova's roster was built on hard-working, blue-collar players who didn't care who scored. Coach Jay Wright has that back. From JayVaughn Pinkston to James Bell, these are players who have learned the importance of working together for a common goal as opposed to worrying about individual accolades.
C.L. Brown: It starts with the fact that the Wildcats are much better at taking care of the ball this season. Ryan Arcidiacono averaged nearly three turnovers per game last season, but has only 12 this season in 11 games compared to 35 assists. No single player has had a greater impact than James Bell, who has gone from role player to second-leading scorer and leading rebounder.
2. How does Melvin Ejim stack up with the rest of the elite players in the Big 12?
Katz: Ejim won't win Big 12 Player of the Year. That award is likely going to go to Oklahoma State's Marcus Smart. But Ejim will be one of the top six players in the conference due to his ability to affect the game in a variety of ways. Ejim's impact means Iowa State will compete for the Big 12 title and a high seed in the NCAA tournament.
O'Neil: He lacks the name recognition that others in his league have, but Ejim is every bit as talented and perhaps even more critical to his team's success. If the Cyclones continue to win, especially when Big 12 play starts, the big man might even get his due.
Brown: Ejim means as much to his team as any of the league's other elite players. Because he plays at Iowa State, he hasn't been as publicized nationally, but ask any coach in the Big 12 if they'd take him. The answer would be yes because he's so skilled.
3. How much will Jerian Grant being ineligible for the rest of the season hurt Notre Dame?
Katz: Significantly. Eric Atkins loses his backcourt mate and someone he can play off. Irish coach Mike Brey said late Sunday night that the Irish will have to reinvent themselves without Grant. They've done it before, when the Irish went to a "burn" lineup to milk clock time in previous years. This time they'll need to rely even more on role players. Grant takes away some speed and quickness for the Irish at both ends.
O'Neil: A lot -- for the obvious reasons and the less than obvious. Grant is the Irish's leading scorer, so it's a big hit for a team that is still trying to figure out just who it is. But further, Grant has been a leader for Notre Dame, and that's perhaps more difficult to replace. If any coach has proved that he can juggle suddenly reconfigured rosters, it is Mike Brey. So I wouldn't count the Irish out, but this is a big blow for Notre Dame as it preps for ACC play.
Brown: It's painful because Grant and Eric Atkins fed off one another. I'm not sure the Irish can replace Grant this far into the season, but it looks as if freshman guard Demetrius Jackson will be asked to shoulder more of the load.
---
Earlier Words: 12/20 »12/19 »12/18 » 12/17 » 12/16 » 12/13 » 12/12 » 12/11 »
Games To Watch
Iowa State vs. Akron, 4:30 p.m. ET, ESPNU


Iowa State wasn't convincing in its first game at the Diamond Head Hawaiian Airlines Classic. It got past George Mason, but the Cyclones struggled at times. Now it's on to a game against Akron, which has not beaten a Top 25 team in 25 attempts.
---
Northern Arizona vs. Arizona, 10 p.m. ET


Arizona has rolled along, even as starting center Kaleb Tarczewski deals with a sprained ankle. After Monday's game with the Lumberjacks, the Wildcats will have time to rest; their next game until is the conference opener against Washington State on Jan. 2.
They Said It
Nine unbeaten teams left in college hoops: Arizona, Syracuse, Ohio State, Wisconsin, Villanova, Oregon, Wichita State, Iowa State, Toledo.

— Andy Katz (@ESPNAndyKatz) Dec. 23, 2013
ESPNU Basketball Podcast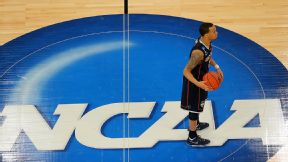 Adam Hunger/USA TODAY SportsAndy Katz and Seth Greenberg offer their thoughts on Kentucky vs. UConn.
Andy Katz and Seth Greenberg check in with newsmakers from around college basketball.