Daily Word: Some teams are gaining power
Every weekday, Andy Katz leads a panel of our college hoops experts in a discussion of the biggest issues, trends and themes happening in and around college basketball.
1. What team that wasn't on your Power Rankings ballot that could be inside that top 25 real soon?
Andy Katz: Creighton looks like it is starting to get its groove back again. The win over Cal was impressive. Give the Bluejays another week or two and they'll likely be back in the poll.
Eamonn Brennan: This is still a few weeks off, but if Harvard doesn't lose before its Jan. 8 trip to UConn and then wins that game -- substituting "upsets" as the verb there would be a misnomer; Harvard is that good -- the Crimson will, or at least should, get plenty of top-25 looks.
C.L. Brown: Well, Texas' win at North Carolina wasn't necessarily a fluke. The Longhorns can prove it early with tough Big 12 tests against Oklahoma and Oklahoma State. They might be ranked soon.
2. We're down to nine unbeaten teams left. Which one will be the next to fall?
Katz: Villanova visits fellow unbeaten Syracuse on Saturday and I'm under the impression Iowa State will get out of Hawaii unblemished. Toledo plays at Kansas, but not until Monday. So Nova will drop, but not easily. And don't mistake this for Villanova slipping. The 'Cats are here to stay as a Big East title contender.
Brennan: The loser of the Villanova-Syracuse game? That's probably a little too easy; let's go with Villanova. That's going to be a very evenly matched game in the Carrier Dome, but Syracuse's perimeter play might just be enough to end the Wildcats' surprising unbeaten start.
Myron Medcalf: Other than the loser of Saturday's Villanova-Syracuse game, I think Oregon will be next. Tough test for the Ducks at Colorado on Jan. 5. Oregon could suffer its first loss that day.
3. Wichita State is in the top 10 of the Associated Press poll for the first time since 2006. Product of a soft schedule or worthy move up the polls?
Katz: Worthy. Wichita State tried but couldn't land a better slate. The CBE Hall of Fame Classic wasn't bad, with Wichita State scoring a quality win over BYU. The Shockers pass the eye test. This team looks the part and is deeper, more able to score points and tougher on defense than the Final Four team from last season.
Brennan: Seeing as they've already beaten BYU, Saint Louis (on the road), Tennessee and Alabama (same), I don't know how anyone could accuse the Shockers of having a soft schedule. It's a solid schedule -- and Wichita State is really, really good.
Medcalf: Well, the Shockers have benefited from their schedule. But they're not alone in that. Plus, this squad might be better than the one that reached the Final Four but its schedule might not allow it to prove that until March. I think they're top-10 good.
---
Earlier Words: 12/23 »12/20 »12/19 »12/18 » 12/17 » 12/16 » 12/13 » 12/12 » 12/11 »
Games To Watch (Wednesday)
Iowa State vs. Boise State, 8:30 ET, ESPN2


Iowa State matched its best start in school history by beating Akron to advance to the Hawaiian Airlines Diamond Head Classic title game against Boise State. The 1996-97 Cyclones also started the year 10-0. Boise State stands in the way of a tournament title and an 11-0 record.
They Said It
AP Poll: 1. Arizona 2. Syracuse 3. Ohio St 4. Wisconsin 5. Michigan St 6. Louisville 7. Oklahoma St 8. Villanova 9. Duke 10. Wichita St

— ESPN College BBall (@ESPNCBB) Dec. 23, 2013
ESPNU Basketball Podcast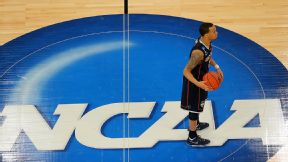 Adam Hunger/USA TODAY SportsAndy Katz and Seth Greenberg offer their thoughts on Kentucky vs. UConn.
Andy Katz and Seth Greenberg check in with newsmakers from around college basketball.