Daily Word: Say hello to the American
Every weekday, Andy Katz leads a panel of our college hoops experts in a discussion of the biggest issues, trends and themes happening in and around college basketball.
1. The American Athletic Conference makes its debut tonight. Which game intrigues you most?
Andy Katz: Louisville going to Central Florida should be the most interesting game of the day. The Knights haven't been impressive of late, but did pummel Valparaiso and took down Miami early in the season. But how Louisville plays in its first game without Chane Behanan and how it reinvents itself in the post (especially with Wayne Blackshear) is worth tracking.
Dana O'Neil: Louisville-Central Florida. I still think the Cardinals can and will win this game, but I'm intrigued at what this revamped lineup will look like sans Behanan. There's a chance that Louisville will be the better for being without Behanan's antics and distractions, but there's no denying that his inside presence will be sorely missed. Rick Pitino has some tinkering to do.
Eamonn Brennan: Under normal circumstances, Louisville's trip to Central Florida would be entirely unremarkable. But, after the past 72 hours or so -- which included a loss to Kentucky and the apparently permanent removal of Behanan by the university for undisclosed behavioral issues -- it'll be interesting to see whether and how it gets worse.
2. Ohio State opens Big Ten play at Purdue. Do the Buckeyes' offensive struggles concern you?
Katz: Not at all. Ohio State's defense might be as stingy as any in the country. Ohio State will dictate the way this game will be played. Purdue must play the game it did against Boston College to pull off the upset.
O'Neil: No. I watched a team that was better defensively than offensively win a national championship last year, and there's no reason Ohio State can't follow the same path. The Buckeyes' ability to make other teams uncomfortable negates any offensive concerns there might be.
Brennan: Not really, but only because they defend so well. There will be moments of ugliness, yes, and some tight games when stagnant offensive possessions will fail to produce quality looks. But Ohio State is swarming opponents to the tune of .85 points per trip, best in the country, and, when you guard that well, you don't have to be pretty.
3. Villanova's first Big East game comes on the road at Butler. Are the Wildcats prepared for what awaits them at Hinkle Fieldhouse?
Katz: I'm not sure. I want to see how Butler opens up the Big East without the students on campus. But the Wildcats were overrun late against Syracuse. This game is much more about Butler and the Bulldogs' ability to make a grand entrance into the Big East. Villanova will be fine over the long run and will compete for the Big East title this season.
O'Neil: Absolutely. This Villanova team is loaded with seniors and juniors that have weathered the world of the old Big East. The new Big East won't intimidate them at all.
Brennan: I'd assume so. There are few better ways to prepare for one road game than playing one, and Saturday's adventure in the Carrier Dome should have shaken out any travel hesitation left in Jay Wright's retooled group. If anything, I think the surprise will come from Butler itself, which is playing quality defense, hasn't lost by more than a possession this season (including to Oklahoma State), and has some versatile and experienced play coming from forward Khyle Marshall. Really interesting game.
---
Earlier Words: 12/30 »12/27 »12/24 »12/23 » 12/20 » 12/19 » 12/18 » 12/17 » 12/16 »
Games To Watch
Ohio State at Purdue, 1 p.m. ET, ESPN2


Big Ten Conference play is always sure to bring a few surprises. Could we have one on opening day of the conference season? Purdue hasn't been talked about much, but none of its losses is a red flag, and this is Ohio State's first road game since Nov. 16.
---
Louisville at UCF, 5 p.m. ET, ESPN2


During Louisville coach Rick Pitino's news conference to announce the dismissal of forward Chane Behanan, he continued to reiterate that the Cardinals would need to figure things out in the frontcourt quickly. Their first test without Behanan comes against UCF.
---
Memphis at South Florida, 7 p.m. ET, ESPN2


Joe Jackson and the Tigers head to Tampa to embark upon American Athletic Conference play against a USF team for which the past eight games have been decided by five or fewer points.
---
UConn at Houston, 9 p.m. ET, ESPN2


Welcome to life in the American, UConn. The Huskies no longer have the luxury of jetting around the Northeast, with their first conference road game at Houston. The Cougars have lost five of their past eight games.
They Said It
Southern University scored 1st 44 points of tonight's game against Champion Baptist, win game 116-12. SERIOUSLY! » http://es.pn/1ir1P3V

— SportsCenter(@SportsCenter) Dec. 30, 2013
ESPNU Basketball Podcast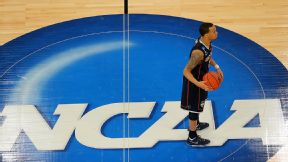 Adam Hunger/USA TODAY SportsAndy Katz and Seth Greenberg offer their thoughts on Kentucky vs. UConn.
Andy Katz and Seth Greenberg check in with newsmakers from around college basketball.