Daily Word: Predicting how the leagues will look
Every weekday, Andy Katz leads a panel of our college hoops experts in a discussion of the biggest issues, trends and themes happening in and around college basketball.
1. Which conference battle most intrigues you?
Andy Katz: It's not close. The Big 12, even with the news that Oklahoma State's Michael Cobbins is out for the season, will be the most competitive league. No one is getting out of this without at least three losses, maybe four. This will be the toughest round-robin schedule, with Kansas, Iowa State, Baylor, Oklahoma State, Texas and Oklahoma. All six schools will be in contention.
Myron Medcalf: Probably the Big 12, especially with the Michael Cobbins news. What will that mean for Oklahoma State? And I really couldn't pick a favorite among Oklahoma State, Baylor, Kansas and Iowa State.
C.L. Brown: The Big Ten, because the winner is going to come away with a lot of bruises. The league looks like it will easily send the most teams to the NCAA tournament with Ohio State, Wisconsin, Michigan State, Iowa, Illinois, Indiana, Minnesota and possibly Purdue and Michigan primed to earn bids.
2. Which conference has the most to prove?
Katz: The SEC -- yet again. Kentucky, Florida and Missouri should be fine for bids. But that's it. The rest of the lot doesn't have much to show for it at this juncture. If the 14-team league produces only three bids, well then, that's a major disappointment.
Medcalf: The Big East, and I'm not sure it's close. Few signature nonconference wins for the league and Villanova has been one of the few bright spots for a conference that talked a big game when it was recreated during the offseason.
Brown: Talk around ACC media day focused on how the league would be among the deepest and best in its history. The conference has failed to show much depth so far. The only thing that changed is now Syracuse has joined Duke and North Carolina as the teams the rest of the conference is chasing.
3. Which conference has the best chance for multiple Final Four participants?
Katz: The Big Ten. Wisconsin, Ohio State and Michigan State could all vie for top-two seeds and put themselves in position for a run to the Final Four. The Pac-12, ACC, Big 12 and SEC probably have two each, but the Big Ten has three.
Medcalf: The Big Ten, I think. I could see Michigan State, Wisconsin and Ohio State in Arlington.
Brown: It's not about how deep a conference is if the elite teams are that good. No other league can boast a trio of schools that have won national titles since 2000 like the ACC's Syracuse, Duke and North Carolina.
---
Earlier Words: 12/23 »12/20 »12/19 »12/18 » 12/17 » 12/16 » 12/13 » 12/12 » 12/11 »
Games To Watch
SMU vs. Cincinnati, 6 ET, ESPNU


Larry Brown and his Mustangs start a tough three-game stretch to open American play. After its date with 11-2 Cincinnati, SMU gets dates with UConn and Louisville. It's time to find out if SMU's own 10-2 record is solid or soft.
---
San Diego State vs. Colorado State, 9 ET


San Diego State is the only Top 25 team to play on the very first day of 2014. The Aztecs have held their past three opponents below 40 points; it's safe to guess that the Rams will be a little more challenging. Colorado State averages 80.1 points per game.
They Said It
Road in AAC doesn't get easier for UConn. SMU's brand new Moody Coliseum sold out for Saturday's game. Ponies must survive at Cincy first.

— Fran Fraschilla (@FranFraschilla) Jan. 1, 2014
ESPNU Basketball Podcast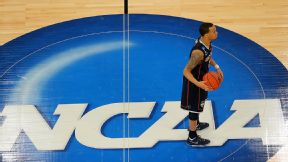 Adam Hunger/USA TODAY SportsAndy Katz and Seth Greenberg offer their thoughts on Kentucky vs. UConn.
Andy Katz and Seth Greenberg check in with newsmakers from around college basketball.