Daily Word: Should McCaffery be suspended?
ideo1>
Every weekday, Andy Katz leads a panel of our college hoops experts in a discussion of the biggest issues, trends and themes happening in and around college basketball.
1. Should Iowa coach Fran McCaffery be suspended for his ranting, two-technical outburst against Wisconsin?
Andy Katz: Yes. The Big Ten should sit him one game for his behavior. The NCAA has put coaches on notice for any violation, including those by an assistant, so if the antics involve an out-of-control moment, including a bump of an official, then a suspension is warranted. If a player did the same thing he would likely have to sit a game, too.
Myron Medcalf: Yes, especially if there was contact with an official. An outburst like that has to be addressed. If it's not, then what precedent does that set?
Eamonn Brennan: Part of me thinks it's crazy that any adult human would go that nuts at any point during a game, and should probably be told to stop. The other part of me thinks that if we're worried about a precedent for coaches acting like maniacs we need to invent a time machine and go back about 40 years. I'm torn.
2. Which team had the weekend's biggest win?
Katz: Notre Dame's win over Duke. The Irish could have easily been toast without Jerian Grant for the rest of the season. But coach Mike Brey has once again reinvented Notre Dame at the right time. The Irish are now back in business for being an NCAA tournament team and a player in the ACC.
Medcalf: San Diego State over Kansas will elevate the Aztecs in the rankings, but it's more important for their NCAA tourney résumé. The Mountain West isn't as stacked as it was a year ago. So that road win over the Jayhawks was very important for a program that won't have many opportunities for quality wins in league play.
Brennan: With all due respect to ND, the Irish won a home game against a good but not great team and its porous defense. San Diego State became the first nonconference team in more than seven years to beat Kansas in Lawrence. Point, Aztecs.
Katz: I'm not going to second-guess the Hall of Fame coach in this case. He knows what he's doing and clearly wasn't pleased with the way Parker was playing. This is a long season. I don't think he would have done that in a single-elimination situation in the ACC or NCAA tournament. Parker will get the message.
Medcalf: Yes. Partially because he's Coach K, and he's had a multitude of young stars and, somehow, he's helped most of them fulfill their potential. I think it's easy to second-guess the call if we're shortsighted. But Jabari Parker is the leader of a team that can win the ACC and make a run in March. I think benching him against Notre Dame was tied to that long-term goal.
Brennan: I don't know, but (A) I do think the choice was in service of long-term gain, and (B) I can't remember the last time Coach K made a legitimately questionable personnel decision. Also he has won 968 games and two gold medals, so I'll defer.
---
Earlier Words: 1/3 »1/2 »1/1 »12/30 »12/27 »12/23 »
Games To Watch
Maryland-Pittsburgh, 7 ET, ESPNU


Pittsburgh is off to a strong opening to the season, racing out to a 13-1 start and grabbing a win in its first-ever game as a member of the ACC. Maryland, after an odd nonconference schedule, is 2-0 in league play.
They Said It
Fran McCaffery may have had point with officiating. (Did they get memo on "freedom of movement?") but 2nd T crushed his team. He knows it.

— Fran Fraschilla (@franfraschilla) Jan. 6, 2014
ESPNU Basketball Podcast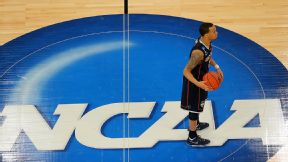 Adam Hunger/USA TODAY SportsAndy Katz and Seth Greenberg offer their thoughts on Kentucky vs. UConn.
Andy Katz and Seth Greenberg check in with newsmakers from around college basketball.