Daily Word: What's wrong with Kansas?
ideo1>
Every weekday, Andy Katz leads a panel of our college hoops experts in a discussion of the biggest issues, trends and themes happening in and around college basketball.
1. Kansas lost a nonconference home game for the first time in years and it's clear the Jayhawks have issues as they prepare to face Oklahoma. What's their biggest one?
Andy Katz: Youth. The Jayhawks are still young in key spots and that will cost them in critical moments. Kansas will need to settle on a point guard, too, and maybe live with the decision. The development of the top freshmen is still a work in progress and this team has title potential, but the journey will have bumps.
C.L. Brown: Kansas needs to learn how to close out tight games. Some of that is a by-product of being such a young team. The Jayhawks are just 1-4 this season in games decided by six points or fewer and have the same 1-4 record when trailing with five minutes left.
Eamonn Brennan: Offense, generally. Against so-so teams -- and granted, there havent been many of those on KU's schedule -- the Jayhawks can score by sheer force of talent. Against more athletic, well-coached teams (like, say, San Diego State) who pack in defensively and encourage Kansas to shoot 3s, KU grinds to a stand-and-put-your-hand-up halt. Andrew Wiggins has often scored his points in spite of Kansas' offense, not because of it, and if that clears up, the late-game issues will soon follow.
2. Oklahoma State isn't invincible. The Cowboys face Texas on Wednesday. Are the Cowboys still your pick to win the Big 12?
Katz: No. Losing Michael Cobbins changes the dynamic for the Cowboys. Kansas is young and inexperienced in key spots, but the Jayhawks are still the team of record in the Big 12. If I have to pick a non-Kansas team right now, it's Iowa State. The Cyclones have the rugged, veteran, salty players in the key spots. Let's see how ISU handles the road in the Big 12 but the Cyclones appear to be the possible team to beat outside of the annual champ Kansas.
Brown: The Cowboys are still my pick because Marcus Smart and Markel Brown are still the best backcourt duo in the league. But it's by a precariously narrow margin due to the way that Iowa State is playing and the potential of Baylor, Kansas and Kansas State to put it all together.
Brennan: I'd have to check the archives (shudder), but I'm pretty sure I picked Kansas to win the Big 12 -- after nine straight Big 12 titles, someone has to beat the Jayhawks before I think twice in October. Still, this season is clearly the most obvious chance for the league to end Self's reign of terror and Oklahoma State and Iowa State are Nos. 1 and 1a in that discussion.
3. What did Michigan State prove in its win over Ohio State on Tuesday?
Katz: The Spartans showed they can play hurt and recover within a game that they had won, but they are also not nearly ready to be a finished product. Michigan State has still had lapses that are costly. The Spartans need to find that finishing kick and put a team away, even the elite ones, to win a national title.
Brown: Let's see: Adreian Payne played 32 minutes on a sprained right foot. Keith Appling scored 20 fighting off cramps. Redshirt freshman Kenny Kaminsky delivered the biggest shot in his career with a 3-pointer in overtime. All while top reserve Travis Trice was out of the lineup and Gary Harris didn't have a great game scoring. Guess it proved that Sparty is as resilient as ever.
Brennan: That it is, as in November against Kentucky, frighteningly capable of completely losing the plot for entire quarters. And that it is both talented enough and tough enough to overcome those stretches most, if not all, of the time.
---
Games To Watch
Kansas at Oklahoma, 7 ET, ESPN2


Kansas' road to a 10th straight Big 12 regular-season title starts in Norman against a well-coached Oklahoma team that has lost only twice, but is still searching for a win that shows the Sooners belong among the conference's top tier of teams.
---
Texas at Oklahoma State, 9 ET, ESPNU


Oklahoma State showed it does have weaknesses, especially when it comes to depth on its bench, in a loss to Kansas State. The Cowboys will look to right the ship against an up-and-down Texas team that dropped its Big 12 opener at home to Oklahoma.
---
Boise State at San Diego State, 11:05 ET, ESPNU


Some are calling San Diego State's win at Kansas the best in school history, but it doesn't count for anything in the Mountain West. If any team in the conference is going to steal a win at Viejas Arena, it probably will be the Broncos.
They Said It
Great photo of Keith Appling taking the go-ahead 3-pointer in the final minute of overtime: pic.twitter.com/78rgQ5TOrm

— Earvin Magic Johnson (@MagicJohnson) Jan. 8, 2014
ESPNU Basketball Podcast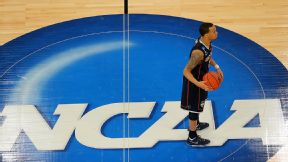 Adam Hunger/USA TODAY SportsAndy Katz and Seth Greenberg offer their thoughts on Kentucky vs. UConn.
Andy Katz and Seth Greenberg check in with newsmakers from around college basketball.