Daily Word: What is wrong with Duke?
ideo1>
Every weekday, Andy Katz leads a panel of our college hoops experts in a discussion of the biggest issues, trends and themes happening in and around college basketball.
1. What is wrong with Duke?
Andy Katz: Defense. Defense. Defense. Duke cannot defend at the level it has in previous seasons. The Blue Devils don't have a stopper on the perimeter and they certainly don't possess one inside. They continue to get exploited. Shot selection continues to be an issue as well. Duke associate head coach Steve Wojciechowski said these are fixable. The Blue Devils will find out Monday against a suddenly resurgent Virginia.
Eamonn Brennan: For a while there -- shortly after they gave up 90 points in 65 possessions in a home win over Vermont -- it looked as if Duke was trending in the right direction defensively. The Blue Devils looked better in a loss against Arizona; they handled Michigan in the Big Ten-ACC Challenge; they held an explosive UCLA offense to 63 points in 72 possessions in Madison Square Garden. But they've regressed again, and if you can't guard on the road in conference play, you're doomed to inconsistency.
C.L. Brown: The Blue Devils' undersized frontcourt will be vulnerable defensively against just about every league opponent. Sometimes they can mask it. Some teams will take advantage the way Clemson just did with its starting frontcourt accounting for 48 points and 37 rebounds.
2. Aside from dealing with the crowd at Hilton Coliseum, what's the biggest problem Kansas has to contend with against Iowa State?
Katz: The Jayhawks could get a major break if DeAndre Kane can't play. Iowa State plays hard, really hard, especially at home. Kansas will have to match the intensity on drives to the hoop and be willing to withstand any punishment inside. This will be a toughness matchup for Kansas in this crazed environment -- something the Jayhawks should know about because Phog Allen is even rougher on opponents.
Brennan: Can Kansas dictate terms? In comfortable wins over Oklahoma and Kansas State, the Jayhawks looked their best when they pushed the pace, and that makes sense -- it keeps Andrew Wiggins and the rest of that talented lineup out of the packed-in, half-court slogs that cause them to stand around and stagnate. You can run all you want against Iowa State, it takes a lot of confidence to try to beat the Cyclones at their own high-octane game, Kane or no.
Brown: Sophomore Georges Niang seems to light up when he faces the Jayhawks. He averaged 15.7 points in three games against Kansas last season and could be a wild card in determining the outcome. As for playing in Hilton, the Jayhawks must keep in mind Iowa State is 14-0 the past two seasons in home games following a road loss.
3. Which team impressed you the most over the weekend?
Katz: Florida. The Gators beat Arkansas at what traditionally has been a rough spot for them, at Bud Walton Arena, and they did so without their leading scorer, Casey Prather. Florida's Scottie Wilbekin made key plays late in the game to force overtime and in that period, the Gators proved to be even more of an experienced, disciplined unit. This win will go a long way toward helping Florida prepare for a March win.
Brennan: Creighton. Not only did Doug McDermott show zero ill signs of the sprained shoulder he suffered last week, but his 35 points on 24 shots -- and the Bluejays' ability to outpace a hot Xavier team that got 27 on the road from Semaj Christon -- speaks volumes about their ability to withstand the loss of guard Grant Gibbs for the next month and change.
Brown: Iowa. The Hawkeyes finally stopped the narrative that they lose close games -- especially on the road -- by winning at Ohio State. Maybe folks can stop focusing on Fran McCaffery's meltdown against Wisconsin and focus on the team again.
---
Earlier Words: 1/10 »1/9 »1/8 »1/7 »1/6 »1/3 »1/2 »
Games To Watch
Virginia at Duke, 7 ET, ESPN


The Blue Devils were pounded on the glass in Saturday's loss against Clemson. Duke was outrebounded 48-30. Virginia, after a shaky December, has won three in a row.
---
Kansas at Iowa State, 9 ET, ESPN


Can Kansas handle the noise inside Hilton Coliseum? The Jayhawks looked dominant in handling Kansas State. But a game at Iowa State is a different story.
They Said It
Men's basketball hit tape vs. KU. http://fb.me/2DIDBmsTL

— Cyclone Basketball (@CycloneMBB) Jan. 13, 2014
ESPNU Basketball Podcast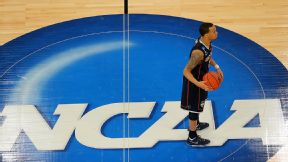 Adam Hunger/USA TODAY SportsAndy Katz and Seth Greenberg offer their thoughts on Kentucky vs. UConn.
Andy Katz and Seth Greenberg check in with newsmakers from around college basketball.