Daily Word: The real Notre Dame?
ideo1>
Every weekday, Andy Katz leads a panel of our college hoops experts in a discussion of the biggest issues, trends and themes happening in and around college basketball.
1. Notre Dame looked as if it was on its way to big things after beating Duke, but the Irish have lost two straight. How can they find consistency?
Andy Katz: This might be the new norm for the Irish. Not having Jerian Grant means Notre Dame is going to have to rely on different ways to win on a given night. The Duke win was unique in the timing, but Mike Brey has to tap into his bag of tricks even more. He has been the master of reinventing his teams. He'll have to think of a few more gimmicks.
Eamonn Brennan: Taking too much away from that Duke win was probably a mistake. The Blue Devils have collapsed on the defensive end in the past two weeks and turned around and lost to Clemson a few nights later; Notre Dame got hot on its own floor against a team that happily allowed it to control the game offensively. Brey will always exploit defenses like that. But post-Jerian Grant Notre Dame is probably a lot closer to what we've seen since. They're going to struggle.
C.L. Brown: The personnel has changed, but it would behoove the Irish to attack the rim more. They've become overly reliant on jacking up 3-pointers when their bread and butter should be getting to the free throw line. Notre Dame attempted more free throws in the Duke win (24) than in its two losses combined (21).
2. What will it take for Baylor to reassert itself as a challenger to Kansas after Iowa State has slid back?
Katz: The Bears must get a home win over Kansas. That might be the only way to reassert itself. Kansas has made sure everyone in the league knows the Big 12 goes through Lawrence. Baylor is the one Big 12 team that has the length inside with Cory Jefferson and Isaiah Austin to tangle with Joel Embiid and disrupt the slashing nature of players such as Andrew Wiggins. If Baylor plays with poise, it is possible for the Bears to be the real challenger to Oklahoma State and Kansas. The Cowboys still can't be dismissed as a contender yet.
Brennan: Through two conference games -- a blowout loss to Iowa State and a blowout win over TCU -- the Bears have allowed an average of 1.06 points per possession. That's a tiny sample, sure, but Baylor is still barely under the point-per-trip mark for the season. The Bears have to defend a bit better than that before we can put them in the same range as Kansas, Oklahoma State and Iowa State.
Brown: The Bears will need to take care of Oklahoma at home on Saturday first, but as Andy said, the Big 12 title still goes through Lawrence until otherwise noted. Kansas did what Baylor could not by winning at Iowa State, but the Bears can dictate a new narrative in the league when they visit the Jayhawks on Monday.
3. What did Indiana's win over Wisconsin do for its chances in the Big Ten race?
Katz: Not much likelihood for winning the Big Ten, but it was the shelf-life win the Hoosiers needed for the NCAA tournament résumé. Indiana has a lot of work to do to be considered a real threat to leapfrog Michigan State, Michigan, still Wisconsin, Iowa and possibly Ohio State to win the Big Ten. Indiana still has to go to Michigan State, Michigan, Wisconsin and Minnesota, not to mention dealing with Iowa and Ohio State at home.
Brennan: Yeah, Indiana's not winning the Big Ten. It's more likely they'll find themselves on the bubble, at which point a win over Wisconsin will come in handy. But there is much more work needed here, both in tangible results in the box score and the day-to-day developmental progress that will fuel it.
Brown: It's still a long shot for the Hoosiers to win the Big Ten, but they at least obtained a marquee win they lacked from nonconference play. If anything, Indiana's win signals the depth of the conference will mean the champion will have multiple losses.
---
Earlier Words: 1/14 »1/13 »1/10 »1/9 »1/8 »1/7 »1/6 »
Games To Watch
Notre Dame at Maryland, 7 ET, ESPN2


After close losses to Iowa and Ohio State, Notre Dame looked to have it all together when it beat Duke. Recent losses to North Carolina State and Georgia Tech have everyone wondering who the Irish really are.
---
TCU at Oklahoma State, 8 ET, ESPN3


Oklahoma State needed a last-second 3-pointer to take down West Virginia on the road in its last game. The Cowboys return to Gallagher-Iba Arena to face a TCU team in search of answers. The Horned Frogs have lost three straight.
---
Baylor at Texas Tech, 9 ET, ESPNU


Baylor was knocked down a few pegs when it was humbled by DeAndre Kane and Iowa State. Texas Tech, meanwhile, is still in search of its first Big 12 win. The Red Raiders dropped a couple of close games to West Virginia and Texas.
They Said It
Shout out to my young boys for doing what we couldn't #iubb #feathery #hoosiernation biggame from the little bro @ShowMeLoveStan #thefuture

— Victor Oladipo (@VicOladipo) Jan. 14, 2014
ESPNU Basketball Podcast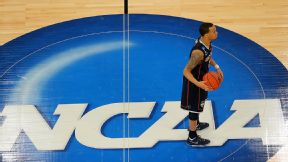 Adam Hunger/USA TODAY SportsAndy Katz and Seth Greenberg offer their thoughts on Kentucky vs. UConn.
Andy Katz and Seth Greenberg check in with newsmakers from around college basketball.