Daily Word: Pittsburgh, Syracuse meet again
ideo1>
Every weekday, Andy Katz leads a panel of our college hoops experts in a discussion of the biggest issues, trends and themes happening in and around college basketball.
1. Given Michael Cobbins' injury absence, can Oklahoma State stop Kansas' big men?
Andy Katz: Can the Cowboys? Yes. The talented trio of Marcus Smart, Markel Brown and Le'Bryan Nash is enough to win a game against Kansas. But will the Cowboys? I would lean toward no in Phog Allen Fieldhouse. The Jayhawks are now clicking better than at any point in the season, and Joel Embiid is becoming a game-changer in the middle.
Dana O'Neil: Le'Bryan Nash and Kamari Murphy's best hope might be Markel Brown and Marcus Smart. If the backcourt can defend (and on the flip side, score in bunches), it could help negate the damage that Joel Embiid and Andrew Wiggins are capable of inflicting. "Could" is the operative word, because I think it's going to be a really big ask.
Eamonn Brennan: According to most known scientific calculations, if Embiid maintains his current game-by-game improvement rate, he will be better than Patrick Ewing on approximately Feb. 6, 2014. In 2015, he will become Dr. Manhattan. That might be a bit bullish, but you get the point: With Embiid playing as well as he is, and with Andrew Wiggins slashing in on the glass, the low block could be the key difference between two very good teams in Lawrence, Kan., on Saturday.
2. What's been the most surprising aspect of Pitt's 16-1 start?
Katz: The Panthers are scoring. Pitt was offensively challenged at times in the recent past. But this Pitt squad is putting up points in a variety of ways, especially with Lamar Patterson leading the way. Pitt has also showed great resiliency so far, falling behind by a lot to NC State in Raleigh but winning handily -- and not allowing a subpar effort against Cincinnati in New York to alter any of its momentum.
O'Neil: To me, everything. The team I saw against Cincinnati earlier this season did not even resemble an NCAA tournament team. Now the Panthers are 16-1, ranked and rolling into Syracuse. This Pittsburgh team is cut from Jamie Dixon's typical defensive, blue-collar, ugly cloth but is also more than capable of scoring.
Brennan: That they haven't made me look dumb? Last season, the Panthers' potent mix of "ugly nonconference schedule" and "elite, tempo-free statistics" made them a juicy underrated pick every time we looked. They never justified that advance warning in 2013-14, so most people (myself included) have cautiously stayed away. That Pittsburgh has chosen to begin this season 16-1 is obviously some sort of elaborate prank.
3. What's the biggest issue Kentucky must resolve in its game against Tennessee?
Katz: The Wildcats just need to finish strong. Kentucky was in position to claim a road win at Arkansas, much as Florida did in Fayetteville. There is no reason for panic after the loss to Arkansas. There was plenty to like in the effort, including the production at key spots and timely shots. If not for a missed weak-side block-out, the Wildcats win. They should be able to finish off Tennessee.
O'Neil: For a team that rebounds like mad, it was a little strange to see three blue shirts huddled around the basket on the last shot against Arkansas and no one doing anything to get the rebound. That's not lack of ability, that's lack of focus, which I feel has been Kentucky's problem all along. The Wildcats do plenty well and are epically talented, but they lose their way in a 40-minute game and are learning the hard way that it costs them.
Brennan: The Wildcats are where they are because they rebound everything off the offensive glass and get to the free throw line. That process might be a bit more difficult against Tennessee forward Jarnell Stokes & Co., who actually match up with Julius Randle very well and are skilled enough to go at a just-OK UK defense on the other end. Interesting game.
---
Earlier Words: 1/17 »1/16 »1/15 »1/14 »1/13 »1/10 »1/9 »1/8 »
Weekend Games To Watch
Oklahoma at Baylor, Saturday, 2 ET, ESPN2


After being embarrassed by Texas Tech, Baylor will try to pick itself up off the mat against the Sooners. Against the Red Raiders, the Bears were just 4-for-20 from 3-point range. Oklahoma is also looking to rebound after a loss to Kansas State.
---
Pittsburgh at Syracuse, Saturday, 4 ET, ESPN


Led by freshman Tyler Ennis, Syracuse looks to remain undefeated against a Pittsburgh team whose lone loss came to Cincinnati in December. The Panthers have started fast in ACC play but have yet to face a team of Syracuse's caliber.
---
Michigan at Wisconsin, Saturday, 6 ET, ESPN


Michigan's season looks to have regained some life despite the injury loss of talented big man Mitch McGary (back). The Wolverines have yet to lose a Big Ten game but face a trio of ranked teams in their next three games, starting with the Badgers.
They Said It
I cannot thank our fans enough, especially our students, for their support tonight. You were our sixth man. Our guys fed off of your energy.

— Tubby Smith (@CoachTubbySmith) Jan. 16, 2014
ESPNU Basketball Podcast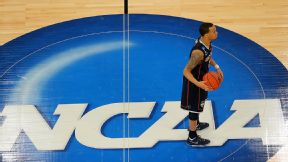 Adam Hunger/USA TODAY SportsAndy Katz and Seth Greenberg offer their thoughts on Kentucky vs. UConn.
Andy Katz and Seth Greenberg check in with newsmakers from around college basketball.