Daily Word: Will Iowa's depth prevail?
ideo1>
Every weekday, Andy Katz leads a panel of our college hoops experts in a discussion of the biggest issues, trends and themes happening in and around college basketball.
1. Iowa has 11 guys averaging 10 or more minutes. Michigan State has health issues. Advantage Hawkeyes?
Andy Katz: Yes, with Michigan State on the road. The Spartans are in survival mode now while Adreian Payne and Branden Dawson are out. The Spartans must show poise under pressure and their guards will need to rebound to win. But the guard play and depth of big bodies up front are certainly talented enough for Michigan State to win.
C.L. Brown: I'd probably say the Hawkeyes have an advantage at home -- they are riding a 20-game winning streak at Carver-Hawkeye Arena -- even if Michigan State were at full strength. The Spartans played well against Michigan without Payne and Dawson, but also showed that without the duo, they were missing some of their toughness, too. It's Iowa's fourth game in 10 days, but because of its depth, fatigue should not be a factor.
Eamonn Brennan: Yeah, what C.L. said -- Iowa was probably the favorite in Iowa City whether Michigan State was healthy or not. As is, the Hawkeyes have big-time advantages on the low block.
2. Is the SEC turning into a two-horse race? Is LSU a threat to beat Kentucky at home?
Katz: This is the make-or-break game for LSU. There is a clear division from Florida and Kentucky. If the Tigers want to be taken seriously, they must beat Kentucky. To do so, their bigs, like Johnny O'Bryant III, have to stand tall. The much-maligned LSU crowd has to step up, too.
Brown: It's always been a two-team race between Florida and Kentucky. The only thing that has changed was initially I thought the Wildcats were the favorite. Now I think it's the Gators. A winter storm that includes freezing rain could keep LSU fans away from Maravich Center and make for a less-than-hostile game atmosphere for UK. The key for LSU may come down to whether junior forward Johnny O'Bryant III, who has been called for at least three fouls in nine games, can stay out of foul trouble.
Brennan: Florida is the best team in the SEC, and has been since November, even back when Billy Donovan had so many guys injured or suspended that he was rolling with, like, four dudes, and picking up a fifth out of the arena. (OK, not really. But almost.) The question about Kentucky has always been about its ceiling -- whether and how quickly it would improve. The Wildcats are on track to play SEC-title level basketball; really, they already are. But both teams have much larger goals.
3. What's Oklahoma State's biggest issue after its loss to Oklahoma?
Katz: The Cowboys have to get to the backboard. The loss of Michael Cobbins isn't going to be solved easily. It will take a solid effort every game to control the backboard. This team also has to remain composed more, especially on the road.
Brown: It may seem simplistic, but I'm not liking the body language of the Cowboys lately, and it starts with Marcus Smart. Even in the win over West Virginia, when Smart had a mini-meltdown, it appears that they can be thrown off their game if a few calls go against them. Phil Forte III admitted as much when he told The Associated Press after the loss to Oklahoma: "We need to quit worrying about the refs and all that and just play."
Brennan: I think they miss Michael Cobbins, certainly -- they've allowed 1.01 points per game in Big 12 play, which is simultaneously much more than in November and December while also being best in the Big 12. That stat is almost as weird as it was to watch the Cowboys chase the game Monday. It was like watching a beginner play FIFA 14 against a seasoned vet -- all button smashes and turbo abuse -- with all of the same ensuing frustration, because Oklahoma wouldn't turn the ball over. The Cowboys have to figure out how to get stops when they don't turn the opponent over, and don't have Cobbins on the back line. Maybe they can't.
---
Earlier Words: 1/27 »1/24 »1/23 »1/22 »1/21 »1/20 »1/17 »1/16 »1/15 »
Games To Watch
Michigan State at Iowa, 7 p.m. ET, ESPN


Michigan State big man Adreian Payne has missed the past five games with a sprained foot, and it appears he's doubtful for Tuesday's game. Fellow post player Branden Dawson won't be back from his broken hand anytime soon, either. Can the Spartans adjust?
---
Kentucky at LSU, 9 p.m. ET, ESPN


The SEC still appears to be a two-horse race, with Kentucky and Florida dominating the rest of the league. LSU is still in search of a win that proves the Tigers are ready to separate from the pack. Tuesday's home game provides the perfect opportunity.
---
Virginia at Notre Dame, 9 p.m. ET, ESPNU


Since Virginia's embarrassing loss to Tennessee, the Cavaliers are 6-1, their only loss coming in a close one at Duke. Senior Joe Harris has scored in double figures in his past six games and played the past two without turning the ball over once.
They Said It
Safe to say our guys had fun at #Bedlam tonight! Congrats on the win @OU_MBBall! pic.twitter.com/oePBmykC2c

— Oklahoma Football (@OU_Football) Jan. 27, 2014
ESPNU Basketball Podcast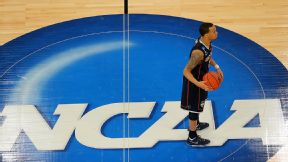 Adam Hunger/USA TODAY SportsAndy Katz and Seth Greenberg offer their thoughts on Kentucky vs. UConn.
Andy Katz and Seth Greenberg check in with newsmakers from around college basketball.