Daily Word: Big winner this weekend?
video1>
Every weekday, Andy Katz leads a panel of our college hoops experts in a discussion of the biggest issues, trends and themes happening in and around college basketball.
1. Which team has the most to gain this weekend?
Andy Katz: SMU. The Mustangs are going for their third straight win and their third against the top four in the American when they host Cincinnati. They've already beaten Connecticut and Memphis at home. SMU still has a visit from Louisville and if it can knock off the Bearcats and the Cardinals, it could earn a bid without winning a road game against any of those four teams.
Dana O'Neil: St. John's. The Red Storm have pushed their way to the outskirts of the bubble with five wins in their past six games. The league is still trying to find someone to count on outside of Villanova and Creighton. St. John's could be that team and beating the Bluejays in New York on Sunday would add some credence to that argument. Barely two weeks ago, Steve Lavin used a brazen plan to try to pull off an upset in Omaha, daring Doug McDermott to beat the Red Storm on his own. He essentially did, scoring 39, including the game winner. It will be interesting to see if Lavin pulls out the same game plan Sunday.
C.L. Brown: Wisconsin hasn't had an impressive victory in so long, its 16-0 start seems like it was last season. The Badgers have uncharacteristically dropped their past three in Kohl Center, too. A win over Michigan State would go a long way toward getting them back on the right track.
2. Nik Stauskas has made just two field goals in his past two games. Will that fly at Carver-Hawkeye Arena?
Katz: No. Stauskas can't be a non-factor at Iowa if the Wolverines expect to win. Iowa will be in a bit of a desperate mode after losing to Ohio State and Michigan State in their past two home games. The Hawkeyes need to re-establish themselves and shutting down Stauskas will be a pretty important factor if they're to do that. If Stauskas can't get going offensively, the Wolverines will play into Iowa's hands.
O'Neil: No, it won't. Iowa isn't Nebraska and if the Wolverines want to beat the Hawkeyes, who are in dire need of a win, they need Stauskas to score. Iowa loves to push up the tempo and score and if Michigan wants to keep up, Stauskas has to step up.
Brown: Stauskas' 1-for-3 outing against Nebraska shouldn't really count because the Wolverines led comfortably from start to finish. But should he have a similar performance as his 1-for-6 game against Indiana, Michigan could be in trouble. They need his scoring. It's a large reason why they were able to turn the season around after Mitch McGary's injury.
3. What will Saturday's game tell us about Gonzaga?
Katz: The Zags didn't get quality wins in Maui or against Kansas State in Wichita early in the season. Their only significant road win was at West Virginia. Landing another one at Memphis will certainly pad the résumé in case the Zags don't win the WCC tournament. We'll learn if the Zags are tougher and more resilient than projected.
O'Neil: It won't answer every question, especially because Memphis can be something of an enigma, but Gonzaga is a team with a pretty record and not a lot to talk about. Beating the Tigers will at least put some meat on the Zags' résumé and it's meat Gonzaga desperately needs. The West Coast Conference alone isn't going to get Gonzaga a good seed or give them confidence to fare well come March.
Brown: It will give an indication whether the Zags will make it out of the NCAA tournament's first weekend. The Bulldogs haven't won a game yet this season that they weren't already favored to win. Memphis will have a charged environment and be a good litmus test for how tough the Zags are.
---
Earlier Words: 2/6 » 2/5 » 2/4 » 2/3 » 1/31 » 1/30 » 1/29 » 1/28 » 1/27 »
Games To Watch
Michigan at Iowa, Saturday, 2 p.m., ESPN


Michigan bounced back from its loss at Indiana by pounding Nebraska at home. After 12 straight games of scoring in double figures, Nik Stauskas has just 15 total points in the Wolverines' past two games.
---
Gonzaga at Memphis, Saturday, 9 p.m., ESPN


This rare nonconference game provides both teams with an opportunity to post a solid résumé-building victory outside of league play. Gonzaga has dominated the West Coast Conference, but how much will that mean to the selection committee?
---
Clemson at Syracuse, Sunday, 6 p.m., ESPNU


Clemson isn't the most dangerous team left on Syracuse's schedule, but any time the No. 1 team in the country takes the floor, it's worth noting. The Tigers are one of the best defensive teams in the country, allowing 55 points per game.
They Said It
"That ain't right!" You'll see this MONSTER posterizing dunk from Murray State's T.J. Sapp on the #SCtop10 later. » http://youtu.be/oF-OcXeFDz4

— SportsCenter (@SportsCenter) Feb. 6, 2014
ESPNU Basketball Podcast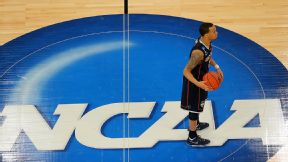 Adam Hunger/USA TODAY SportsAndy Katz and Seth Greenberg offer their thoughts on Kentucky vs. UConn.
Andy Katz and Seth Greenberg check in with newsmakers from around college basketball.