Daily Word: Top four teams in action
Every weekday, Andy Katz leads a panel of our college hoops experts in a discussion of the biggest issues, trends and themes happening in and around college basketball.
1. The top four teams all play Wednesday. Which squad are you least confident in?
Andy Katz: Arizona. Florida should take care of Auburn rather easily. The same should be true for Syracuse against Boston College and Wichita State at Loyola. But Arizona has to go to Utah, a team that played the Wildcats very well for 30-plus minutes in Tucson during their first meeting. The Utes may try to gimmick the Wildcats with a defense that could fluster Arizona. Expect this game to be a late-possession affair.
Myron Medcalf: It has to be Arizona. The Wildcats haven't been great since Brandon Ashley went down with a foot injury in the loss to Cal. They're still one of the nation's most talented teams, a squad that's capable of a deep run in March, but losing Ashley has changed things.
Eamonn Brennan: Florida could struggle against Auburn ... Ha! Just joking. Florida's going to crush Auburn. I think Arizona is the obvious choice, and not just because the Wildcats have the toughest matchup of the four in a visit to Utah. The Wildcats are still a very good team without Ashley, but they're still figuring the whole thing out, and that makes them vulnerable to solid teams on the road.
2. Who is Florida's most underappreciated player?
Katz: The Gators are getting their due, especially Patric Young. But Will Yeguete does the little things for the Gators. He knows his role. He rebounds. He hustles. And he gets out of the way and doesn't try to do too much. He's a key rotation player, the kind of glue guy who helps win a championship.
Medcalf: I say Scottie Wilbekin. He started the year under a cloud with his suspension and Casey Prather has emerged as a national POY candidate, but he has been a critical playmaker for the Gators this season. They wouldn't have left Lexington with a win Saturday without him.
Brennan: I kind of still want to say Casey Prather, because now that he's recovered from his injury woes, he's still putting up POY-level counting and efficiency stats, and few people seem to notice. But Michael Frazier is a decent pick too, because he gives Billy Donovan that trademark, knock-down 3-point option that was his team's main flaw early in the season. But you could pick about four or five different players for this answer and make compelling cases for each. That's why Florida's so good.
3. St. John's has won nine of its past 10. Are the Red Storm a tournament team?
Katz: St. John's reminds me of the 2004 Washington Huskies. That team started the Pac-10 at 0-5 and made the NCAA tournament. St. John's started the Big East 0-5 and is now 8-6. The Red Storm are hot and host the conference tournament. No one will want to face this team in the tourney. To dismiss the Red Storm's chances would be a mistake. This team has a real shot to earn a bid if this trend continues.
Medcalf: A weekend victory over Villanova would certainly boost its chances and a victory over Creighton helps its cause, too. If this run continues, St. John's will end up in the Big Dance. It wouldn't be much of a question if they'd avoided that five-game losing streak to start Big East play.
Brennan: On the floor, the Red Storm have the look. They're really playing well. On their nitty-gritty sheet, well, they're getting there. There's still just one really notable win -- last Sunday's home win over Creighton -- and a lot of mediocre cruft. A road win at Providence could really help in a side-by-side comparison on Selection Sunday, but if the Red Storm keep up this current pace, they might be safer than that anyway.
---
Earlier Words: 2/19 » 2/18 » 2/17 » 2/14 » 2/13 » 2/12 » 2/11 » 2/10 » 2/7 » 2/6 » 2/5 » 2/4 »
Games To Watch
Boston College at Syracuse, 7 ET, ESPN2


The No. 1 team in all the land remains undefeated, but it hasn't been pretty as of late. The Orange have won their last two games by a total of three points. They beat the Eagles by 10 when these two met in Chestnut Hill, Mass.
---
Wichita State at Loyola (IL), 8 ET, ESPN3


The nation's other undefeated team hits the road to face the Ramblers, who are in a three-way tie for the last spot in the Missouri Valley standings. The first meeting resulted in a 12-point Shockers victory.
They Said It
Heart hurts 4 a good guy in coaching @CoachTubbySmith - his Texas Tech team suffered a tough tough L -Tubby moving team in a positive way

— Dick Vitale (@DickieV) Feb. 18, 2014
ESPNU Basketball Podcast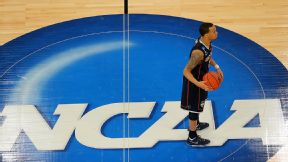 Adam Hunger/USA TODAY SportsAndy Katz and Seth Greenberg offer their thoughts on Kentucky vs. UConn.
Andy Katz and Seth Greenberg check in with newsmakers from around college basketball.