Daily Word: Duke-North Carolina matchups
Every weekday, Andy Katz leads a panel of our college hoops experts in a discussion of the biggest issues, trends and themes happening in and around college basketball.
1. What's the most intriguing matchup in Duke-North Carolina?
Andy Katz: Marcus Paige versus the Duke guards. Paige is back to playing the aggressive style of basketball he displayed early in the season, especially in the win over Louisville. North Carolina's chances of beating Duke rest with Paige playing a similar game. But Duke may rotate on him, especially with Quinn Cook. If the Blue Devils go bigger on Paige, that could be an issue. But if Paige can find freedom, the Tar Heels have a real shot.
Dana O'Neil: Until proven otherwise, all matchup intrigue for Duke will come down to the inside game. And with the way UNC's James Michael McAdoo is playing right now, that becomes all the more intriguing for the Blue Devils. Duke has to contain him but also has to find a way to rebound against a team that ranks eighth in the country on the boards. Individual matchups will be fun to watch, but what happens inside is what's going to matter here.
Eamonn Brennan: It isn't often in the Duke-UNC rivalry that we get this pure an offense-defense strength versus strength matchup, but this is one such case. The Blue Devils are insanely efficient on the offensive end; UNC is atypically reliant on its defense, particularly its ability to guard shooters. What happens when Duke has the ball will be fascinating to watch, and should determine the outcome.
2. Michigan State is 4-4 in its last eight games. Are the Spartans running out of time to show who they really are?
Katz: Nope. Patience. They are not healthy. We can't judge Michigan State until the Spartans get there. If Michigan State gets whole in March, no one will remember or care that the Spartans struggled at times this season.
O'Neil: Not really. The Spartans get an asterisk for all of this upheaval because of the injuries, at least from the selection committee. What is going to be interesting, though, is to see whether this team can play well together once it is back together. The assumption is that when Michigan State is healthy, all will be right with the world, but what if there is rust, both individually and as a team, that needs to be worked off? March doesn't allow for a lot of time to work out the kinks.
Brennan: More like running out of time to get healthy. I think we're all willing to acknowledge the toll Michigan State's injuries have taken. The question to me is whether the Spartans can get back up to full speed and in a comfortable rhythm by the time the tournament rolls around. The clock is ticking.
3. Are you more disappointed in Syracuse or more impressed with Boston College after Wednesday's upset?
Katz: Syracuse has made plays to win games late. So the Orange can get a pass on this one. This game was all about Boston College showing tremendous fight, grit, passion and poise. It was a great moment for a struggling program, an embattled coach and an emotional athletic department after losing one of its loved ones.
O'Neil: Push. Syracuse played poorly and looked thoroughly disinterested and disjointed, like a team that thought it had this one in the bag and could prepare for the weekend. That's disappointing, especially considering the way this team has won lately. But I also don't want to take away from the poise and the composure the Eagles showed to win this improbable game.
Brennan: More impressed with Boston College, I'd say. Syracuse was probably going to end up on the wrong end of a sluggish performance at some point. But BC's previously horrendous defense had to lock in and get the stops on the road for a full 45 minutes. Let's give them the credit.
---
Earlier Words: 2/19 » 2/18 » 2/17 » 2/14 » 2/13 » 2/12 » 2/11 » 2/10 » 2/7 » 2/6 »
Games To Watch
Michigan State at Purdue, 7 ET, ESPN


Michigan State is 4-4 in its last eight games and will still be without injured big man Branden Dawson (broken hand). The Boilermakers haven't been able to beat the Spartans in their previous five attempts.
---
Duke at North Carolina, 9 ET, ESPN


Simpler were the times when this historic rivalry used to dominate the ACC chatter, but those days are gone as many more eyeballs will be on Cameron Indoor Stadium this weekend for the rematch of Duke vs. Syracuse.
---
Gonzaga at BYU, 11 ET, ESPN2


The top two teams in the West Coast Conference do battle for the second time this season. It's the last game for either that will mean much to the NCAA tournament selection committee. Gonzaga dominated the first meeting at home.
They Said It
...And then there was one.

Wichita State is the last of the unbeatens. No team has had a perfect regular season since St. Joseph's in 2004.

— SportsCenter (@SportsCenter) Feb. 19, 2014
ESPNU Basketball Podcast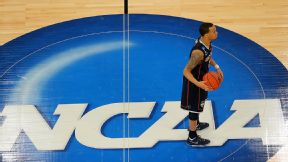 Adam Hunger/USA TODAY SportsAndy Katz and Seth Greenberg offer their thoughts on Kentucky vs. UConn.
Andy Katz and Seth Greenberg check in with newsmakers from around college basketball.