Does Wichita State deserve to be No. 1?
Every weekday, Andy Katz leads a panel of our college hoops experts in a discussion of the biggest issues, trends and themes happening in and around college basketball.
1. Wichita State received 14 first-place votes in the AP poll. Do the Shockers deserve the No. 1 ranking?
Andy Katz: It depends on your definition. Wichita State will deserve a No. 1 seed if it is undefeated, but I would put the Shockers as the fourth No. 1. The top poll ranking would come if they are playing the best basketball at that particular time and other teams that are ahead of them lose. Rankings don't always correspond with seeding. I agree with the poll and have Florida No. 1.
Dana O'Neil: I toyed with ranking Wichita State first in my Power Rankings, and I have zero problem with anyone who ranked the Shockers first this week. They are 29-0. That's a huge, huge number, and while people argue that their schedule isn't as tough as some, others around them have lost to less-than-tough teams (see Boston College over Syracuse).
C.L. Brown: Deserve has nothing to do with it, as the Gators too are deserving of No. 1. But it probably plays better for Wichita State coach Gregg Marshall that they're not the top-ranked team. Even at No. 2, he'll use that as a "slight" for a team that plays better when it's playing angry.
2. How do you expect Florida to handle its new No. 1 ranking?
Katz: Fine. The schedule isn't daunting. Florida has one more high-level game, hosting Kentucky. The Gators have essentially locked up a top seed in the NCAA tournament.
O'Neil: Piece of cake for a very mature, older and wiser Gators team. I don't see them having their head turned at all, especially this late in the season when all eyes are on March, not on the national rankings.
Brown: Much like Syracuse, Florida has been flirting with disaster lately before squeezing out wins over Auburn and Mississippi. The Gators are experienced enough to not be fazed by the ranking. Maybe now they'll be motivated to play like the No. 1 team.
3. What on earth has happened to Indiana?
Katz: The Hoosiers are a young team without star power this season. This just shows how valuable Victor Oladipo and Cody Zeller were last season. Noah Vonleh is a special talent, but he isn't in the same class as those two. Staying at the top is not as easy as it would appear.
O'Neil: The Hoosiers are young, but fans don't want to hear that and I understand. There are plenty of young teams around the country doing much better than Indiana. This team has sorely lacked leadership and focus and has the woeful results to show for it.
Brown: With the talent drain the Hoosiers had, a drop-off was expected. Their season narrative would be much more positive if they were more consistent closing out games: Five of IU's losses have come in games decided by two possessions or less.
---
Earlier Words: 2/24 »2/21 » 2/20 » 2/19 » 2/18 » 2/17 » 2/14 » 2/13 » 2/12 » 2/11 »
Games To Watch
Florida at Vanderbilt, 7 ET, ESPN


The pressure is on as the Gators prepare to play their first game as the nation's No. 1 team since 2007. The Commodores -- who have been up and down in the SEC all season -- are coming off a road win at Auburn.
---
Virginia Tech at Duke, 7 ET, ESPNU


After Duke's thrilling win against Syracuse, some are calling this a trap game. The Hokies, though, come in ranked 308th in points per game and 316th in field goal percentage. Then again, another conference cellar dweller handed Syracuse its first loss last week.
---
Wichita State at Bradley, 9 ET, ESPN2


The Shockers remain the only undefeated team in the country, but despite receiving some first-place votes, their spotless record didn't secure them the No. 1 spot in either major poll. They crushed the Braves by 22 last month.
They Said It
With an 83-75 victory over Oklahoma, @KUHoops clinches a 10th-straight #Big12 title: http://kuathne.ws/1c3apUV #kubball pic.twitter.com/Akip5qmyUV

— Kansas Jayhawks (@KUAthletics) Feb. 25, 2014
ESPNU Basketball Podcast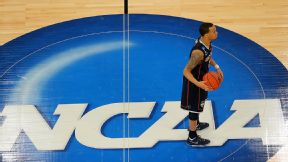 Adam Hunger/USA TODAY SportsAndy Katz and Seth Greenberg offer their thoughts on Kentucky vs. UConn.
Andy Katz and Seth Greenberg check in with newsmakers from around college basketball.