Arizona and Cal meet again
Every weekday, Andy Katz leads a panel of our college hoops experts in a discussion of the biggest issues, trends and themes happening in and around college basketball.
1. Arizona has revenge on its mind against Cal. What must the Wildcats do differently?
Andy Katz: Arizona is in a much different place. The Wildcats played their most complete game in Saturday's blowout win at Colorado since losing Brandon Ashley on Feb. 1. Arizona simply needs to share the ball as well as it did at Colorado. The defense is fine.
Eamonn Brennan: Not have a crucial starting forward suffer a season-ending injury midway through the game? That would be my first suggestion. The Wildcats' defense hasn't suffered much from Ashley's absence in the six games since that loss at Cal. The offense is a slightly different story. But at home, Aaron Gordon & Co. should be just fine.
Myron Medcalf: Well, the first game was just bizarre because the Wildcats lost Ashley in the first two minutes and they ultimately lost on a buzzer-beater on the road. And Nick Johnson (four points) couldn't find the basket. They have to protect the interior and guard against pick-and-pop action that Mike Montgomery ran so well with Justin Cobbs, Richard Solomon and David Kravish in the first game. But a typical Arizona effort should be enough.
2. Does Baylor need to beat Texas to get on the safe side of the bubble?
Katz: Well, that would help. But this isn't the endgame for the Bears. Baylor just needs to pick up probably two more quality wins in the next two weeks, regardless of where they come. The Big 12 provides ample opportunities.
Brennan: They're probably there already, if only barely; do not underestimate how soft this bubble truly is. But whatever the specifics of the answer, it doesn't change the fact that Baylor needs wins to either (a) get in or (b) stay in. Texas would be big either way.
Medcalf: I don't think Baylor should feel safe until it (possibly) hears its name called on Selection Sunday. A win over Texas will help, but it offers zero guarantees. But the Bears will have chances to boost their résumé in the next two weeks
3. Who needs Wednesday's Pac-12 bubble game more, Stanford or Arizona State?
Katz: Arizona State. The Sun Devils are in a danger zone. ASU got swept on the road at Colorado and Utah after beating Arizona at home. The next four games could easily go either way, with Stanford and Cal at home and Oregon and Oregon State on the road. This team is not safe yet. Stanford has the better résumé at this point, especially with the nonconference road win at UConn.
Brennan: Arizona State. The Cardinal are not exactly a tournament lock at this point, but they are coming off a win over UCLA, while ASU dropped two straight games last week. And Stanford's overall profile is a bit stronger generally, mostly because the computers hate the Sun Devils' nonconference schedule.
Medcalf: Probably Arizona State. Barely. But the Cardinal have that nonconference win at UConn and the Sun Devils' most impressive nonconference victory was a win over Marquette. But they have a victory over a possible No. 1 seed in Arizona, so a loss for either shouldn't be devastating.
---
Earlier Words: 2/25 »2/24 » 2/21 » 2/20 » 2/19 » 2/18 » 2/17 » 2/14 » 2/13 » 2/12 »
Games To Watch
Miami (FL) at Virginia, 7 ET, ESPN3


Virginia has lost just one conference game and it was all the way back on Jan. 13 at Duke. No group in the country is more stingy on defense than the Cavaliers, who allow just 55.3 points per game.
---
North Carolina at NC State, 8 ET, ESPN3


The Tar Heels are on a roll, having won nine games in a row and 10 of their past 11. Included in that streak is an 84-70 win over the Wolfpack in Chapel Hill. NC State, though, beat UNC the last time the two met in Raleigh.
---
California at Arizona, 9 ET, ESPN2

The long-awaited rematch is finally here. Cal handed Arizona its first loss back on Feb. 1, the game in which the Wildcats lost third-leading scorer Brandon Ashley for the season to a broken foot. The Cats are out for revenge.
They Said It
30-0! Wichita State becomes the 1st team EVER to win its first 30 regular season games, beat Bradley 69-49. #WatchUs pic.twitter.com/johk2kjvBu

— SportsCenter (@SportsCenter) Feb. 25, 2014
ESPNU Basketball Podcast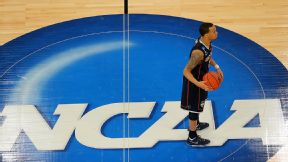 Adam Hunger/USA TODAY SportsAndy Katz and Seth Greenberg offer their thoughts on Kentucky vs. UConn.
Andy Katz and Seth Greenberg check in with newsmakers from around college basketball.