Daily Word: A Michigan dynasty?
Every weekday, Andy Katz leads a panel of our college hoops experts in a discussion of the biggest issues, trends and themes happening in and around college basketball.
1. Michigan can win the Big Ten title outright -- its second in three years -- by beating Illinois. Has John Beilein built a dynasty in Ann Arbor?
Andy Katz: I wouldn't say dynasty. He has built a program, just as he did at West Virginia and every stop prior. He gets his players to buy in, and if you don't, you leave. Look for Beilein and Michigan to do what Tom Izzo, Bo Ryan and Thad Matta have done at Michigan State, Wisconsin and Ohio State, respectively: compete for a top-four finish every season in the Big Ten.
Dana O'Neil: To me, a dynasty has to win multiple titles, so it's not a dynasty, but what Beilein has is a consistent winner. Michigan is more than just one player. The loss of both Trey Burke and Tim Hardaway Jr. after last season, and Mitch McGary during this season, is evidence of the Wolverines' ability to keep on keeping on. Once known as a "system" coach, Beilein has proven that he is now just a really good, really smart coach who can adapt to the players he has and reconfigure after he loses guys.
C.L. Brown: What Kansas has done in the Big 12 is a dynasty; what Beilein has done the past few seasons at Michigan is just a foundation. The Wolverines are developing into consistent contenders, which is a start toward dynasty status, but they're not there yet.
2. Have the wheels come off at Kentucky? Can they be put back on?
Katz: No, the wheels haven't come off at Kentucky. This is a young team that plays immaturely. The talent is still there to rip off three wins in the SEC tournament and get to the second weekend in the NCAA tournament. But the Wildcats must make key stops late, improve their shot selection, and completely buy into their roles without hesitation. All is not lost -- yet.
O'Neil: The wheels aren't off, but the Wildcats are down to their last lug nut. Still haunted by inconsistency and a general failure to grasp time and situation, the Wildcats are losing games that they have zero excuses to lose, and on March 4, youth is no longer an excuse. Every team has 18- and 19-year-olds on its roster. The only saving grace for the Wildcats is that a good run in March erases the failures of the previous months. So Kentucky has a chance, but the Cats have offered little reason to believe they will make the most of it.
Brown: Not exactly, but they've lost at least a few hubcaps. Against South Carolina, the Wildcats looked like a team that takes coaching as criticism. Coach John Calipari has to find a new way to reach them, because they appeared to tune him out against the Gamecocks. Six games in the tournament can erase any regular-season shortcomings, but the Wildcats' performance has given us little reason to believe they're capable of making such a run.
3. Pitt has lost four of its last six. What's the Panthers' Achilles' heel?
Katz: The Panthers don't make stops late. They also lack multiple scoring options. The Panthers have lost their edge in the final minutes. This is a team that is playing not to lose lately, rather than to finish.
O'Neil: What's wrong with Pitt is what's been wrong with Pitt all season, problems that were glossed over by an easy nonconference schedule that inflated the Panthers' record. The Panthers don't have enough scoring options, their defense is not as reliable as it once was, and that's now adding up to late losses that might cost them a spot in the NCAA tournament.
Brown: The Panthers don't close out games, which has been a problem throughout the season. Three of their last four losses have been by five points or fewer. They're also too reliant on Lamar Patterson offensively. Coach Jamie Dixon has to loosen the reins and just let them play.
---
Earlier Words: 3/3 »2/28 » 2/27 » 2/26 » 2/25 » 2/24 » 2/21 » 2/20 » 2/19 » 2/18 »
Games To Watch
Florida at South Carolina, 7 ET, ESPNU


Florida hasn't lost since Dec. 2 and has already clinched the outright SEC title, but don't forget about the Gamecocks, who shook off a three-game losing streak to beat visiting Kentucky on Saturday.
---
Michigan at Illinois, 7 ET, ESPN


Michigan has already clinched at least a share of its second Big Ten title in the last three years, but the Wolverines can grab the outright crown with a win at Illinois' Assembly Hall.
---
Alabama at Kentucky, 9 ET, ESPN


Kentucky is in bad shape at the moment. The Wildcats have lost two in a row, and coach John Calipari was ejected in the second half of the loss to South Carolina before skipping his postgame press conference.
They Said It
NC State's T.J. Warren had a LeBron-like night vs Pittsburgh tonight ... 16-22 for 41 points. His shot chart- pic.twitter.com/o4Xt2IqAxC

— ESPN Stats & Info(@ESPNStatsInfo) March 3, 2014
ESPNU Basketball Podcast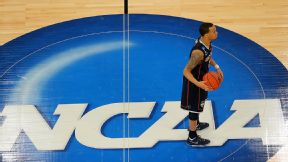 Adam Hunger/USA TODAY SportsAndy Katz and Seth Greenberg offer their thoughts on Kentucky vs. UConn.
Andy Katz and Seth Greenberg check in with newsmakers from around college basketball.