Daily Word: Oklahoma State's opportunity
ideo1>
Every weekday, Andy Katz leads a panel of our college hoops experts in a discussion of the biggest issues, trends and themes happening in and around college basketball.
1. How far can Oklahoma State rise, in terms of seeding, with a good Big 12 tournament?
Andy Katz: Oklahoma State can get up to a No. 5 or 4 if the Cowboys win at least two games in the Big 12 tournament. The talent would scream to be in the No. 3 range if OSU hadn't lost seven straight. The Cowboys have looked like a Final Four contender the past two weeks.
Myron Medcalf: Oklahoma State could secure wins over three ranked opponents, including possible NCAA top seed Kansas, if it makes a run to the title. It could also lose to Texas Tech in the first round on Wednesday. The Pokes could rise to a 6- or 7-seed, it seems, with a run. Or it could end up with a low seed and bad first-round matchup with an early loss.
C.L. Brown: Oklahoma State will be one of the more intriguing teams for the committee to seed, especially with, say, at least a Big 12 title game appearance. Funny thing is, I don't think it ultimately will matter. Joe Lunardi has the Cowboys as a 10-seed now; even with a great run, I don't see them securing better than a No. 7 seed. That would keep the Pokes facing either a No. 2 or a No. 1 seed in the third round.
2. How many more wins does Baylor need to feel safe? Or are the Bears already safe?
Katz: Baylor needs to at least win one game to feel somewhat secure. Win two and the Bears are a lock. Once again, Baylor has Final Four or, at least, Elite Eight talent. But Baylor must show better in this tournament. Consistency has been the issue.
Medcalf: A loss to TCU in the first round of the Big 12 tourney wouldn't help, but the Bears seem safer than the bulk of the bubble teams out there. They're 8-8 against the RPI's top 50, they're 10th in strength of schedule and they finished the regular season by accruing multiple quality wins. That certainly makes Baylor seem safe.
Brown: Baylor is secure, in my opinion, even if the Bears stumble and lose to TCU in the league tournament. Finishing .500 in arguably the toughest conference -- and one that plays a true round robin -- already solidified their bid.
3. Which 4-seed or worse can shock everyone and get to its tournament final this week?
Katz: Nebraska. The Huskers could win the Big Ten title. Nebraska coach Tim Miles said he would see me on Sunday at the Big Ten final in Indianapolis. He laughed. But he was somewhat serious. The Huskers can beat Ohio State and/or Michigan/Indiana/Illinois. This team is hot.
Medcalf: Oklahoma State has to be the most dangerous 8-seed in any conference tournament. Marcus Smart's return has revived Travis Ford's program. And the Cowboys' path to the championship is even more favorable with Kansas center Joel Embiid out for the conference tourney.
Brown: Oregon takes a seven-game winning streak into the Pac-12 tournament including its regular-season finale win over Arizona. Technically, the Ducks finished in a five-way tie for third in the standings, but fell all the way to a No. 7 seed by way of losses to Colorado, Stanford and California. Nonetheless, they are capable of not only reaching the title game, but winning the league crown.
---
Earlier Words: 3/11 » 3/10 » 3/7 » 3/6 » 3/5 » 3/4 » 3/3 » 2/28 » 2/27 » 2/26 » 2/25 »
Games To Watch
Notre Dame vs. Wake Forest, 1 ET, ESPN2


The No. 12 and No. 13 seeds in the ACC tournament have one thing in common: They both figured out how to beat Duke. They met once in the regular season, a game Wake Forest narrowly won at home thanks to Devin Thomas' 21 points.
---
Texas Tech vs. Oklahoma State, 7 ET, ESPN3


These two teams will be inseparably connected by what happened between Marcus Smart and Texas Tech fan Jeff Orr on Feb. 8 in Lubbock. In a twisted way, it may have helped the Cowboys, who have lost just once since Smart's return from suspension.
---
TCU vs. Baylor, 9:30 ET, ESPN3


TCU made history when the Horned Frogs became the first Big 12 team in 10 years to go through the conference schedule without winning a game. Baylor is safely in the NCAA tournament field, according to Joe Lunardi's Bracketology.
They Said It
Marcus Smart had 18 Pts, 7 Reb, 7 Ast & 6 Stl (Wednesday), and he's already HYPED for (today's) showdown with Kansas. pic.twitter.com/YMNr0XpO3U

— SportsCenter (@SportsCenter) March 12, 2014
ESPNU Basketball Podcast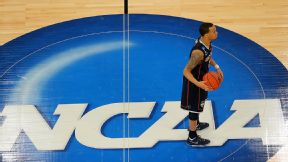 Adam Hunger/USA TODAY SportsAndy Katz and Seth Greenberg offer their thoughts on Kentucky vs. UConn.
Andy Katz and Seth Greenberg check in with newsmakers from around college basketball.