Daily Word: Figuring out the Big Ten
>
Every weekday, Andy Katz leads a panel of our college hoops experts in a discussion of the biggest issues, trends and themes happening in and around college basketball.
1. The first day of the Big Ten tournament has some tough-to-figure-out teams. Among the Day 1 group, which team is the hardest to explain?
Andy Katz: Iowa. The Hawkeyes must beat Northwestern in the first round. They don't have to sweat out Selection Sunday, but if they want to stick around longer than a day at the NCAA tournament, it would be highly advisable to get to Friday's game against Michigan State. Iowa has been a model of inconsistency of late. This is the Hawkeyes' chance to impress the selection committee and earn a higher seed.
Eamonn Brennan: It's hard to disagree with Iowa: The Hawkeyes basically just stopped playing defense in the final two weeks of the season, and what once looked like a national title contender has entered the Big Ten tournament with the same overall and conference records (20-11, 9-9) and same seeds and matchups (No. 6 vs. No. 11 Northwestern and then No. 3 Michigan State) as a year ago. Baffling. Almost as baffling as the No. 8 seed Indiana Hoosiers, who have alternated between some of the Big Ten's most exciting basketball and some of its sloppiest on a daily basis. Indiana could win the Big Ten tournament. They could get blown out by Illinois. The possibilities are endless.
C.L. Brown: Before Iowa dropped five of its last six games entering the tournament, it looked like a Big Ten title contender. The Hawkeyes seemingly gave up playing defense down the stretch, allowing more than 90 points to Indiana and Minnesota in consecutive games. If Iowa can figure out a way to stop teams, it could be a tough out in the tournament.
2. All the big names in the Pac-12 are in action. Which team NOT named Arizona could walk away with the tournament title crown?
Katz: Oregon or UCLA. Let's assume Oregon beats Oregon State, which would set up an Oregon-UCLA matchup in the quarterfinal. The winner is probably the only team with a legit shot to knock off Arizona. UCLA has the offense but has yet to prove it can string together strong performances in consecutive games away from home. UCLA lost all four back-end games on its road trips in the conference. Oregon is coming off a home sweep of the Arizona schools and finally seems like it has found its mojo again with Johnathan Loyd as the catalyst.
Brennan: Given where Oregon was a month or so ago -- 3-8 in the Pac-12 and heading straight for the NIT -- it's remarkable to say the Ducks are probably the Pac-12's most likely non-Arizona tournament contender. But they are. UCLA is right there, too, and I'd also mention Arizona State and Utah. The former could ride Jahii Carson past any number of teams; the latter finished the season third in points allowed per possession and only needs to upset Arizona (easy, right?) to clear a path.
Brown: Oregon is the hottest team entering the Pac-12 tournament, having won seven straight. The Ducks also match up with Arizona the best. They led late in the game at Arizona on Feb. 6 before stumbling down the stretch and losing 67-65, but they beat the Cats in Eugene 64-57 in the regular-season finale.
3. What is the one game you will not want to miss on Thursday?
Katz:The nightcap of the American Conference in the 4-5 matchup. Connecticut will play at Memphis, a true road game at Fed Ex Forum, where the Huskies already won earlier this season. The Huskies earned a sweep of Memphis. The winner likely gets Cincinnati in the semifinals. The joint should be rocking for a game that should have significant seed ramifications for both schools, too.
Brennan: UConn-Memphis is the best game, no question, but since I just subtly hinted that I think Utah can upset Arizona, I should probably have my cable box primed for that 3 p.m. ET start. Marquette-Xavier is a really interesting game with big bubble implications, too (for Xavier, anyway).
Brown: Memphis and UConn in the only battle of ranked teams on Thursday. UConn swept the regular-season series, including an 86-81 overtime win at Memphis. The American tournament is in FedEx Forum so the Huskies should expect an environment like a regular road game.
---
Earlier Words: 3/12 » 3/11 » 3/10 » 3/7 » 3/6 » 3/5 » 3/4 » 3/3 » 2/28 » 2/27 » 2/26 »
Games To Watch
Wake Forest vs. Pittsburgh, 2 ET, ESPN


Pittsburgh is clinging to its last bubble life and cannot afford to bow out in its first ACC tournament game. Wake Forest played its best offensive basketball of the season when it beat Notre Dame on Wednesday by shooting 61 percent.
---
Penn State vs. Minnesota, 6:30 ET, ESPN2


The Golden Gophers need some kind of a run in the Big Ten tournament to get on the right side of the bubble. They are among the first four teams out, according to Joe Lunardi. Their first hurdle comes against the Nittany Lions.
---
West Virginia vs. Texas, 9:30 ET, ESPN3


Texas enters as the Big 12's No. 3 seed and the Longhorns already swept West Virginia in the regular season, winning by double digits both times. The Mountaineers, though, are fresh off their regular-season-ending win over Kansas.
They Said It
Marcus Smart had 18 Pts, 7 Reb, 7 Ast & 6 Stl (Wednesday), and he's already HYPED for (today's) showdown with Kansas. pic.twitter.com/YMNr0XpO3U

— SportsCenter (@SportsCenter) March 12, 2014
ESPNU Basketball Podcast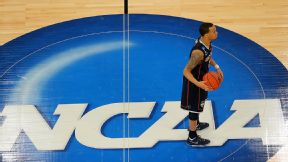 Adam Hunger/USA TODAY SportsAndy Katz and Seth Greenberg offer their thoughts on Kentucky vs. UConn.
Andy Katz and Seth Greenberg check in with newsmakers from around college basketball.