Daily Word: The Final Four is set
Every day, Andy Katz leads a panel of our college hoops experts in a discussion of the biggest issues, trends and themes happening in and around college basketball.
1. Now that we're down to four teams, who are you most surprised to see headed to Arlington?
Andy Katz: Well, it has to be UConn. The Huskies were outmatched by Louisville twice earlier this month. But they have played their roles to perfection, and more than anything, this team has defended.
Eamonn Brennan: It's Kentucky, easily. Maybe the Wildcats are a better team, or a more talented one, than Connecticut; maybe they're playing the best non-Florida basketball in the country. Maybe UConn seems like the more obvious answer. But come on: Kentucky was a pretty good but fundamentally flawed and totally disappointing group for the first four months of the season. All of a sudden, the Wildcats beat Wichita State, Louisville and Michigan in three straight games? That's insane.
C.L. Brown: For most of the season, Kentucky looked like a team that didn't understand having the most talent means nothing without having good chemistry. Talent-wise, the Wildcats always had a roster capable of reaching the Final Four. I'm just surprised coach John Calipari finally got them to play the necessary roles to get there.
2. You've seen each team play four tournament games. Time to reseed the field.
Katz: I would only make a few tweaks. Florida remains the top seed with Kentucky the second seed. Wisconsin would be third and UConn the fourth.
Brennan: 1. Florida. 2. Kentucky. 3. Wisconsin. 4. UConn
Brown: I would still have Florida at No. 1 followed by Kentucky, Wisconsin and UConn. And what do you know? We'll still get those matchups on Saturday.
3. Whose road to North Texas was the toughest?
Katz: Kentucky. No team has knocked off three Final Four teams. Kentucky's run of Wichita State, Louisville and Michigan is worthy of a title. Beating Wisconsin, too, would elevate the run even more.
Brennan: Again: Kentucky, easily. Florida actually ended up with a pretty manageable path when Syracuse and Kansas went out early. Wisconsin battled past a brilliant Arizona defense to get here, so credit where that's due. And UConn had some tough opponents. But Kentucky just played and beat three of last year's Final Four teams -- one that was 35-0, another that was many observers' (and advanced statistical models') favorite to win the title, and the defending Big Ten champion and national runner-up. Again: Insane.
Brown: Kentucky had to go through a talented Kansas State squad, the No. 1 seed in Wichita State, an underseeded Louisville squad at No. 4 and the No. 2 seed in Michigan. Who knows? In another region, the Shockers, Cardinals and Wolverines all could have been Final Four squads.
---
Earlier Words: 3/30 » 3/29 » 3/28 » 3/27 » 3/26 » 3/25 » 3/24 » 3/23 » 3/22 » 3/21 »
The Latest Dish
Florida is the No. 1 overall seed and has been the No. 1 team in the country since late February. The Gators haven't lost since Dec. 2 and, after seeing their season end in the Elite Eight in the previous three seasons, punched their Final Four ticket on Saturday.
Their road to North Texas went through Orlando -- where they dispatched Albany and Pittsburgh -- and Memphis, where they took out UCLA before overwhelming Dayton with their size and getting over the Elite Eight hump for the first time since 2007.
They Said It
Sorry about busting your bracket @BarackObama... We have room on our bandwagon if you're interested

— UConn Huskies (@UConnHuskies) March 30, 2014
ESPNU Basketball Podcast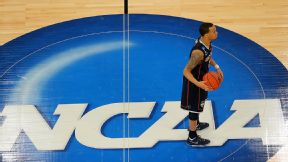 Adam Hunger/USA TODAY SportsAndy Katz and Seth Greenberg offer their thoughts on Kentucky vs. UConn.
Andy Katz and Seth Greenberg check in with newsmakers from around college basketball.