Daily Word: Florida's Final Four familiarity
Every day, Andy Katz leads a panel of our college hoops experts in a discussion of the biggest issues, trends and themes happening in and around college basketball.
1. Florida has already played every other Final Four team. Advantage: Gators?
Andy Katz: Yes. The Gators will cut down their prep time considerably, but that doesn't mean they're a lock to win two more games. UConn, Wisconsin and Kentucky have all improved considerably since they faced Florida. The Gators have also gotten better and aren't the same team that played UConn (Dec. 2) or Wisconsin (Nov. 12), the only teams to have beaten Florida this season.
Dana O'Neil: Not entirely. The Gators played Wisconsin and UConn months ago, and months are measured in dog years in college basketball. And even though the SEC championship game wasn't too long ago, this Kentucky team isn't that Kentucky team. Florida may know the players and schemes a bit more, but it's the Final Four. None of that matters.
C.L. Brown: The Gators' advantage, in my mind, comes in having a better team than the rest of the field. They were missing key players in losses to UConn and Wisconsin. They haven't lost a game with their full roster, and that includes three wins over Kentucky.
2. It looks like Kentucky will be without Willie Cauley-Stein. How are the Wildcats different without him?
Katz: Kentucky loses a rim protector, but something that's been undervalued is how well John Calipari has developed the Wildcats' bench. Dakari Johnson, Marcus Lee and Alex Poythress have all embraced their roles and excelled when called upon in recent games. The Wildcats have the bodies to absorb the loss of Cauley-Stein.
O'Neil: Along with being a great rim protector, Cauley-Stein is an energy guy for the Wildcats. They miss his stats, of course, but his presence, too. Marcus Lee came up huge against Michigan, but can he do it again?
Brown: Cauley-Stein didn't add much offensively, but his shot-blocking presence on defense will be sorely missed. Dakari Johnson isn't as skilled, and Wisconsin's Frank Kaminsky will be a challenge to contain.
3. President Obama's bracket is toast. How does yours look? Which team did you in?
Katz: I've got one Final Four team left: Florida. And that remains my pick. The Gators are still the favorite.
O'Neil: My family had a bracket-shredding party on Monday. Does that answer it? I can't remember the last time my picks were as completely wrong as this year.
Brown: Florida is the only team I picked that made the Final Four. I also had Michigan State and Arizona. But the one team that ruined things? Duke. Mercer sent my bracket crumbling by bouncing the Blue Devils in their first game.
---
Earlier Words: 3/31 » 3/30 » 3/29 » 3/28 » 3/27 » 3/26 » 3/25 » 3/24 » 3/23 » 3/22 »
The Latest Dish
After falling to Wisconsin in overtime in Saturday's Elite Eight matchup, Arizona coach Sean Miller said forward Frank Kaminsky "is the reason Wisconsin is in the Final Four."
He's not wrong. Kaminsky had 28 points and 11 rebounds, accounting for 43.8 percent of Wisconsin's points. The only Badger to score more points in an NCAA tournament game was Michael Finley, who had 36 against Missouri in 1994. You can bet stopping Kaminsky will be atop Kentucky's to-do list.
They Said It
Connecticut's 6-1 record at the Final Four is the best in NCAA Tournament history by any team that has played at least 3 games

Dana O'Neil (@ESPNDanaOneil) April 1, 2014
ESPNU Basketball Podcast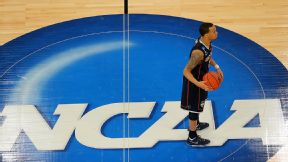 Adam Hunger/USA TODAY SportsAndy Katz and Seth Greenberg offer their thoughts on Kentucky vs. UConn.
Andy Katz and Seth Greenberg check in with newsmakers from around college basketball.