Daily Word: An early look at the title game
Every day, Andy Katz leads a panel of our college hoops experts in a discussion of the biggest issues, trends and themes happening in and around college basketball.
1. This might have seemed like an easy answer a few weeks ago, but not anymore: You get one player to take the last shot of the game; do you want Shabazz Napier or Aaron Harrison?
Andy Katz: I would still have to lean on Napier. Harrison has hit two iconic shots for Kentucky -- over Michigan and Wisconsin. Can he go for the trifecta? Sure. But if you have to lean, then it's hard not to pick Napier because of his experience in the moment.
Dana O'Neil: That's impossible. Monet or Van Gogh? I'll lean toward Napier, only because he's older and has hit more clutch shots and in more different ways, but honestly, it's a push. And picking against Harrison right now is probably crazy.
C.L. Brown: I'm taking Napier. There really is a difference between a senior doing it and a freshman. That could be the difference between taking a jumper and going to the basket.
2. If UConn wins Monday night, which would be their more impressive run to a title: this year or 2011?
Katz: The hard part is separating the fact that UConn also had an improbable Big East tournament title run before the NCAA tournament in 2011. So that's why that run will remain a step above. But if you deal with just the NCAAs, then the 2014 run would be more impressive by virtue of who the Huskies beat and will have to take down in order to win the title. The 2011 NCAA tournament didn't have the same strength of teams as the '14 version.
O'Neil: Easy. This one. In 2011, the Huskies had more established players -- Kemba Walker, Alex Oriakhi, Donnell Beverly -- on the roster. This team is built on the backs of Napier, Ryan Boatright and a host of former role players and freshmen who have found a way to win.
Brown: This year for sure. I predicted the 2011 title when the tournament began because of Walker. I didn't think Napier could carry the Huskies in the same way.
3. What is the most interesting matchup in Monday's title game?
Katz: I will go with whoever gets stuck on DeAndre Daniels. The Wildcats have a number of options to defend him, but he has found a way to slither his way into being a highly productive player and a key reason the Huskies are playing for the title.
O'Neil: The bigs. This looks like as much of a mismatch as the Michigan State-UConn game did. Kentucky, which lives off the backboards, ought to have a serious advantage inside. But then again, the Huskies managed to all but block the Spartans out of the paint. I'm anxious to see if they can do it against an even better group of big men.
Brown: Daniels and Kentucky's James Young. Daniels is the Huskies' X factor, and whoever wins this battle will likely win the game on Monday.
---
Earlier Words: 4/5 » 4/4 » 4/3 » 4/2 » 4/1 » 3/31 » 3/30 » 3/29 » 3/28 » 3/27 » 3/26 »
The Latest Dish
Most of the talk surrounding UConn's team this season has centered around its guards -- Shabazz Napier and Ryan Boatright -- and for good reason, but guard play is not the reason the Huskies ended Florida's 30-game winning streak in Saturday's semifinal.
The Huskies scored more paint points in the second half (26) than the Gators scored in the entire game (24) as UConn walked away with an eight-point edge in the category overall. Forward DeAndre Daniels (20 points, 10 rebounds) had a lot to do with that disparity.
They Said It
pic.twitter.com/L0pgUJMCSD. Dang he really saved me today he's the baddest dude on the universe

Andrew Harrison (@DrewRoc5) April 6, 2014
ESPNU Basketball Podcast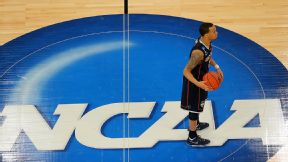 Adam Hunger/USA TODAY SportsAndy Katz and Seth Greenberg offer their thoughts on Kentucky vs. UConn.
Andy Katz and Seth Greenberg check in with newsmakers from around college basketball.