Daily Word: A champion will be crowned
Every day, Andy Katz leads a panel of our college hoops experts in a discussion of the biggest issues, trends and themes happening in and around college basketball.
1. For Kentucky to win, what is the one thing that absolutely must happen? What about for UConn?
Andy Katz: Kentucky must control the offensive backboard. UConn has to put the Wildcats on their heels, chasing the guards to the hoop. UConn has the offense to compete with Kentucky, and the sleeper aspect of the Huskies this season has been their defense. If they defend like they have in the previous two games, then they can win.
Eamonn Brennan: Offensive rebounding. That's the one area where the Wildcats have dominated all season long, and it's the one area where UConn's otherwise stellar defense has been vulnerable. If that somehow changes on Monday night -- and that's a huge if -- I'm not sure Kentucky can feel confident about winning the game by making shots against the Huskies' length, or shutting them down on dribble penetration on the opposite end of the floor. And even if UConn does get beat up on the defensive glass, it could still win the game on the other end -- the Huskies just have to play their brand of penetrating, ball-skipping offense as close to perfectly as possible. Easy, right?
Myron Medcalf: Andrew Harrison has to be the maestro and limit turnovers when Shabazz Napier and Ryan Boatright harass him every time he touches the ball. Harrison has 20 turnovers through five NCAA tourney games. Boatright and Napier ruined Scottie Wilbekin (two turnovers total in the Big Dance prior to his three-turnover outing against UConn on Saturday) with their stubborn ways. The Huskies can't let Dakari Johnson and Julius Randle end up in one-on-one matchups each possession in the post. They have to help each other adjust so that Kentucky's bigs aren't able to just beat Phillip Nolan, DeAndre Daniels and Amida Brimah inside. They're long, but the 6-9, 260-pound Randle is a different kind of problem.
2. Both teams have great backcourts. Which one has the advantage in this matchup?
Katz: UConn. Boatright and Napier have been the better defensive players this season. The Wildcats have the height, and both have big-shot makers, but the edge defensively goes to the Huskies.
Brennan: UConn, but just slightly. The Huskies' perimeter pressure on the defensive end should help take some of the sting out of the Harrison twins' constant head-down drives into the lane. On offense, Napier and Boatright should be able to get past Kentucky's outer shell. (If Bronson Koenig can do it, so can Napier.) The question, again, is whether that (slight) perimeter advantage will be enough, given the huge challenge UK presents on the interior.
Medcalf: UConn. The combined experience of Napier and Boatright helps. But they're also shifty guards with a knack for forcing turnovers and forcing teams to bring extra defenders on penetration, which creates gaps for other players to shine. They'll be a headache for Kentucky, which also boasts a strong backcourt with the Harrisons and James Young.
3. It's been the question for their opponents all season … Can UConn contain Randle? Can Kentucky slow Napier?
Katz: The Huskies won't contain Randle. They must prevent the ball from getting to him, which rests on the UConn guards. Do that, and the Huskies have a chance. The Wildcats need to keep the ball out of Napier's hands. Do that, and then they can win.
Brennan: No one's really stopped Randle all season, so the short answer is no. The long answer is it depends. UConn's interior shot-blocking and disruption have been a huge part of its defensive success in this tournament, and that length could give Randle some issues on first shots. The question is whether he gets second and third chances, which he usually does. At that point, all is lost. As for Napier? Also no. But will that be enough?
Medcalf: No. I don't think so. He's a freight train that just won't slow down. He finishes strong against contact. He's always relentless at the rim, too. But the Wildcats have to deal with Napier, which won't be easy. The key for Kentucky will be commitment to hedging on ball screens and switching as necessary. If the Wildcats don't, they will get lost the way they did against a Wisconsin backcourt that wasn't as agile as UConn's.
---
Earlier Words: 4/6 » 4/5 » 4/4 » 4/3 » 4/2 » 4/1 » 3/31 » 3/30 » 3/29 » 3/28 » 3/27 »
The Latest Dish
At Sunday's news conference, Kentucky coach John Calipari was asked how he felt about the title of "Cinderella," in part because his Wildcats are just the third No. 8 seed to ever reach an NCAA final since the tournament expanded in 1985.
Regardless of Monday's outcome, this championship game is historic in that it will feature the highest combined seeds (UConn is the first No. 7 seed to ever reach the final) to meet in a title game.
Game To Watch
Kentucky vs. Connecticut, 9:10 p.m. ET


It's finally here. The moment 351 teams set out to be a part of in November has arrived, and what a ride it's been. Just 40 minutes of basketball remain between two blue-blooded programs whose improbable runs to North Texas have been anything but predictable. It's Kentucky's size vs. UConn's guards. If the first 66 NCAA tournament games are any indication, it should be a joy to watch.
They Said It
Heading into the NCAA Championship tomorrow, @The_Wildcat provides a completely unbiased pre-game analysis. pic.twitter.com/vD7C0hyQMA

ESPN (@espn) April 6, 2014
ESPNU Basketball Podcast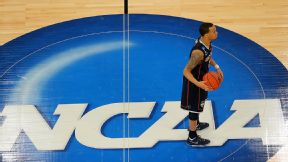 Adam Hunger/USA TODAY SportsAndy Katz and Seth Greenberg offer their thoughts on Kentucky vs. UConn.
Andy Katz and Seth Greenberg check in with newsmakers from around college basketball.