Kansas rebounds with resounding win
LAWRENCE, Kan. -- The Kansas Jayhawks have won 103 of their past 105 games at Allen Fieldhouse. But you'd have hardly known it shortly before tipoff of Monday's showdown against Kansas State.
Mainly because of the signs.
"We shall overcome," one of them read.
"We still believe," said another.
And then there was this: "Hey Jayhawks: Don't lose faith!"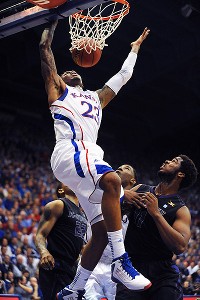 Denny Medley/USA TODAY SportsBen McLemore's 30 points led an explosive Kansas offense.
What was this? A basketball game or a therapy session?
Kansas players probably could've used the latter as barbs and insults flew in the aftermath of the program's first three-game losing streak since 2005. But instead Bill Self's squad talked things out in its own locker room and cleared its head just in time for Monday's tilt with in-state rival K-State.
The Jayhawks won 83-62, but anyone who watched the game knows it wasn't nearly that close.
"It's not always who you play, but when you play them," K-State coach Bruce Weber said. "We caught them at the wrong time."
Indeed, Kansas probably would've beat any team in the country Monday, when the Jayhawks led No. 10 K-State by as many as 25 points in the second half.
Redshirt freshman Ben McLemore scored 30 points -- on his 20th birthday, no less -- and Jeff Withey became the school's all-time blocks leader. Backup Naadir Tharpe emerged as a legitimate answer to KU's point guard woes and the Jayhawks won the rebounding battle 41-23.
Mostly, though, this was about a mentally fragile team regaining its moxie at a time when another loss would've severely damaged KU's chances at a ninth straight Big 12 title. At 8-3, No. 12 Kansas is tied with K-State for the league lead while Oklahoma State is a half-game back at 7-3.
"Last week was a bad week for us," said Withey, who had 17 points, 10 rebounds and 5 blocks. "We can't ever let that happen again.
"When you go through hardships, you get humbled. We had so much pride. We kind of started to look down on our opponents. You lose three in a row, you come back down to earth. What happened to us is going to help us in the long run."
Kansas fans would have had a hard time buying that theory a week ago, when the Jayhawks suffered one of the biggest upsets in the past 20 years by losing to last-place and winless TCU. Kansas -- which had lost to Oklahoma State five days earlier -- scored just one field goal in the first 16 minutes against the Horned Frogs.
All of a sudden a team that had earned a No. 1 ranking after winning 19 of its first 20 games couldn't score against arguably the worst team in Big 12 history. The Jayhawks played better at Oklahoma on Saturday but dropped that game as well.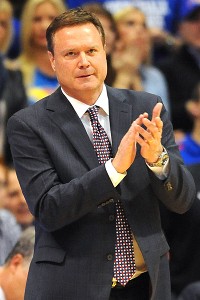 Denny Medley/USA TODAY SportsThe Jayhawks left coach Bill Self in a much better mood on Monday.
"Losing three in a row, I understand it's not forgivable," Self said. "It's a terrible, terrible deal. But what we're going through is what … 99 percent of all teams in America go through.
"We'd gotten spoiled just like everyone else around here. We thought, 'This won't happen to us.' We just sat there and took it and allowed it to happen."
Withey said the Jayhawks held multiple team meetings during their drought, airing out their differences with one another before finally getting things right on the court Monday.
Just 48 hours after the Oklahoma loss, all of Kansas' problems seemed to have been rectified. The Jayhawks look just as good -- if not better -- than the team that thumped Ohio State in Columbus back in December, the one that opened Big 12 play with seven straight wins.
KU had first-half scoring runs of 21-6 and 14-6. It was 47-29 at intermission and never really a game in the second half.
"All the things that got us where we are -- our defense, our toughness, our discipline -- they weren't there today," said Weber, whose squad lost to KU 59-55 in Manhattan earlier this season. "That's disappointing. I thought we would've competed a little better than this. But it was a tough environment."
And a tough team.
That's something Self hardly would've said a week ago, when he continuously chided the Jayhawks for being soft, for playing too slow and for floundering in big moments instead of flourishing. Self said the Jayhawks' biggest problem was "between the ears."
"I felt like we were out-toughed in those three games," he said. "We needed to have a knot put on our heads to get us tougher. It hurt us with our league [title] chances, without question, because we've got a tough road ahead of us. But I think it will help our team down the road, which is obviously the most important thing."
That's the biggest question.
Can Kansas bottle up and sustain the swagger it displayed Monday? Or will it fall back into a funk the next time it plays a more talented team such as Oklahoma State or Baylor? Or the next time it leaves Lawrence?
Winning in front of a packed Allen Fieldhouse crowd is one thing. But beating good teams away from home is another.
Kansas still has remaining road games against Oklahoma State, Iowa State and Baylor, all of whom remain in contention for the Big 12 title. Withey is confident KU can keep its championship streak alive.
"We can do it again and we're going to do it again, hopefully," he said. "We see ourselves as one of the best teams in the nation. It's a new week, a new beginning.
"It's time for us to get rolling again."
Georgetown Handles Marquette
Game Of The Night
Hampton 85, Delaware State 84 (double overtime): Sure, Kansas vs. Kansas State controlled the college basketball vortex on Monday night. But in MEAC action, Hampton and Delaware State played a double-overtime affair that featured a few impressive performances. The Hornets stayed alive on a pair of 3-pointers. One in regulation -- Casey Walker sank a trey to ensure the first overtime. And Amere May sent the game to a second OT with another 3-pointer. Wes Dunning averages 2.1 points a game, but he hit the game-winner for the Pirates in the closing seconds of the second overtime. Junior Du'Vaughn Maxwell finished with a career-high 29 points, 10 rebounds, 2 blocks and 2 steals for Hampton.
-- Myron Medcalf
Surprise Of The Night
Georgetown continues to roll without Greg Whittington. After Monday's 63-55 win over No. 18 Marquette, No. 15 Georgetown is now 8-1 without Whittington (12.1 ppg, 7.0 rpg, 1.3 spg), who was recently ruled academically eligible. The Hoyas have pushed ahead in the sophomore standout's absence. Notre Dame, Louisville and Marquette have all fallen to John Thompson III's squad, which is tied with Marquette in second place (8-3) in the Big East. Otto Porter (15.0 ppg, 8.0 rpg, 2.5 apg, 1.1 bpg and 1.8 spg) continues to put up All-American numbers. He finished Monday's game with 21 points, 7 rebounds and 3 steals.
-- Myron Medcalf
Jayhawk Of The Night
So many Kansas players stood out during the Jayhawks' 83-62 win over Kansas State at the Phog. Naadir Tharpe (eight assists, one turnover) looked like the point guard Kansas needed during its three-game losing streak. Jeff Withey (17 points, 10 rebounds and 5 blocks) dared the Wildcats to enter the paint. But it was the freshman who stole the show. Ben McLemore's 30-point effort on his 20th birthday was one of the most impressive outings of the season. He was 6-for-10 from the 3-point line. He also added seven rebounds and three steals.
-- Myron Medcalf
How Far Can Porter Lead Hoyas?
WASHINGTON, D.C. -- The play, done with authority and even a bit of panache, was so pretty, so well executed that even the usually stoic Markel Starks couldn't help himself.
He just had to dance.
"I'm not saying I'm a guy who plays on emotion, but it's kind of like dancing," Starks said. "Sometime you just get into it."
This, then, is what Otto Porter can do -- he can inspire an on-court wallflower to jig.
The bigger question: What can Porter do for Georgetown?
With their 63-55 win over Marquette on Monday night, the Hoyas have now won six in a row and eight of their past nine -- the lone hiccup an inexplicably out-of-place loss to South Florida -- and stand a half-game behind Big East-leading Syracuse.
In theory and on paper, the Orange and Louisville are still the favorites to win this conference.
But if you've been paying even a little attention this season, you know theories written on paper tend to fly out the window without much of a breeze.
So in a wide-open season and a fairly close league, are the Hoyas a team waiting in the Big East weeds?
Perhaps. It's really up to Porter.
Georgetown is not going to overwhelm anyone with its offense. In Big East play, the Hoyas have topped the 70-point threshold twice -- against Seton Hall and Providence, and that probably shouldn't really count.
To read the rest of the post, click here.