Oladipo and Zeller team up for Indiana
>
EAST LANSING, Mich. -- Victor Oladipo and Cody Zeller have a beef.
This can't happen very often. You can't be co-stars on a team as successful as the Indiana Hoosiers have been this season -- IU is the No. 1 team in the country, the nation's most efficient offense, the only 12-2 team in the best conference in college hoops and the obvious national title favorite going forward -- and not see things the same way at least 90 percent of the time.
But if you ask Oladipo about his sudden national player of the year frontrunner status, how it feels to go from being a hardly recruited raw athlete to a defensive stopper to a role player to drawing almost weekly broadcaster comparisons to a young Michael Jordan, the Hoosiers' overnight star interjects what is by now a minority opinion on the topic.
"I've told you who I think the player of the year is -- it's Cody Zeller," Oladipo said Tuesday night. "He always has been. If we didn't have him, I wouldn't be successful. None of us would be successful."
Ahem -- Cody? Your thoughts on the subject?
"He'll be the player of the year," Zeller said, laughing.
So, yes. For the 2012-13 Indiana Hoosiers, this is what passes for a beef.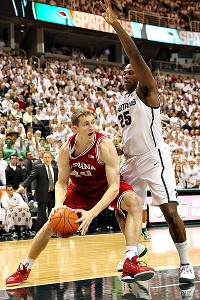 Mike Carter/USA TODAY SportsCody Zeller drives the baseline against Michigan State's Derrick Nix during the first half on Tuesday.
It's not hard to see why: In their best win of the season and almost certainly the best of Tom Crean's career at IU -- a physical 72-68 trial against Michigan State, a fellow 11-2 conference title challenger in front of one of the best and most intense crowds you'll see anywhere, in any sport -- Oladipo and Zeller both crossed the 1,000-point scoring threshold for their careers. Along with Christian Watford and Jordan Hulls, the duo made history. They became part of the first team in the school's history to feature four 1,000-point scorers in the same game.
Reminder: "Indiana history" includes a team that went undefeated.
That is balance and depth and experience and leadership, and all of it was on full display Tuesday night. All four 1,000-point scorers (who ought to start some sort of campus club) finished in double figures: Oladipo had 19, Zeller 17, Watford 12, Hulls 12. Zeller, who has played as well as any player in the country in the past three weeks, began the game with two quality post moves and a 17-foot jumper. He couldn't keep that kind of offensive performance up -- he began exerting more and more energy on the defensive end, where his size was often the only thing stopping Michigan State's imposing interior from totally bossing the paint -- and he struggled on a series of possessions throughout the late first and early second halves.
But his teammates were always there. Hulls hit four threes on the night, one of them from somewhere in Canada, each of them coming at the best possible times. Watford went 2-of-5 from deep, and just 4-of-10 from the field, but he made the most important play of the game -- a drive and finish and foul and free throw with just 1:25 left, which cut Michigan State's suddenly imposing 67-63 lead to just one.
"Christian was just a grown man the whole night," Crean said.
And then there's Oladipo. Just two days after Indiana's do-everything junior sprained his ankle in a win over Purdue, there he was opening the game with cannon-shot drives to the rim, ruining passing lanes with chaos-inducing defensive hands, chasing back for crowd-silencing fast-break blocks, using crossover dribbles capable of putting even good perimeter defenders -- in this instance, Keith Appling -- at risk of their own ankle damage. There was Oladipo looking like the best player on the floor no matter what he did, which is probably most succinctly described as "everything."
When asked to name the difference between 2012's surprisingly good IU team and the title-or-bust 2013 edition, Tom Izzo's first-instinct response was exactly one word: "Oladipo."
Two years ago, Oladipo arrived at IU a three-star prospect ranked No. 54 at his position; he was a nice athlete, sure, but few coaches noticed. Two years ago, IU was coming off a 10-win season, Crean's second at the school, and it just so happened that the coach needed athletes. Frankly, he needed anyone.
Since then, Oladipo has morphed from an exciting leaper (2011) to a defensive specialist and rim crasher on a team with great need of both (last season) to one of the most efficient offensive players in all of college basketball. After Tuesday's 7-for-11 performance, Oladipo has made 118 of his 175 2-point field goal attempts this season, good for an eye-popping 67.4 percent. His advanced efficiency statistics -- things like offensive rating (127.8) and true shooting percentage (70.8) and effective field goal rate (69.2) -- all rank him among the best in the country. And when he deigns to shoot the ball from the outside, he makes over 50 percent of his 3s, too.
There may be better pure defenders in college basketball, and there may be more skilled scorers, and there may be more dominating rebounders, but no player combines all of those skills into a single package the way Oladipo has.
All of which would be merely impressive had Oladipo not also developed a knack for the game-winning play. But he has, and he was there again Tuesday night, recording the go-ahead tip-in with 47 seconds left, corralling IU's last two defensive rebounds, running out on the game-sealing fast break dunk, silencing a crowd so loud my ears popped.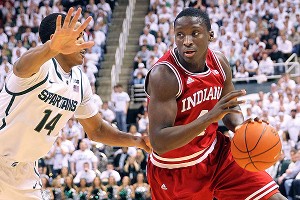 Mike Carter/USA TODAY SportsVictor Oladipo drives against Michigan State's Gary Harris.
And he did it all with a two-day-old sprained ankle.
"People asked if Victor Oladipo is 100 percent," Crean said. "There was no way of knowing he wasn't close to 100 percent tonight. The way he played was excellent, but the way he finished this game when he was winded and there's no doubt that his foot hurt -- he might tell you different, but I've been around him long enough to know when he is right. But I knew that his mind was right."
"He's just a refuse to lose kind of guy," Izzo said. "He reminds me of a few guys I've had. In winning time, he made the plays."
The Michigan State locker room was despondent, and Izzo wasn't much happier, convinced that the Spartans had let a crucial win slip away with mistakes throughout the game. There were plenty of bad decisions. One extreme example came when Derrick Nix took what looked like a cheap shot at Zeller's more sensitive regions (retaliation for what Nix thought was a similar low blow on an early play), but mostly those bad decisions were a shot forced against good interior defense, or a silly foul on a three-point shooter, or turnovers. Appling had his worst game of the season, a six-point, four-turnover, 1-for-8 outing -- he said it elicited the "worst feeling ever." The officiating was a constant theme on Twitter. Both sides were victims of bad calls, but a second-half foul and continuation for Zeller was especially egregious, and robbed the Spartans of whatever momentum Gary Harris had built with a three and a steal on previous possessions.
And despite all that, Michigan State still had a chance to tie the game in the final seconds, when Will Sheehey fouled Harris on a three-point attempt. Harris missed the first free throw, sealing the loss.
"We didn't answer the bell," Izzo said. "We always talk about buzzer-beaters and end-of-game plays, but two points at the beginning, because you don't guard a guy or don't cover a back cut, are the same as two points at the end of the game. They all add up.
"Games aren't lost with a free throw at the end, we just magnify it," Izzo said. "That game was lost early. They took it at us."
The upshot is more than a big conference win, more than pole position in the Big Ten chase, more than POY buzz for Oladipo. Perhaps the biggest implication, at least for Indiana, is the advantage over Michigan State if both wind up as No. 1 seeds. One of this year's regionals takes place in Indianapolis, and the higher-seeded No. 1 team gets first dibs. Indiana would very much like to be that team.
Check and check. Then again, if the Hoosiers keep this up -- and by "this," we mean the offensive balance and the defensive deflections and the senior leadership capable of toughing out these types of games, another of which lies in wait March 10 at Michigan -- lining up home court advantage in Indianapolis will seem like small potatoes.
In the meantime, maybe the Hoosiers can settle on a company line for player of the year. A coordinated campaign. A billboard, maybe? At least a flyer, right?
Victor?
"I'm just going to do whatever I can to help my team win -- I just want to win," he said. "But Cody has always deserved it."
Cody?
"He can have it," Zeller said.
Guys, come on. This is a problem.
A really, really good problem.
Missouri Is Back On Track
COLUMBIA, Mo. -- Missouri coach Frank Haith has always been pleased with Phil Pressey's ability to take charge on the court. Lately, though, he's been imploring his junior point guard to do the same thing in the huddle.
Pressey finally obliged in Tuesday's 63-60 victory over fifth-ranked Florida.
And it only took one word.
Believe.
Time and time again at Mizzou Arena, Pressey delivered that message to his teammates as they encircled him during dead balls and timeouts. He said it when the Tigers trailed No. 5 Florida by double digits midway through the second half. And he uttered the word again in the game's waning minutes, after Florida stormed back to take the lead.
Believe.
"That's what I kept telling them," Pressey said. "Whether you're up by 12 or down by 12, you always have to believe you can win."
Especially when so many others don't.
More than a few fans and pundits had written off Missouri prior to Tuesday's victory over the Gators. Ranked as high as No. 7 earlier this season, the Tigers have been nothing short of maddening in SEC play. Blowout home wins over Alabama and Ole Miss were tempered by road losses to bottom-feeders such as LSU and Texas A&M.
Overflowing with athleticism, size and length, Missouri's players turned heads at airports and during pre-game warm-ups. But they were overrated on the court. That was the Cliff's Notes version, anyway.
After what happened Tuesday, the storyline has changed.
"They're very dangerous," Florida coach Billy Donovan said. "They have answers at every position. I can't imagine there is a team in the country that is more individually talented."
To read the rest of the post, click here.
Game Of The Night
Missouri 63, No. 5 Florida 60: The Tigers had to have this one. Sure, they sported an 8-4 SEC record entering the Tuesday night matchup. But they've been very average on the road. In a weak league such as the SEC, that's a formula for the bubble. There just weren't any guarantees for a Missouri team that will play three more road games during the regular season. So Tuesday night was critical both because it offered the Tigers a chance to earn a quality win and because it was on their home floor. And they didn't disappoint. With nearly 11 minutes to play, the Tigers were down by 13 points. But they bounced back in the final minutes, an amazing push for a team that has been inconsistent all season. A 12-0 run cut Florida's lead to one. Then, Missouri fought down the stretch to achieve its best victory of the season, one that will certainly boost its NCAA tournament resume. Laurence Bowers finished with 17 points and 10 rebounds.
-- Myron Medcalf
Surprise Of The Night
Saint Louis 76, No. 24 VCU 62: The Billikens are legit. If that wasn't clear prior to Tuesday night's 14-point win over VCU, it should be now. The Rams shot 46 percent from the 3-point line, but their offense couldn't match Saint Louis' 55.3 percent clip from the field. Jordair Jett (16 points) was one of four Billikens who cracked double figures. The margin is more surprising than the actual win. Saint Louis is on top of the Atlantic 10. After losing legendary coach Rick Majerus in the offseason and beginning the season without an injured Kwamain Mitchell, the Billikens are a force right now.
-- Myron Medcalf
Player Of The Night
Tristan Carey, a junior guard at Longwood, scored 40 points in a 102-101 over Liberty. He went 8-for-15 from the 3-point line. He also grabbed 10 rebounds, recorded 2 steals and blocked 2 shots in the victory. He scored 31 points in his team's 76-61 win over Radford on Saturday.
-- Myron Medcalf
A Closer Look At UNC's Win
There you are, James Michael McAdoo.
After a quiet week-and-a-half stretch that saw the North Carolina sophomore average just 8 points on 11-for-32 shooting over three games, the forward returned to his double-double ways at Georgia Tech, finishing with 22 points and 11 rebounds in the Tar Heels' 70-58 win.
To read the rest of Robbi Pickeral's post, click here.