Getting Ready For Even More Drama
Any good meal begins with an appetizer. The idea is to soothe the stomach as the main feast is prepared.
That's what college basketball fans were fed on Wednesday. An appetizer that sets up an intriguing entree on Thursday.
Let's be honest: Wednesday's action was more maddening than madness.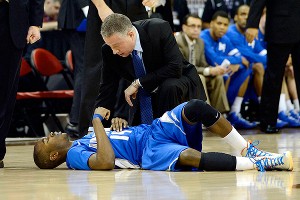 Jeff Bottari/Getty ImagesAir Force's hopes for a tournament run ended with an injury to its best player, Michael Lyons.
Air Force suffered a lopsided loss to UNLV in the Mountain West tournament after losing star Michael Lyons to a knee injury in the first half. Colorado dismissed Oregon State and Villanova defeated St. John's in the Pac-12 and Big East tourneys, respectively.
Texas Tech toppled West Virginia on a buzzer-beater in a game that few likely noticed simply because it involved West Virginia and Texas Tech. Mike Muscala (20 points, 11 rebounds and a block) and Bucknell earned an automatic bid with a win over Lafayette in the Patriot League tournament championship.
See, it was easy to miss the meaningful moments since they were so scarce. But Wednesday mattered, and Thursday will matter even more now that Syracuse has found itself. Maybe.
It's probably premature to say an Orange team that had lost four of five entering the Big East tournament is "back" following a win over Seton Hall. But James Southerland's stroke (20 points, 6-for-9 from the 3-point line) and Michael Carter-Williams' leadership (Big East tourney-tying record 14 assists, one turnover) were convincing.
And the final edition of the Big East tournament in its traditional format only seems appropriate with Syracuse advancing to play Pitt on Thursday with a potential shot at Georgetown on the line in Friday's semifinals.
That's assuming the Hoyas get past a Cincy team that outplayed Providence on Wednesday. The Bearcats' sluggish, grinding style seems suitable for Georgetown's sluggish, grinding style. But it might not be the most TV-friendly matchup.
In the Pac-12, Jahii Carson scored 34 points in Arizona State's overtime win against Stanford in the opening round of that league's tournament. And now the Sun Devils will attempt to revive their slim at-large hopes with a victory over top-seeded UCLA.
The Big Ten and ACC tourneys will begin. The core of the Big 12 and SEC tournaments will start, too.
Minnesota and Illinois will kick off the action in the Big Ten tournament's return to Chicago. Two teams that will make the Big Dance. Two teams that haven't exactly looked worthy in recent months. Pride is on the line. And in the unpredictable Big Ten, the winner of this game -- believe it or not -- could make a run.
Baylor could be serious now. Not sure what that means for the coming days, but that lopsided weekend win over Kansas should make more folks pay attention to its Big 12 tourney matchup against Oklahoma State.
Villanova versus Louisville could be the setting for the first major upset of the conference tournaments. Notre Dame-Marquette on the same night? Get your popcorn ready.
The circumstances suggest that more drama will come in the next 24 hours.
Wednesday was just a necessary, albeit largely uneventful, precursor. Thursday, however, is a new stage. Our only job is to keep our eyes open and our remotes close.
A Look Around Championship Week
Bubble's Perfect Dilemma
LAS VEGAS -- Derrick Marks has nothing against Kentucky, but the Boise State guard will probably be rooting against the Wildcats this week. Same with Alabama, Baylor, Virginia, Tennessee and all of the other NCAA tournament bubble teams.
Boise State is one of them now following Wednesday's 73-67 loss to San Diego State. Even though the Broncos said they're confident they've done enough to earn a berth, they could still use a little help.
"Hopefully," Marks said, "the right teams lose."
Boise State probably wouldn't be in wait-and-see mode if it had taken care of business in the quarterfinals of the Mountain West tournament Wednesday at the Thomas & Mack Center.
To read the rest of Jason King's story, click here.
Bubble Watch
Villanova was among the teams that locked up bids on Wednesday as Champ Week continued. Others weren't as fortunate. Here's our updated look at the Bubble. Bubble Watch »
Syracuse Starts Garden Finale
NEW YORK -- This tournament has barely begun, but emotions are already running high.
After Syracuse's 75-63 win over Seton Hall on Wednesday afternoon -- just the fourth game of a five-day event -- Jim Boeheim took nearly four minutes to answer what was, on the surface, a very simple question:
"Was there any different feeling for you walking into the building this morning?"
"Yeah, there was," the Syracuse coach began. "In the locker room before the game, I was thinking about all the times coming here. I first came to the Garden when I was a sophomore in college -- the old, old Garden. Seems like about 50 years ago. Oh -- it was 50 years ago."
That elicited chuckles in the packed interview room here at Madison Square Garden. But the room quickly fell silent again, as the Hall of Famer rambled on about the history of the Big East and his own career.
"Your whole life has been spent in this league, and the last 31 years coming to this building, that's a lot. That's a lot of memories, a lot of time."
Syracuse, one of the seven charter members of the Big East back in 1979, departs for the Atlantic Coast Conference after this season.
To read the rest of Kieran Darcy's story on the game, click here.
Arizona State Stays Alive (Barely)
Mike Moser Is UNLV's X Factor
LAS VEGAS -- UNLV coach Dave Rice looked at the stat sheet Wednesday and immediately thought of Dec. 9.
Three months ago, in a victory at Cal, Runnin' Rebels forward Mike Moser had suffered one of the more gruesome injuries Rice had ever witnessed, a dislocated elbow that left Moser unable to extend his arm for nearly a month.
All of a sudden, a preseason All-American who had opened his junior season on magazine covers was on the end of UNLV's bench in street clothes, wondering if his career would ever be the same.
"Dec. 9 was a difficult day for all of us," Rice said. "I wasn't sure if Mike would play for us again."
That's why Rice couldn't help but smile as he glanced at the box score from Wednesday's 72-56 victory over Air Force in the opening round of the Mountain West Conference tournament. Now back in the starting lineup, Moser snared 10 rebounds and scored nine points in a victory that propelled the Rebels into Friday's semifinal against Colorado State.
"I feel like I'm getting back into a flow, back into a rhythm," said Moser, who missed seven games because of his injury and has been less than 100 percent the past two months.
"My injury set us back. It kept us from peaking. This tournament is a chance for us to figure out exactly who we are."
To read the rest of Jason King's story, click here.
Texas Tech's Last-Second Win
Champ Week Predictions
How are our experts faring this week? Well, let's just say some of them probably don't want you to know. But go ahead -- take a peek. Predictions »
Matt Doherty's Bold Predictions
ACC Tournament Primer
A year ago, Florida State loosened Tobacco Road's grip on the ACC tournament trophy, becoming the first team not named "Duke" or "North Carolina" to win the event since 2004.
The question, entering Thursday's opening-round games in Greensboro, N.C.: Might another Florida school -- this time Miami -- continue the trend?
Top three storylines:

1. Will Michael Snaer hit another buzzer-beater? Or four?
2. What does Virginia need to do to make the NCAA tournament?
3. Can we get another Duke-Miami rematch? Please?
Five players to watch:
1. Erick Green, Virginia Tech
2. Richard Howell, NC State
3. P.J. Hairston, UNC
4. Seth Curry, Duke
5. Shane Larkin, Miami
Hottest team: Duke
Coldest team: Clemson
Sleeper pick: Virginia
Potential upset victim: North Carolina
Best first-round matchup: NC State-Virginia Tech
Best potential quarterfinal: Virginia-NC State
Pick: Duke
A-10 Tournament Primer
The A-10 offered some quality hoops at the top of the league and maintained a level of weekly anything-can-happen madness in its middle regions (in my weekly power rankings, I once ranked eight teams in a tie for sixth place; true story), but this one-time format didn't reach the lofty heights we might rightfully have expected in October.
Even so, if there's anything we learned from the two months of regular-season play, it's that in any given game, in this league, anything can happen.
Top three storylines:

1. Can Temple firm up its tourney résumé?
2. Ditto La Salle.
3. Will we get a Saint Louis-VCU rematch in the final?
Five players to watch:
1. Khalif Wyatt, Temple
2. Treveon Graham, VCU
3. Rotnei Clarke, Butler
4. Dwayne Evans, Saint Louis
5. Chaz Williams, UMass
Hottest team: Saint Louis
Coldest teams: Duquesne and Fordham
Sleeper pick: UMass
Potential upset victim: Butler
Best first-round matchup: Xavier-Saint Joe's
Best potential quarterfinal: La Salle-Butler
Pick: Saint Louis
Big Ten Tournament Primer
At this point, the 2013 Big Ten is like caffeine, or wholesale lanyard orders at SXSW: It sells itself.
In October, we all expected this to be the best league in the country, and it hasn't come remotely close to disappointing us.
Top three storylines:

1. Can Minnesota get it together?
2. Can Iowa make the tournament?
3. Can Indiana sweep the league?
Five players to watch:
1. Trey Burke, Michigan
2. Trevor Mbakwe, Minnesota
3. Victor Oladipo
4. Cody Zeller, Indiana
5. Keith Appling, Michigan State
Hottest team: Ohio State
Coldest team: Northwestern
Sleeper pick: Iowa
Potential upset victim: Michigan
Best first-round matchup: Illinois-Minnesota
Best potential quarterfinal: Michigan-Wisconsin
Pick: Ohio State