Ware's injury becomes Louisville's inspiration
INDIANAPOLIS -- Equipment manager Vinny Tatum found the extra jersey somewhere in the locker room and made sure it got in the hands of Chane Behanan.
It was way too tiny, cut for Kevin Ware's slight build, not Behanan's barrel chest, but Behanan for a moment squeezed himself into it anyway.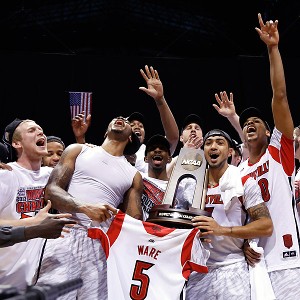 Sam Riche/Getty ImagesKevin Ware couldn't be there in person, but his teammates made sure to make his jersey a part of the celebration after their victory over Duke.
And then he had a better idea. He took Ware's spare jersey off after the buzzer sounded and stalked around the court with the jersey held aloft, almost like a prizefighter celebrating his championship belt.
Which in some ways it was.
NCAA president Mark Emmert handed Louisville a Midwest Regional trophy on Sunday night after the Cardinals beat Duke 85-63.
The Cardinals were appreciative of the prefabricated piece of hardware, but it was Ware's jersey that they clung to. It was a way to make sure the guard, in surgery at nearby Methodist Hospital after suffering a gruesome open fracture to his lower right leg, was with them.
More, it was a way to let everyone know just why the Cardinals are going back to the Final Four.
The box score says Ware played just five minutes and scored only three points.
No matter.
He won the game for Louisville.
"When [the injury] happened, he said to me five times, 'I'm OK, win the game,' so I got the team together and I said, 'Hey listen to him. He has something to say to you,'" Rick Pitino said. "He must have said it 100 times. It had to come from him, and it did."
It all could sound so hokey, the whole win-one-for-Ware notion. But there was nothing hokey about what happened here on Sunday night. It was as raw and real as anything sport could possibly provide, a stunning moment of sheer anguish followed by an even more dizzying display of sheer willpower, all somehow compacted around a basketball game that meant nothing less than everything.
For 14 minutes, Louisville and Duke put on an incredible display of basketball. With a beyond partisan UL crowd packed into Lucas Oil Stadium, the game had the intensity and atmosphere of a national championship game.
And then, with 6:33 left on the clock, Ware went over to the wing to try to block a Tyler Thornton 3-pointer.
When he landed he crumbled to the ground, directly in front of the Louisville bench.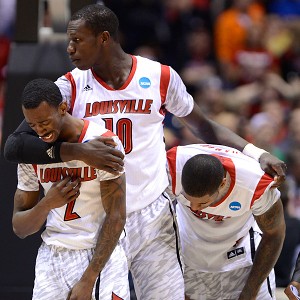 Jamie Rhodes/USA TODAY SportsThe reaction from Kevin Ware's teammates made the scene even more heart-wrenching.
"I went over and I was going to help him up, and then all of a sudden I saw what it was," Pitino said. "And I literally almost threw up. I just wanted to grab a towel to cover it up, but all the players came over and saw it."
The reaction was almost as awful as the replay of the injury.
There have been equally gruesome injuries -- Redskins quarterback Joe Theismann and Bears running back Michael Bush (who was injured in college) among them -- but I can't ever remember a reaction so visceral.
Three players, Behanan, Wayne Blackshear and Montrezl Harrell, were in varying stages of collapse; Behanan prone on the floor, Blackshear on his hands and knees, Harrell doubled over. Russ Smith sobbed visibly, pulling his jersey over his head to cover his tears, while Peyton Siva walked around, his eyes to the ceiling as if he were searching for some sort of explanation.
"I don't remember the last time I cried," Behanan said. "But I just sobbed. I was speechless, just speechless. I kept asking why. I just dropped to the floor."
"I cried, that's all I could do," Harrell said. "I saw him go down and I just cried."
"When he landed, I heard it," Smith said. "I heard it, and then I seen what happened come out [his bone] and I immediately, I just like feel I almost didn't feel nothing and it was really hard for me to pull myself together because I didn't think in a million years I'd see something like that."
Because it happened right in front of the bench -- on the elevated court the NCAA fancies in domes -- it quite literally happened at eye level for everyone there. Assistant coach Wyking Jones ran away from the bench -- "It was almost disbelief at what I had just seen; I never saw anything like it," he said.
The players eventually huddled at the free throw line, their arms wrapped tightly around each other when Pitino screamed, "Hey come over. He wants to talk to you."
"He was in a lot of pain, so much pain," Behanan said. "But he called us over and told us not to worry about him. He didn't even care about his leg. He cared about us. I don't know how he did that."
After a lengthy delay while medical personnel tended to him, Ware was taken off the court on a stretcher to a rousing ovation from the crowd.
Pitino and Mike Krzyzewski talked at midcourt with the officials, Pitino declining an opportunity to warm up again, and then the players got ready to get back to the business of basketball.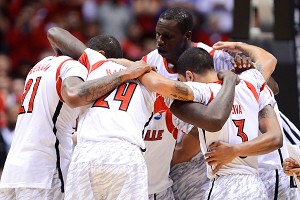 Jamie Rhodes/USA TODAY SportsThe Cardinals huddle after Kevin Ware's injury.
Official Scott Thornley stood next to Smith, ready to hand him the ball to inbound it and resume play. Before he did, Thornley paused.
"Are you OK?" Thornley said.
And that's the real miracle in all of this.
The Cardinals were OK.
Louisville has built its brand on its toughness. The Cardinals are ruthless and relentless on defense. Together Siva, Smith and Ware probably wouldn't tilt the scales at 400 pounds -- yet they play with an edge that intimidates opponents into submission.
It is one thing to be basketball tough.
To witness your teammate's bone protruding from his leg, to sob in the middle of a game and then somehow regroup, and not just play, but win going away, that almost corners the market on the word.
In fact, it might be a good idea if Wichita State, Syracuse and Michigan refrain from describing themselves as tough next weekend. They might want to steer clear of adversity, too.
"It's how you respond in the moment," Pitino said. "And they responded in an unbelievable way because they had to overcome serious foul trouble. They had to overcome a great team. They had to overcome losing someone they loved."
Aided by an update from athletic trainer Fred Hina that Ware's injury, while serious, wasn't career-threatening, and fueled by Pitino's simple halftime message --"I told the guys that if we don't get Kevin home to Atlanta [site of the Final Four], then it wasn't worth it to play this season," he said -- Louisville didn't beat Duke; it drilled the Blue Devils.
With the score tied at 42, the Cardinals went on a 17-2 run that left Duke flat-footed, dazed and ultimately defeated. That's nothing new; Louisville has been winning this way all season. In the Big East tournament, it reinvented the word "run" with a 49-13 boulder-down-a-hill steamroll against Syracuse.
But the circumstances here made the push simply astounding.
It did seem to come from some deep resolve that had less to do with making it back to the Final Four and more to do with honoring a teammate.
"Kevin told us to win this game for him, so we had to take it upon ourselves to do that," Harrell said. "That's what we had to do. We didn't have a choice."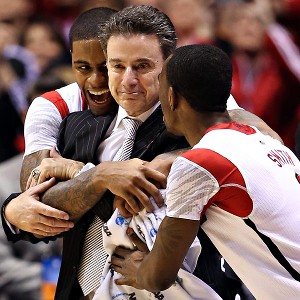 Andy Lyons/Getty ImagesRick Pitino said his players overcame foul trouble, a tough opponent and the loss of someone they loved.
When it was over, the Cardinals initially celebrated like everyone does when they get to the Final Four. They grabbed their requisite championship hats and T-shirts, mugged for the television cameras and photographers.
And then everything changed.
Behanan, who said he and Ware are like "peanut butter and jelly -- one's no good without the other," grabbed Ware's jersey. Pitino took the microphone while on the makeshift center court stage, interrupting the announcement of the all-tournament team, and asking the crowd, "Can we get a Kevin Ware chant going here?" The crowd happily obliged, Ware's name ricocheting off the big dome.
Eventually workers brought out the ladders, positioning them under the nets for the ceremonial net cutting.
They're still there.
Just as they did in New York after they won the Big East tournament, the Cardinals let the nylons hang. Pitino said in New York he made the suggestion a while ago, figuring that the Cards enjoyed all of that ceremony in the run-up to last year's surprise Final Four berth.
Heavily favored this time around, why not wait for the ultimate net this year?
"Right now, four teams get to cut down nets," Behanan said. "We wanted to wait until no one else could but us."
Besides, from this regional, the Cardinals didn't need a net to remind them of what they had accomplished.
They had their own trophy: a white No. 5 jersey with the name Ware emblazoned in red.
ESPN Senior Writer
College basketball reporter.
Joined ESPN in 2007.
Graduate of Penn State University.
The Perfect Prediction
ARLINGTON, Texas -- Shortly after he descended from the ladder -- a freshly snipped piece of the Cowboys Stadium net affixed to his commemorative Final Four cap -- point guard Trey Burke snaked through a gaggle of Michigan teammates and fans until he found John Beilein.
As the player and coach embraced during the crowning moment of their respective careers, Burke whispered into Beilein's ear.
Perhaps he said, "I told you so."
Long before Burke earned his tag as the best player in college basketball, the sophomore who can seemingly do no wrong was summoned into Beilein's office. It was summertime in Ann Arbor, just a few weeks before the start of classes, and Beilein was irked by some comments he'd read from Burke in a preseason publication.
"He got on me a little bit," Burke said, "because I said I felt like we could be national championship contenders. But it was coming from my heart. It was coming from watching this team every single day and seeing the talent. I knew that once we mixed talent with the toughness and execution and intelligent play, we could be something special.
"I knew we'd have a chance to win a title."
Burke's comments seemed far-fetched at the time. They don't anymore.
To read the rest of Jason King's story on Michigan's victory, click here.
Jason King With Nik Stauskas
---
MVP: Michigan guard Nik Stauskas was 5-for-5 on 3-pointers and 6-for-6 overall in the first half, and the only thing he missed in the opening 20 minutes was one of his free throws, when he got fouled on a 3-pointer at the halftime buzzer. He finally missed in the second half -- once -- and finished with 22 points on 7-for-8 shooting.
X factor: Florida's defense had been allowing foes to shoot only 37.9 percent overall and 30.3 percent from 3-point land this season. But Sunday, the Wolverines dictated tempo and made 47.5 percent of their shots, including half of their 3-pointers.
That was ... a surprising blowout from the get-go: Michigan opened the game with a Mitch McGary-led 13-0 run and led by as much as 41-17 in the first half. The Gators shot back to within 11 points about four minutes into the second half, until Stauskas -- who else? -- buried a 3. Trey Burke was a catalyst, finishing with 15 points, eight rebounds, seven assists and only one turnover.
-- Robbi Pickeral
---
MVPs: Louisville guard Russ Smith led his team with 23 points, but teammates Peyton Siva (16 points) and Gorgui Dieng (14 points, 11 rebounds, after sitting out his team's loss to Duke in November because of an injury) also were key.
X factor: Duke guard Seth Curry, averaging 24 points during his previous three NCAA tournament games, finished 3-for-9 with 12 points. Duke shot 36.5 percent and made only 4 of 16 3-pointers.
That was … stomach-churning, in more ways than one. The game was overshadowed by a horrific injury to Louisville's Kevin Ware, who broke his leg in with 6:33 left in the first half when he jumped up to block a shot and came down awkwardly. Louisville led 21-20 at the time, and by three points at halftime. The game looked as if it might continue to be a nip-and-tuck affair … until about four minutes into the second half. With the score knotted 42-42, Louisville sped on a 20-4 run that included six points by Siva and eight points from Dieng -- and during which Duke didn't make a field goal for 8 minutes, 11 seconds. And that was that.
-- Robbi Pickeral
Dana O'Neil With Chane Behanan