And that concludes the Year of the Freshman
ARLINGTON, Texas -- You could see it from the start. You didn't even have to look that hard.
It was Kentucky's third game of the season on Nov. 12 -- the Champions Classic, its first against serious competition, and the Wildcats looked lost. Its transition defense was nonexistent. Its offensive sets were a jumbled mess. Its opponent, Michigan State, had taken to the United Center court with veteran aplomb; the Spartans were defending in sweeping, collective movements, pushing forward with fluidity and pace. The Wildcats entered the game ranked No. 1 in the country, wielding the best recruiting class in modern college hoops history, with nothing less than a perfect 40-0 season on the lips of its fans. Instead, John Calipari's team looked like what it was: a bunch of self-aware kids very publicly feeling each other out.
And it almost didn't matter. In exactly 3 minutes and 27 seconds, Kentucky shrunk a 13-point second-half deficit into a one-point Michigan State lead. With 5 minutes left, Julius Randle, who finished with 27 points and 13 rebounds on 14 field goals shots and 15 free throw attempts, tied the game at 66-all. Tom Izzo's team, the more cohesive and polished group in every visible way, found itself holding on for dear life.
The Spartans' grip held. Gary Harris and Keith Appling made two huge back-to-back buckets, and late free throws sealed the win. The final result obscured nothing; you could see it all then. Even in a larval state, the youngest, most freshman-packed team in the country was a primal force of nature.
In the same gym two hours later, Andrew Wiggins would dunk Kansas past the gorgeous scoring of Duke's Jabari Parker. Everything we had been breathlessly told about both players was true. Kentucky's promise had already lived up to its hype. One week into the 2013-14 season, there was no other conclusion to draw.
This would be The Year of the Freshman.
---
Five months after the Champions Classic, UConn guard Shabazz Napier, along with teammates Niels Giffey and Tyler Olander, became the first players in college basketball history to win a national title in both their freshman and senior seasons.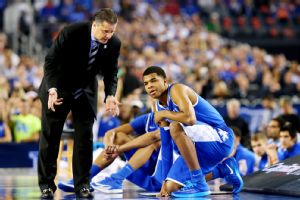 Ronald Martinez/Getty ImagesJohn Calipari nearly guided his freshmen to the title in the Year of the Freshman.
The best player in college basketball in 2013-14, Creighton forward Doug McDermott, was a senior. By dint of both brilliance and longevity, a scrawny kid from Iowa left the sport with 3,150 points to his name -- more than Larry Bird, Oscar Robertson and every other college basketball player ever, save four.
For five months, the best and most consistent team in college basketball -- one that entered the Final Four with 30 straight wins -- was Florida. The Gators started four seniors. Their center, Patric Young, logged 150 games and 3,638 minutes in four seasons. Their point guard, Scottie Wilbekin, spent three years behind a score of talented guards and was nearly dismissed from this year's squad before the season even began, before becoming the SEC player of the year. The Gators' best player, forward Casey Prather, averaged 3.3 points for his career before Florida's early personnel nightmare forced him into a star role; he finished the season averaging 13.8 points, 5.0 rebounds and 1.6 assists per game.
For five months, the most fascinating story in college basketball was Wichita State, where Fred VanVleet, Ron Baker, Cleanthony Early and a host of solid unknown role players chased perfection longer than any team since the 1990-91 UNLV Runnin' Rebels. The Shockers were the first team in the history of college basketball to win 31 games before postseason play.
When the Associated Press and consensus All-American lists are revealed in the next few days, they will be comprised primarily by seniors. You will see players like Napier, McDermott, Early, Louisville's Russ Smith, Iowa State's Melvin Ejim and DeAndre Kane, San Diego State's Xavier Thames, Arizona's Nick Johnson, Cincinnati's Sean Kilpatrick and Virginia's Joe Harris.
You'll see Parker and Wiggins and maybe even fellow Kansas freshman Joel Embiid, too, but maybe you won't. Parker had a great season, but struggled in a second-round NCAA tournament loss to Mercer. Wiggins had a very good season but was invisible in a third-round NCAA tournament loss to Stanford. Embiid's late-season back injury may well have ended his college career with a whisper.
In the five months between the Champions Classic and Napier's triumphant finish Monday night, almost everything about this college basketball season went against what we thought we knew at the start. Freshmen, no matter how gifted, are always still freshmen. If anything, this was the year of the senior.
---
About 200,000 years ago, when humans evolved into our modern anatomical state, we started using our highly developed prefrontal cortices for one purpose above all else: pattern recognition.
All things considered, it's gone pretty well. In the matter of 50,000 years, our ability to recognize and process patterns has taken small bands of hunters to the moon and back. We figured out how to grow our own food. We learned the best ways to stack bricks and make buildings. We defined the parameters of existence; we discovered the numbers that govern the laws of nature. We have burritos and the Internet. We're doing great.
But our chief gift can also be our big flaw: We see patterns even when they're not there. Our ancestors fashioned thousands of random dots of night-sky light into the terrifying animal gods that ruled their world. For most of human existence, bad weather wasn't a bummer; it was the vengeful expression of a displeased deity. Disease wasn't contagious invisible microbes; it was moral comeuppance.
Basketball is no different. What is the NCAA tournament bracket but an elegant, fallible attempt to derive meaning from chaos? What are positions -- point guard, power forward, center -- but our hope of slicing a fluid activity into discrete actions? What are the stories we tell about these teams, or the themes we attach to these seasons, if not endeavors for understanding? Why do some teams win and some teams lose? What patterns can we draw?
---
Kentucky kept taking steps back.
After the Michigan State loss, the Wildcats looked good in a win over Providence and bad in a loss to Baylor. They fell short on the road at North Carolina but looked great in a rivalry win over Louisville. The SEC season was a prolonged struggle, a back-and-forth of supreme promise and apathetic gestures. Calipari couldn't get through to his team.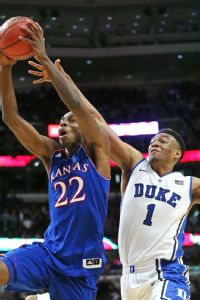 Jonathan Daniel/Getty ImagesAndrew Wiggins and Jabari Parker started the Year of the Freshman together way back in November.
On Feb. 27, Kentucky lost at home to Arkansas. On March 1, it lost at South Carolina. Calipari's experiment, the purest distillation of faith in freshmen, was a failure.
You know what happened next: Kentucky flipped some invisible switch. Calipari made some cagey "tweak." The Wildcats shot through one of the toughest Final Four runs in years, downing Wichita State and Louisville and Michigan and Wisconsin by 11 total points. The Harrison twins made shots they hadn't all season. The Wildcats guarded like maniacs. Against Wisconsin, they played seven freshmen, who combined for 66 points -- the most in Final Four history.
By the time they got to Monday night, the pattern's shape had shifted again. Kentucky's freshmen were the favorite.
And then Napier, that consummate senior star, surprised us all one last time.
"I've never coached a team this young," Calipari said Monday night. "Never. I hope I don't ever again."
What lesson did Calipari learn from the Year of the Freshman? That trying to control young people playing a game is an emotionally draining, grueling process. The Year of the Freshman might have been the toughest of Calipari's career.
But in the end, his No. 8-seeded freshman phenoms got there. They were a few possessions short. What does that mean? What pattern does that imply? What story will we tell?
Only this: There is no pattern. The Year of the Freshman wasn't the year of anything. It was just another basketball season, capped off by another tournament -- another unpredictable, bewildering, glorious year of this mysterious, wonderful game.
Basketball doesn't make sense. Fortunately, it doesn't need to.
ESPN Staff Writer
Covers college basketball
Joined ESPN.com in 2009
Graduate of Indiana University
The Latest Dish
Shabazz Napier and Niels Giffey did something no one else has ever done. By winning Monday's national title game against Kentucky, the two became the first players ever to play in and win a national title as a freshman and a senior.
Napier, as usual, did the heavy lifting for the Huskies, going for a game-high 22 points with six rebounds, three steals and three assists. Giffey helped, too, adding 10 points and five rebounds in 37 minutes.
Title Game Happenings
---
Deciding factor: Yes, this game will be remembered for Shabazz Napier's 22-point performance, but UConn also continued its stellar defensive run and held Kentucky to 39.1 percent shooting. The Wildcats scored their fewest points in the paint since the tournament began.
Player of the game: Napier. To go along with his 22 points, he was one of three Huskies to grab six rebounds. With the win he joins Kemba Walker, Derrick Rose and Larry Bird as the only players to score 125 points, pull down 25 rebounds and hand out 25 assists in a single NCAA tournament.
Key stat: UConn made all 10 of its free throws, marking the first time a team has been perfect at the line in a national title game. For the tournament, the Huskies finished 101-115 (87.8 percent) at the line, the best free throw percentage by a team in a single NCAA tournament (minimum: three games).
How UConn Won It All
ARLINGTON, Texas -- Believe. That's the word everyone used. The players, the coach, his wife, the mothers. Everyone associated with Connecticut kept coming back to "believe."
It's a powerful tool, the power of conviction, the kind that can change the world and, yes, rebuild a basketball program.
Two years ago, Kevin Ollie told his Connecticut players that they were going to get through APR sanctions, a coaching change and player defections and come out on the other side a stronger, better team.
And they believed him.
Three months ago, after the Huskies lost to Louisville at home, Shabazz Napier gathered his teammates in the locker room and told them a crazy tale. He told them they were going to end the season holding the national championship trophy.
And they believed him.
Two months ago, Ryan Boatright went home to bury his cousin, a man who was more like a brother than a cousin. His mother sent her boy back to college and told him not to worry, that Arin Williams would be with him.
What's next for UK?
ARLINGTON, Texas -- With a coach as successful and high-profile as John Calipari, the rumor mill seldom stops churning. And regardless of the credibility of the rumor, the specter that Cal could someday turn away from the Kentucky Wildcats for another opportunity is enough to keep 'Cats fans on edge.
The latest rumor began on Twitter courtesy of former Kentucky guard Rex Chapman just an hour or so prior to the national championship contest, noting a departure to the L.A. Lakers.
Calipari denied it to Jeannine Edwards after his team lost the national title game to Connecticut. That should give some comfort to Kentucky fans who came close to hanging another championship banner in Rupp Arena. But so long as Calipari stands on the sidelines, the Wildcats will almost always have strong odds to add more hardware to an already well-stocked trophy case. In truth, Calipari's departure is the only thing that can slow down Big Blue Nation.
To read the rest of this post, click here

Way-Too-Early Top 25
ARLINGTON, Texas -- It's not often you see a headline that intentionally undermines the piece below it. This, dear hoops fans, is one of those times.
Yes, the "Way Too Early" prefix in "Way-Too-Early Top 25" pretty much gives this game away. We are not even a day removed from the confetti-infested "One Shining Moment" madness of the 2014 NCAA tournament. There are six months of offseason between now and the start of practice in October, and seven months between here and the return of actual college basketball. This depressingly long stretch of calendar will comprise a rush of NBA draft decisions, at least one massive recruiting race (Myles Turner, a 7-foot center ranked No. 2 overall in the 2014 class, is still undecided), transfer market dominoes, a coaching change or two, and any number of minor surprises -- suspensions, dismissals, reclassifications, and all the rest.
In the infamous words of a former United States defense secretary, there are known knowns, known unknowns and unknown unknowns. The Way-Too-Early Top 25 is a prisoner to these same predictive limitations. It is a glimpse at the landscape, and an educated guess. It is subject to change. It certainly will. And we will update it accordingly as the offseason rolls along.