That was the NCAA tournament at its very best
There's a saying Beatles fans have about "Let It Be," the group's last album, which is also widely considered to be its worst: The worst Beatles album is still better than anything else.
So it is with the NCAA tournament. In March, the worst opening Thursday is still better than any other day on the calendar. An ordinary day of madness is still madness. A ho-hum 12-hour stretch of tournament basketball is still as good as sports get.
The opening day of the 2014 NCAA tournament began with Dayton's thrilling one-point upset of Ohio State, stretched into the final moments of Manhattan's near-shocker of Louisville, and produced four overtime games in one day for the first time in its history.
If a standard NCAA tournament Thursday is "Let It Be," this one was "Revolver."
Sure, there were some by-the-numbers blowouts in the mix. There always are, right? In Milwaukee, Wisconsin went on a 40-6 run to pull away (and then some) from poor American. Syracuse had an offensive reawakening in a 77-53 win over Westren Michigan. Adreian Payne scored 41 points on 10-of-15 shooting (and 17-of-17 from the free throw line!) in Michigan State's opening demolition of Delaware -- a reassuring performance for a No. 4 seed that millions (including the president of the United States) picked to win it all.
Florida was slightly more disconcerting, but still moved on, in its 12-point win over Albany. Michigan had zero issues with Wofford; Villanova handled Milwaukee. And Pittsburgh and Oregon ran roughshod over Colorado and BYU, respectively -- two overseeded teams hollowed out by injuries to crucial players.
Every other game was thrilling. Literally.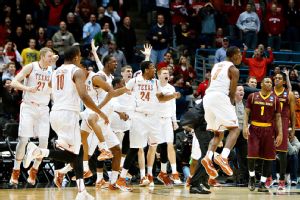 Mike McGinnis/Getty ImagesNeeded buzzer-beaters on the first full day of the tournament? Well, Texas was here to provide that for you.
The madness began in the very first game of the day, a matchup of two Ohio teams separated by 72 miles of Interstate 70. Ohio State has been the state's dominant power for nearly a decade under Thad Matta; the Buckeyes went to the Final Four in 2012, and were a few plays away last season. Dayton, on the other hand, was making its first NCAA tournament appearance in five years, and only barely so -- the Flyers were pegged by most bracket-watchers as a likely First Four entrant, and probably only avoided it thanks to the NCAA's squeamishness about seeding a team into its home arena. But there Dayton was, in the closing moments of its eventual 60-59 win, watching reserve guard Vee Sanford float past senior Aaron Craft for the game-winning runner. Craft heaved the final desperate shot of his career helplessly off the glass a few seconds later, and then laid prone, staring at the ceiling, for what must have felt like an eternity.
Next up was Harvard-Cincinnati, the first of three blood-boiling No. 5-No. 12 matchups. Harvard entered the tournament a trendy upset pick. It didn't take long for it to show why: Against one of the most imposing, physical defenses in the country, Harvard was even better, holding the Bearcats to just 37 percent from the field and managing late offensive situations expertly, in the 61-57 win.
Great game. But there was so, so much more to come. We had no idea.
It was 7 p.m. ET when things really got nuts. The next seven hours -- or maybe it was seven minutes, time blurred -- would produce a record four spine-tingling overtimes, each more joyously draining than the previous.
The first was a survival. Connecticut, the No. 7 seed in the East, trailed for most of its 89-81 win over St. Joe's. It wasn't until Shabazz Napier officially took the game over late in regulation that the Huskies got close enough to force overtime on Amida Brimah's game-tying 3-point play. UConn nearly won it in regulation; the Huskies ran a picture-perfect full-court inbounds to get Napier an open 3. After Halil Kanacevic fouled out in overtime, UConn pulled away.
The next two overtime games, both 5-12 matchups, happened almost simultaneously in exact opposite corners of the country. In Orlando, Saint Louis trailed NC State by 16 points with eight minutes to play, and looked shockingly helpless to stop star forward T.J. Warren all the while. But the Billikens gradually chipped away at the Wolfpack's lead, NC State did its part -- missing nine of its final 21 free throws over the final 5:03 of regulation. Calling it a giveaway might seem insulting to a resilient Saint Louis team. But to Pack fans, that's how the 83-80 loss will feel.
Meanwhile, in Spokane, perhaps the most purely entertaining game of the day kept the exhilarating momentum going. North Dakota State and Oklahoma traded baskets for 40 minutes, both team's mixes of offensive brilliance and defensive mediocrity producing one fluid exchange after the other. When it was finally over -- after NDSU's Lawrence Alexander hit the game-tying 3-pointer to force overtime, after the Bison's 1.11 points per possession proved enough to hang on to an 80-75 win -- Bison coach Saul Phillips sprinted into a celebration before remembering that he still needed to shake Lon Kruger's hand. You could hardly blame him.
And then there was Texas-Arizona State, in which the Longhorns and Sun Devils each played their best offensive games of the season before Cameron Ridley's just-on-time, look-what-I-found putback pushed Texas over the edge. Ridley's winner produced what might become the most memorable picture of the tournament -- Arizona State's reserves collapsed and sprawled on padded seats and the hardwood in front of them.
And then there was Louisville's raw-fingered escape of Manhattan. The Jaspers, led by former Rick Pitino assistant (and one-time ballboy) Steve Masiello, played the Cardinals in their own pressing style to a 60-60 draw for 38 minutes. Louisville forward Luke Hancock hit the two ice-cold 3s to stamp out what would have been the craziest, most inconceivable, bracket-bustingest result of the day.
And then, in the final game of the night, there was New Mexico State. After trailing big in the first half and bursting out of the gate in the second, the Aggies walked an infernal tightrope of game-sealing situations against No. 4 seed San Diego State. The Aztecs kept missing just enough free throws, and committing just enough turnovers, to let the No. 13 seed hang around. Meanwhile, New Mexico State fought as hard as any team all day, and were as crushed as any by the overtime loss.
After his team's overtime loss, NMSU coach Marvin Menzies, a former SDSU assistant, failed to fight back tears.
"Our heart and soul went into the dream [San Diego State is] now living," Menzies said, his voice breaking.
The NCAA tournament always gives us these moments. Every year, it shows us ecstasy and desolation in equal measure. It does this even when the games aren't great, when whole hours go by without a close game, when Cinderella never shows up to the ball.
But on Thursday, the NCAA tournament was, even by its own lofty standards, at its absolute mind-blowing best. It was the Beatles in 1966, at the height of their powers. It was a 12-month dream turned into sudden and glorious reality.
Now let's see what Friday has in store.
ESPN Staff Writer
Covers college basketball
Joined ESPN.com in 2009
Graduate of Indiana University
The Latest Dish

Ohio State's Aaron Craft tried to pull off some late heroics, but Dayton wasn't letting this chance get away.
There were 15 lead changes, but it was the last one that mattered most, getting the Flyers that win they coveted.