SEC sends three teams to Sweet 16
Aaron Harrison had no idea where he was supposed to be.
It was Jan. 28 in Baton Rouge, La., and the Kentucky was listlessly floating through another SEC road game -- lost on defense, standing around on offense, letting a mediocre LSU team do whatever it wanted everywhere it went. As had become custom, UK coach John Calipari spent the game bug-eyed, begging his players to show anything: that they knew the current play call, that they wanted to win, that they even cared.
LSU was in a zone, and Harrison was out of position. He was also on the sideline in front of Kentucky's bench. And so Calipari, overwhelmed with frustration, jumped at Harrison, stutter-stepped onto the floor, and then reached out and literally shoved his point guard into position.
A handful of images from that 87-82 loss at LSU came to define Kentucky's regular season. Around Lexington, Ky., UK players ignoring a prone Dakari Johnson after a loose-ball scramble became the ultimate symbol of their apathy. Bad body language and petulant facial expressions were analyzed like the Zapruder film. Selfish play became Calipari's cause celebre. But it was the sight of Calipari and Harrison on the near sideline -- a remarkable, and probably illegal, breaking point -- that, after Sunday, looks silliest of all.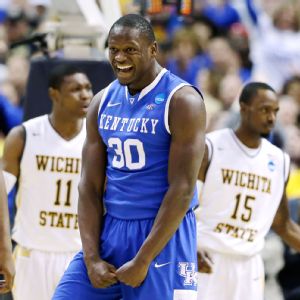 AP Photo/Jeff RobersonFreshman Julius Randle finished with 13 points and 10 rebound in Kentucky's win over Wichita State.
On Sunday, Harrison finished with 19 points and four huge 3-pointers. His twin brother Andrew had 20 points on a seemingly endless supply of hard-nosed drives into the heart of the Wichita State defense. Johnson, a lightly used sub early in the season, pulled down the key offensive rebound that made the game winnable down the stretch. The Wildcats were smart, tough, fluid, physical and 100 percent locked-in -- and by the time their afternoon was over, they had handed the brilliant, veteran, unbeaten Shockers their first and only loss of the season.
Was it really so long ago that Kentucky looked lost?
Hint: It wasn't. Nor was it so long ago that the Wildcats' conference was widely, rightfully dismissed for having one great team, one good one and a bunch of dross. But after Sunday -- when Kentucky finished its late-season transformation and Tennessee kept its overpowering momentum going -- the SEC suddenly owns three spots in the Sweet 16.
In many ways, Tennessee's emergence has run parallel to the Wildcats'. Like Kentucky, the Volunteers were always obviously talented. Like Kentucky, Tennessee's advanced analytics revealed a team far better than its record suggested. Like Kentucky, which beat Louisville on its own floor in December, the Vols' 35-point win over Virginia gave fans a result to point to and say, see? Like Kentucky, UT spent most of the SEC season underwhelming -- being swept by Texas A&M, losing to Vanderbilt, getting overrun on defense at Missouri -- before flipping some kind of switch in the final weeks.
The result for the SEC, combined with Florida's wins, is a 7-0 SEC record in the NCAA tournament. It's the first conference to go 7-0 or better in the NCAA tournament entering the Sweet 16 since the Big East went 8-0 in 2003, according to ESPN Stats & Information. The last time the SEC went 7-0 or better in the NCAA tournament entering the Sweet 16 was 1996, when Kentucky won the national title.
That was the dominant discussion late in the day Sunday -- how the lowly SEC had redeemed itself in the NCAA tournament. Some even went so far as to claim the SEC had been unfairly maligned, that the tournament revealed a league far stronger than anyone previously realized.
That's the wrong way to look at it. A 7-0 record doesn't put Auburn, Texas A&M, Mississippi State into a different narrative; it doesn't mean Missouri, Arkansas, Ole Miss, or LSU deserved NCAA tournament bids. It doesn't mean Tennessee shouldn't have been placed in Dayton for the First Four, or that Kentucky deserved a drastically higher seed (though a No. 8 was probably too low). It merely means that the league's once-shaky sub-Florida second tier -- and remember, the Gators went 18-0 in league play -- is finally making good on its talent.
In any case, that was the big story of the final first-weekend day of the 2014 NCAA tournament. There were others, of course: Andrew Wiggins had four points and four turnovers in Kansas' surprising second-round suffocation against No. 10 seed Stanford, spurring countless hot sports takes on the next 10 years of Wiggins' pro career. There was Creighton playing its worst game of the season against an intelligently organized Baylor defense, the combination producing a 30-point loss in the final game of Doug McDermott's peerless career. (Both deserve perspective, rather than sweeping conclusions: Saying Wiggins won't be a good pro or that Creighton was overrated is just as facile as assuming a conference's performance in the NCAA tournament is the ultimate barometer of its strength.)
There were blowouts galore: Arizona and Virginia smothered Gonzaga and Memphis with twin doses of devastating pack-line defense. There was UCLA, quietly but impressively working its way into a Sweet 16 matchup with Florida.
And then there was North Carolina-Iowa State, where a thrilling game was brought to a close on a strange scorekeeping error. Before the Tar Heels saw their season end on monitor review -- because the clock started late, Nate Britt's timeout was invalid, and the officials waved off the final possession in a sideline pow-wow -- North Carolina let what would have been a classic win dissipate with missed free throws and scattered defense in the final minutes.
Still, the game of the day -- the game of the tournament, and one of the best games of the past decade -- featured a Kentucky team that needed to play its best game of the season to beat one of the nation's best teams. It did, and Wichita State was still nearly good enough. The result was an epic 40-minute stretch of back-and-forth basketball that, had you described it a month ago, would have seemed like a Kentucky partisan's therapeutic delusion.
But it happened, finally: Like Tennessee, Kentucky's transformation from a lost group of disjointed, disappointing pieces into a real, honest-to-goodness team finally took hold this week.
Calipari begged and pleaded and pushed -- literally -- and the Wildcats finally got the message.
ESPN Staff Writer
Covers college basketball
Joined ESPN.com in 2009
Graduate of Indiana University
Happenings In St. Louis
| | | | | |
| --- | --- | --- | --- | --- |
| Stanford Cardinal | 60 | FINAL | 57 | Kansas Jayhawks |
---
Deciding factor: Kansas was already without injured big man Joel Embiid. While Andrew Wiggins did play, he was almost as much a factor as Embiid. Wiggins scored four points and committed four turnovers.
Player of the game: Chasson Randle. Sure, he had seven turnovers, but he also had 13 points and six rebounds.
Key stat: Think the Jayhawks missed Embiid? Kansas scored just 20 points in the paint against the Cardinal, which was the Jayhawks' second-lowest total of the season.
| | | | | |
| --- | --- | --- | --- | --- |
| Kentucky Wildcats | 78 | FINAL | 76 | Wichita State Shockers |
---
Deciding factor: Kentucky's freshmen grew up and showed poise down the stretch of a neck-and-neck game. Four of the Wildcats' five freshmen starters combined for 65 of the Wildcats' 78 points.
Player of the game: Andrew Harrison played through a right elbow injury and scored 20 points on 6-for-9 shooting. He also knocked down seven of nine free throws.
Key stat:The Wildcats' superior size shone through in the rebounding column as they grabbed 32 rebounds while the Shockers only had 23.
The Latest Dish

Kentucky answered its doubters and showed maturity in a 78-76 win over No. 1 seed and previously undefeated Wichita State.
Injured point guard Andrew Harrison led the way to set up a Sweet 16 matchup with rival Louisville.
Happenings In San Antonio
---
Deciding factor: North Carolina fans might tell you the clock operator played a hand in the result. The Tar Heels attempted to call timeout in hopes of one last shot, but the game clock didn't start in time and after a lengthy review, the game was called.
Player of the game: Iowa State's DeAndre Kane more than made up for Georges Niang's absence. He finished with 24 points and grabbed 10 rebounds.
Key stat: The Cyclones connected on 12 of their 26 3-point attempts. Guard Monte Morris was 3 for 4 from downtown.
| | | | | |
| --- | --- | --- | --- | --- |
| | | @ | | |
---
Deciding factor: Baylor's defense. The Bears held Creighton's likely Wooden Award winner Doug McDermott to just 15 points, 12 below his season average.
Player of the game: Baylor's Isaiah Austin. The sophomore had 17 points, nine of which came from behind the arc, to go along with four rebounds and two blocks.
Key stat: The Bears show 63.8 percent from the field while holding Creighton to 40 percent.
Happenings In Raleigh
---
Deciding factor: Tennessee's strength and size. The Volunteers dominated the rebounding column and the Bears had no defensive answer in the paint.
Player of the game: Tennessee's Jarnell Stokes. The junior forward had 17 points and 18 rebounds. Mercer had just 19 team rebounds.
Key stat: The Volunteers' inside presence forced Mercer to send them to the line to make 23 of 26 free throws. Mercer was just 7 of 9.
---
Deciding factor: To the surprise of no one, it was Virginia's defense. Memphis' agile backcourt couldn't find its way through the Cavaliers' trademark pack-line defense.
Player of the game: Virginia's Joe Harris. The Cavaliers' senior leader finished with 16 points and five rebounds and he committed just two turnovers.
Key stat: Virginia held Memphis to 40.7 percent shooting overall and the Tigers made just 3 of 13 3-point attempts.
Anthony Gill on UVa's domination
Happenings In San Diego
---
Deciding factor: What didn't Arizona do against Gonzaga? The Wildcats raced out to a 47-point first half before putting the clamps down in the second. The Wildcats also took advantage of 21 Bulldog turnovers, turning them into 31 points.
Player of the game: Arizona freshman Aaron Gordon was a model of efficiency, leading the Wildcats in scoring with 18 point on eight-of-10 shooting. He also pulled down six rebounds and handed out six assists.
Key stat: The Wildcats shared the ball to near perfection. They collected 24 assists while turning it over just six times.
---
Deciding factor: UCLA's guards used every opportunity to get out and run, turning the game into a track meet that punched the Bruins' first Sweet 16 ticket since 2008.
Player of the game: UCLA's Jordan Adams. The sophomore guard -- and UCLA's leading scorer -- had 19 points on eight-for-12 shooting.
Key stat: UCLA turned the ball over just four times while the Bruins forced eight Stephen F. Austin turnovers.