No. 11 Kentucky (16-5) at No. 23 Florida (17-5)
When and where: Saturday (ESPN/ESPN3, 9 ET), Stephen C. O'Connell Center (Gainesville, Fla.)
Kentucky's best player: Terrence Jones. The long, athletic lefty is a super-talent that is still trying to figure it all out. In the meantime, he is putting up really impressive numbers and performances. Jones is leading Kentucky in scoring (17.9) and blocks (1.9) and is second in rebounding (9.0) offensive rebounds and steals (1.3). Jones is a very difficult matchup for the thin Gators.
[+] Enlarge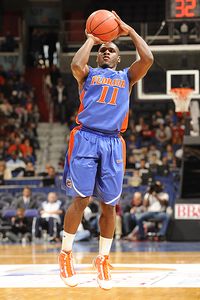 Mitchell Layton/Getty ImagesErving Walker sets the tone for Florida offensively.
Florida's best player: Erving Walker. The tiny point guard is a scorer first and leads the Gators in scoring, free throw attempts, steals and is second in assists. Walker is streaky, but he has shown the courage to step forward and take big shots, as evidenced by his game-tying 3 against Georgia.
Kentucky's best rebounder: Josh Harrellson. Averaging almost four offensive rebounds per game, Harrellson throws his big body around and is a really effective banger.
Florida's best rebounder: Chandler Parsons. As a perimeter player, Parsons is able to slice to the rim without having to bang around. He is often matched up with a smaller defender and takes advantage of it to the tune of a team-leading 7.5 rebounds per game.
Kentucky's best playmaker: Brandon Knight. The 6-foot-3 freshman combo guard has really grown on me. After turning the ball over too much early in the season, Knight has matured and continues to get better. Despite a low release point that has him shooting the ball right in front of his forehead, Knight is a really good shooter. John Calipari uses ballscreens to free Knight and when he gets an open shot, he usually knocks it down. Knight is averaging over 17 points, four rebounds and almost four assists per game, to go along with 3.4 turnovers.
Florida's best playmaker: Walker. Florida does a nice job with ballscreens, and will reverse the ball and ballscreen again. Florida is difficult to guard off of handoffs into ballscreens, and Walker gets very low and blasts off of screens very well.
Kentucky's X factor: Doron Lamb. This kid can really shoot it. Whether it is from range or off the bounce and inside the line, Lamb does a really nice job of working for the ball. He can catch-and-shoot, pull up, and when he gets his feet set, he drills it. Lamb averages 14 points per game, has hit 42 3s and shoots 51 percent from the floor and 48 percent from 3-point range.
Florida's X factor: Vernon Macklin. The senior averages 11.1 points and 6.3 rebounds and is a workhorse inside and on the glass. But Macklin does not shoot free throws well, hitting only 39 percent from the line.
Key stat: Turnovers and offensive rebounds. Florida needs to get out in transition and needs to get Kentucky playing at different speeds. If Florida can turn the Cats over, provide different looks, and play ahead of the defense, the Gators can win at home. Florida is not a great shooting team, so getting easy baskets in transition and getting offensive rebounds for easier second-chance opportunities will be critical. Kentucky has done a good job limiting turnovers and needs to attack the pressure to score and must be strong with the ball. Knight and Lamb should get opportunities from 3-point territory against the Gator press and as Kentucky passes ahead, skips it and drives it.
Who wins: Kentucky has more pure talent, but has not played its best on the road. I think that Florida's pressure, the crowd, and the ballscreen action the Gators run will win out in Gainesville, but barely.
More to track
Friday
Harvard at Princeton (ESPNU, 7 p.m. ET): This is the first of two Ivy League showdown games. Harvard comes in with the better overall profile but the onus is on the Crimson to win the conference by beating one of the traditional powers on the road. Cornell was able to do that to take its turn atop the conference in recent years. Now let's see if Harvard can do the same.
Saturday
West Virginia at No. 12 Villanova (ESPN, noon ET): This isn't a bubble game like so many others this weekend, but it is one that will provide a little separation in the muddled middle of the pack behind Pitt in the Big East. The Mountaineers and Wildcats are both 6-3 in conference play, tied with Louisville and a half-game behind Notre Dame. The winner of this game keeps its league title hopes alive, while the loser gets stuck in the second tier.
[+] Enlarge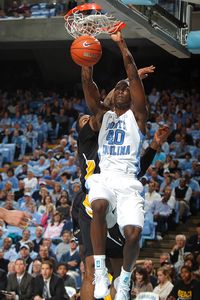 Bob Donnan/US PresswireBarnes has length and agility to go with sheer power from the wing.
Butler at Cleveland State (ESPN2, noon ET): The Bulldogs lost Thursday night at Youngstown State, while the Vikings beat Valparaiso to move atop the Horizon standings. Sure, Butler already knocked off Cleveland State at home. But right now it doesn't matter, as the Bulldogs are playing for seeding in the Horizon League tournament, where they'll have to win to return to the NCAA tournament. This is suddenly looking like a one-bid league.
St. John's at UCLA (CBS, 1 p.m. ET): The Red Storm have had a wild season so far but beating Duke at home last Sunday was certainly the highlight. It's hard to say bubble-bound St. John's is a marquee win, but a win over the Red Storm would complement the best win of the season for UCLA -- over BYU in Anaheim. How UCLA handles St. John's pressure will be the ultimate test for the Bruins. Neither team is that dominant inside.
Old Dominion at George Mason (2 p.m. ET): George Mason was selected for a marquee BracketBuster game at Northern Iowa because the Patriots are tied atop the Colonial with VCU, with ODU one game behind. Beat ODU and the Patriots can start to create some separation and perhaps set up a two-team race with themselves and VCU for the stretch run.
Memphis at Gonzaga (ESPN, 4 p.m. ET): The Tigers and Bulldogs were ranked in the preseason top 25 but are looking more like teams that need to win their respective conference tournaments to get a bid. The Tigers must find a way to defend the post against Robert Sacre and fare well on the backboard. Gonzaga has the better overall profile for a possible at-large, and beating Memphis would be another turn of the wheel in trying to convince the selection committee.
Kansas at Nebraska (ESPN3, 4 p.m. ET): The Jayhawks have looked sharp since their slip against Texas, dispatching Colorado on the road, Kansas State at home and winning at Texas Tech convincingly. Nebraska has been a pest and, the Cornhuskers gave Kansas quite a scare earlier this season. They will need an even better effort at home to finish the job. Nebraska would need a true home-court advantage to pull this off.
UNLV at BYU (4 p.m. ET): Jimmer Fredette scored 39 in an earlier win at UNLV. The Rebels have quietly won four of their past five to stay within striking distance of BYU and San Diego State.
Alabama at Tennessee (ESPN3, 5 p.m. ET): The Tide are now the best team in the SEC West, with only one blemish on their record. Tennessee has one more game to go with Bruce Pearl out; his eight-game SEC suspension ends after this home game. Alabama did nothing to warrant an at-large berth in nonconference play, but the Tide have already beaten Kentucky in the SEC. Take out Tennessee on the road and continue to steamroll in the West and maybe the Tide will get a longer look as a team that has improved and is only going to get better.
Cincinnati at Pittsburgh (ESPN3, 6 p.m. ET): Pitt already lost one home game in the Big East (to Notre Dame); I don't see how they'll lose another, and if they do, it won't be to Cincinnati. The Bearcats are certainly in play for an at-large berth, and a loss at Pitt won't dampen those prospects too drastically.
Sunday
Michigan State at Wisconsin (CBS, 1 p.m. ET): Michigan State is reeling and Wisconsin still has a chance to catch Ohio State in the Big Ten if it continues to win, with two games remaining against the Buckeyes. The matchup of Kalin Lucas and Jordan Taylor is certainly intriguing, but the better question will be which team has the mental toughness to dominate the backboard. Neither team has a forceful post presence.
Ohio State at Minnesota (ESPN, 2 p.m. ET): The Golden Gophers suffered a setback with the road loss at Indiana. Al Nolen is still out with a broken foot, meaning the Gophers will need Chip Armelin to play well defensively and to stay in front of Aaron Craft. The bigs of Minnesota -- Trevor Mbakwe, Colton Iverson and Ralph Sampson III -- can cause problems for Jared Sullinger, but this game will be won on the perimeter where the Buckeyes hold the advantage.
Florida State at North Carolina (FSN, 2 p.m. ET): Who is the second-best team in the ACC? Earlier in January the answer was Florida State. Now it doesn't look close as North Carolina has been the most consistent team in the conference, maybe even more than Duke so far. If UNC has visions of winning the ACC -- not a reach at this juncture -- then protecting its home court against Florida State is a must in advance of next week's game at Duke. Chris Singleton will have to be a scoring factor for Florida State to win. If he's on Harrison Barnes defensively, it could end up being Barnes' toughest night in the ACC.
Viewer's Guide
All times ET

Saturday
Noon: West Virginia at Villanova (ESPN)
Noon: Butler at Cleveland St. (ESPN2)
1 p.m.: St. John's at UCLA (CBS)
2 p.m.: Baylor at Texas A&M (ESPN2)
4 p.m.: Memphis at Gonzaga (ESPN)
4 p.m.: Kansas at Nebraska (ESPN3)
4 p.m.: UNLV at BYU (Versus)
5 p.m.: Alabama at Tennessee (ESPN3)
6 p.m.: Cincinnati at Pittsburgh (ESPN3)
8 p.m.: Arizona at California (CSN)
9 p.m.: Kentucky at Florida (ESPN)
Sunday
1 p.m.: Michigan St. at Wisconsin (CBS)
2 p.m.: Ohio State at Minnesota (ESPN)
2 p.m.: Florida St. at North Carolina (FSN)

O'Neil on St. John's-UCLA
I can't wait to see …
Eamonn Brennan
If you're a Big 12 fan, and you're interested in making an argument on behalf of your conference's superiority -- and if you're the former, then you're probably the latter, because that's pretty much how fans of conferences are -- you might want Nebraska to get a win over Kansas on Saturday. That might seem counterintuitive. Why would you want one of the Big 12's two prospective national title candidates to lose at Nebraska? Because Nebraska is making a bit of a sneaky run at an at-large berth, and with the shaky status of teams like Kansas State, Oklahoma State, Colorado -- not to mention the nonexistent bubble chances of the disappointing Baylor Bears -- Nebraska might just be the quiet at-large candidate that could eventually get the Big 12 five teams in the tournament. It's counterintuitive, sure. But even if you ignore the eventual bubble implications, seeing Kansas take on that tough Nebraska defense in Lincoln should be worth the price of admission.
Pat Forde
Alabama at Tennessee: They're the two teams playing the best right now in the SEC -- one of them a big surprise, and one doing so without its head coach on game days. The Crimson Tide have the league's best record at 6-1, and that includes an upset of Kentucky. Anthony Grant has a chance to finish the first half of league play 7-1 and has his program on schedule for a return to prominence -- but now comes consecutive road trips to Tennessee and Vanderbilt. For the Volunteers, they've steadied themselves after an 0-2 league start. This is Tony Jones' last game in charge before turning the thing back over to Bruce Pearl at Kentucky on Tuesday. If he goes 6-2, he's gone a good job. Winner of this game will feel very good about themselves.
Andy Katz
Michigan State bottomed out at Iowa on Wednesday night. The Spartans were a mess defensively as the Hawkeyes ran the Spartans out of the building. Up next is Wisconsin on Super Bowl Sunday. I don't expect Michigan State to win. The Spartans are simply not a very good basketball team right now. But I'm intrigued to see what happens after Tom Izzo has the Spartans prepping for two days after that disastrous performance. If the Spartans have any spirit left they will put forth a monster effort in Madison, pushing the Badgers down to the final possession. They are more than capable of pulling off an upset or even simply causing angst for the Badgers. But if Michigan State is easily dispatched it will signal a true downfall and this particular Spartans team may not even be worthy of the NIT.
Diamond Leung
I can't wait to see St. John's coach Steve Lavin make his return to UCLA. Lavin led the Bruins to five Sweet 16s in his seven seasons before being fired, and now after all these years, he gets to showcase his new, rising program at Pauley Pavilion. The matchup takes on even greater importance given that St. John's and UCLA are both bubble teams in need of every win they can get.
Dana O'Neil
An Ivy League showdown: Thanks to Cornell's recent dominance, it's been a while since there's been a real kerfuffle in the Ancient Eight, but we've got what could be the first of two when Harvard visits Princeton on Friday night. The resurgent Tigers, now 2-0 in the league under Sydney Johnson, were picked to win the league with Harvard, 4-0 under Tommy Amaker next in line. The two universities compete in everything, and Harvard comes out on top in plenty: Nobel Prize winners (Harvard 74, Princeton 32), endowment money ($25.7 billion for Harvard, $14.4 billion for Princeton), U.S. presidents (Harvard seven, including law school, Princeton two). But in basketball it's a walkover. The Tigers have won 25 Ivy League crowns, Harvard 0.
Mark Schlabach
Can UNLV climb back into the Mountain West Conference race by knocking off No. 9 BYU on the road Saturday? The Rebels have played well lately, winning four of their past five games. But Cougars star Jimmer Fredette probably still remembers UNLV's Tre'Von Willis referring to him as "supposedly" the MWC's best player. Fredette lit up the Rebels for 39 points in an 89-77 victory in Las Vegas on Jan. 5.
Jay Williams
The ACC battle continues for second place -- or does it? UNC is a team that may have a chance to win the ACC if the Tar Heels continue to improve as they have been over the past four games. Kendall Marshall has taken over the point guard position and has finally given the Tar Heels the backcourt stability they've desperately needed. Harrison Barnes is finally becoming a star, averaging 19 ppg and shooting 53 percent in his last four games. FSU is still a team we are trying to figure out. The Seminoles got blown out against Clemson by 18 points but then turned around and drilled Wake Forest. It still seems at times that FSU has a difficult time scoring the ball but they always play passionately on the defensive end. If nothing else, this will be a fantastic watch in Chapel Hill.
Brennan on Ohio State-Minnesota
Player to watch
Darius Miller, Kentucky


The Wildcats' freshmen get all the ink, and understandably so, but it's the play of veterans like Miller that will decide Kentucky's fate in the next stretch of games. A year ago Kentucky was blessed with a ridiculous haul of talent, but it also had a savvy veteran leader in Patrick Patterson who shepherded the Wildcats through their tricky patches. This team needs a Patrick Patterson, and Miller could be the guy. He took the heat for UK's loss to Ole Miss, tweeting his apologies immediately after the game for failing to take an open 3-pointer that all of the commonwealth was begging him to take. That sort of ownership and responsibility is a good sign of leadership at a critical time. Kentucky enters the teeth of its schedule Saturday when it faces Florida, with a home game against Tennessee and a visit to Vanderbilt to follow.

-- Dana O'Neil